The Activ franchise, one of the longest established internet franchises in the U.K, allows you to work from either home or office, around your lifestyle, while taking control of your own future. No technical knowledge is required, yet you will be building a lucrative, sustainable business of your... Read More
The Activ franchise, one of the longest established internet franchises in the U.K, allows you to work from either home or office, around your lifestyle, while taking control of your own future. No technical knowledge is required, yet you will be building a lucrative, sustainable business of your own, with some of the very best franchise support available in the industry. Read Less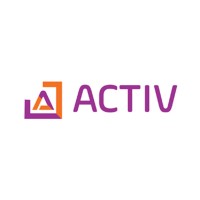 Get involved in one of the fastest and highest growth markets of all time.
What you need:
Drive and ambition!
A strong desire to work for yourself and be in charge of your own destiny.
A wish to build a sustainable and secure future for your family.
An interest in, or willingness to learn, the value of online opportunities available to small business.
An interest in becoming an integral part of the local business community.
Activ has been around since 2007, and were the first company in the UK that made the internet affordable for small and start up businesses nationwide.
As the internet has evolved however, so has Activ. Our franchisees are no longer just the web designers they once were, and are now fully fledged web marketing consultants offering a comprehensive range of compelling services that ALL BUSINESSES NEED, at competitive rates that others can only dream about.
Activ franchisees have helped thousands of small businesses across the country grow their companies by offering cost-effective ways of getting their business seen and visited online.
The Activ Net Marketing opportunity would suit:
Someone looking for a career change.
Someone who has been made redundant.
Mothers of school-age kids who want to work for themselves.
Anybody looking for an opportunity to generate an extra income.
Someone who would like to work their own hours, on their own terms.
A business in a field with 'synergy' that wants to add a suite of complimentary products to their range.
Someone who wants to build their own business which they can be proud of.
A person who wants to build a financially secure future for themselves and their family.
People with interest in the internet that would like to make a fantastic living out of it.
What the Activ Net Marketing opportunity offers:
Initial, 3 day training on our products, strategies and software.
3 month mentoring programme with one of our longer standing, most successful franchisees.
Regular ongoing training sessions, held either in person, or online.
A fantastic franchisee network across the U.K. that help and interact with each other daily.
Regular marketing help using tried and tested methods.
All the materials you require to get your business up and running.
In return for a low-cost investment, we offer you the chance to build and sustain a secure lucrative long term business that could provide you with the financial freedom you have been waiting for.
Income – Whether you are looking to work part time or full time, the decision is entirely yours. We have franchisees who just want to generate an extra £1,000 part time, to assist with paying their mortgage while we also have franchisees who, when working full time, earn in excess of £5,000 per month.
Flexibility – Work whenever and wherever you like. Using the latest technology you can work from home, your favourite coffee shop, the garden or by the beach. All you need is an internet connection.
Freedom –This is your business and you're in charge, you make your own decisions daily to achieve the financial and personal ambitions you have always wanted.
Software, Programmes & Strategies – With Activ, you receive access to our purpose-built web design software, the very latest SEO and social media strategies and our email marketing programmes. Our software makes it easy for you, the franchisee to build websites for your clients. On the other hand, if you do not want to actually deliver the products and services but prefer to operate your business in more of a sales capacity, our in-house team of developers and support agents can take care of it all for you.
Market Leader – Activ is a highly recognised brand and is growing all the time. Our franchisees have helped and supported thousands of businesses across the UK.
Back office support – As an Activ franchisee, you will receive FULL support from the team at Activ head office from technical advice through to customer service. Our UK based support infrastructure is the envy of the market, and while we are a UK company, staffed by UK based employees, we have a truly global network, meaning we are the only company of our type able to offer 24 hour support.
Transparency – Our business cannot thrive if our franchisees' businesses do not thrive. With Activ, our franchisees are part of the team. We have a franchisee committee that meets regularly, and they tell US what they need to help take their businesses to the next level. Working with Activ is NOT a one way street!
If you would like to learn more about a franchise opportunity with Activ Net Marketing, simply complete the form below for more information!