ASK Local is a group of 8 design, print and communication related brands/products/services under one amazing Low Cost Franchise.
ASK Local is a group of 8 design, print and communication related brands/products/services under one amazing Low Cost Franchise. Read Less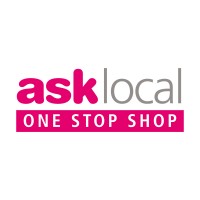 ASK Local's fantastic low cost franchise
ASK was established over 30 years ago by it's current MD and Owner and is based in Bury St Edmunds, Suffolk.
Constantly innovating we believe the future is people buying more locally from people they know and trust from their local community, so we have developed our unique Extremely Low Cost ASK Local Franchise covering not just one product or service like most franchises, but all our many and growing successful ASK Business Brands that include:
ASK Calandars
We are already one of the UK's leading calendar printers.
ASK Clothing
We provide individual or bulk run Direct to Garments Digitally Printed Hoodies, Polos and T-Shirts to Schools, Charities and Sports Clubs.
ASK Internet
We provide Low Cost fully featured VoIP Telephone Systems from 1 to 1000 extensions.
ASK Online
Our ASK Online Shop Customer Marketplace prints products and merchandise on demand allowing Charities, Photographers, Artists, Fundraisers, Models, Influencers and Companies to sell printed product merchandise to their customers and supporters without holding stock or paying upfront and where they can earn up to 60% on every sale.
ASK Print
We have been providing high quality design & print for over 25 years and are a leading digital print and print-on-demand specialist. If it can be printed ASK print it...
ASK Websites
Our ASK Websites Brand provides a full website design and hosting service on a reasonable pay monthly charge with no upfront design charge.
ASK Yearbooks
Our ASK Eco Yearbooks Online Brand is one of the UK's leading school Yearbook Printing Companies, providing hardback, softback and budget booklet school leavers yearbooks to schools across the UK since 2007.
These range from ASK Creative to ASK Yearbooks selling to the business, consumer, school, sports club and charity sectors and providing customers a local one-stop-shop for many of their business needs.
And with a nationwide network of franchisees we will be adding additional ASK Brands and products for you to promote and sell so you end up with a large array of Business Services and Products to sell. These include Telemarketing, Sports Club Printing and Funeral Printing brands.
Why is ASK Local such a Low Cost to purchase Franchise
Choosing the right franchise can be a risky business with many companies charging huge upfront costs and signing you up on long term contracts. That is not what we are about at ASK!
At ASK we are an ethical company doing a lot of work in the schools and charity sector as well as being as passionately eco-friendly as possible in all our products and services.
So we are less interested in a quick sale and lots of your money up front, but very interested in forging mutually beneficial long term partnerships with like minded, enthusiastic, hard working franchisees that gives them a great reward and in turn helps grow our brands and businesses into their local community. So we have set our Franchise Cost at the very low purchase price of £3000, AND to hit the ground running we are offering it at a 60% discount of just £1200 until 31st March 2022. And remember you get products and goods worth more than the £1200 including a high specification 17" i5 Chip Laptop setup with business software ready for you to use by our IT team.
And even then there is NO long standing contract, should your circumstances change or you decide it is not for you, you can stop without penalty with just one month's notice.
Purchase and charges
We have kept our monthly management fee as low as possible, so you can own, run and manage your own succesful profitable ASK Local business for just £69.99 per month.
| | | | |
| --- | --- | --- | --- |
| Business Model | Setup/Purchase Cost | Monthly Management | Sales Commission Earned* |
| ASK Local Franchise | £3,000 discounted to £1200 until 31st of March 2022 | £69.99 | 15% |
| Master Franchisee/Agent | No additional cost | No additional cost | 2.5% of your franchisees sales |
The monthly hosting and management fee covers the cost of the monthly cloud licenses for VoIP Telephony, Microsoft Office, Filemaker Pro and Anti Virus on your Laptop as well as all hosting fees, and calls made from your ASK Local number.
*On 95% of our brand's products and services, however to keep the customer costs competitive on some higher value products and services such as Leased Line Internet we pay less commission. Each brand's information details it's commission. See terms and conditions of contract for full details.
Our ASK Local Franchise and Sales Agent Locations
Our Goal ... Nationwide Coverage
We believe local people know their local communities and potential customers are more likely to buy from local people they trust or have been recommended to, so old fashioned sales techniques are a way we can stand out from our competitors and develop our ASK brands.
So to build our national ASK Group of Brands family network we are actively seeking Franchisees and Sales Agents all over the UK to represent and sell all our brand services via an ASK Local network.
Our ultimate goal is to have 500+ Franchisees covering all of the UK and Ireland.
The following areas have already been taken:
Bury St Edmunds
Camberwell
Chadwell Heath
Fulham
Lingfield
Swanage
Thetford
But don't worry if you live in one of the areas already taken, if an adjacent area is available you can represent us there and as you are not limited to selling in a specific territory you can still market to your local and wider community as well as someone else's territory.
And for this reason we are not giving complete large cities (eg. London, Birmingham, Manchester etc.), but only areas within those cities, as a large city is too large area to be covered by one single franchisee.