We have brought the New York Bagel to life giving them a different meaning, so can you!
We have brought the New York Bagel to life giving them a different meaning, so can you! Read Less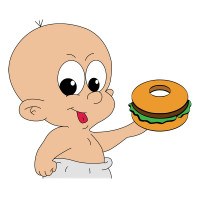 Bagel Baby is unique in the industry bringing a healthier side to fast food, with freshly prepared bagels bringing our own twist on things.
Our ingenious Home Made Jerk Marinade is a hit with our customers, who can't get enough and keep coming back for more. We have brought the New York Bagel to life and given it a different meaning.
This has taken off through our social media platform from Snapchat to Instagram and caused an enormous wave which we are trying to keep up with. We are 2 down to earth guys in our early 20's who had an idea and made it happen, with a vision in mind we went forward and created Bagel Baby, so can you with our help and support.
In the first month, we had a turnover of £16,698.38
The Bagel baby franchise is a really proven tasty prospect for anyone looking into owning their own fresh food bagel franchise. Freshly made bagels have a delightful taste and smell, that is difficult to ignore. More and more people are consuming bagels every year and the opportunity to start a Bagel Baby store offers tremendous promise, bagel franchise could be a good option for you. There might even be a chance for a multi-unit franchise operation We make excellence easy! and Bagel Baby are great because we have perfected a way to precisely duplicate our fresh baked original New York City bagels. Our proven system allows you to always have authentic New York bagels in your Bagel Baby shop!
Bagels are growing in popularity, with more than eight million bagels served every month in the £11.6bn out-of-home breakfast market. To help operators cash in, the company has outlined trends, recipes and opportunities The opportunities are split into three distinct areas: dining in, food-to-go and sweet breakfast.
"Operators stand to make big profits as a result of the growth of breakfast sales. Whether it's dining-in or on the move; on-trend flavours, convenient formats and quality ingredients are key to a successful breakfast menu," said Philippa Knight, marketing manager for out-of-home at New York Bakery Co.
The Bagel Baby Management Team brings an invaluable combination of experience and training.
Our ethos has always been to provide an outstanding and faultless standard of service and to grow our business so that we are recognised for our quality of service throughout the UK and world. We are well on the way to achieving this. What it now requires is an outside input from a successful franchise operation. This will be well managed and achieve a growth rate faster if not very similar to the original concept.
We have always thought that in keeping the brand, packaging, theme very simple, clean and easy on the eye is the key to our operation and we have put this at the forefront of our thinking. All these aspects will need to be a top priority to enable new businesses to achieve our goal.
We firmly believe that our future lies with the quality and performance of our franchisees. Then with that sorted, word of mouth will do its job.
Daily Mail
They've been popular in the U.S. for decades and now Brits have developed a love of bagels. In the last year, sales of the baked dough snack have soared by 26 per cent, according to figures from AC Nielsen data. Brits now eat an average of 378 million bagels each year, boosting the value of the UK bagel market to £60m
Bagel Facts
Bread bath - Unlike all other breads, bagels are boiled and then baked, giving them their signature glossy exterior and distinctive soft texture.
New York City is home to the world's most expensive bagel costing a whopping $1,000, topped with white truffles and gold leaf grape jelly.
In the UK we eat more than 320 million bagels a year. Stacked up they'd measure approximately 1,920,600 metres.
The hole in the middle of the bagel isn't just there for decoration. It allows the bagel to cook faster and increases its surface area, leading to more of that chewy crust that bagel connoisseurs love.
The word bagel (bay-gul) derives from the German word 'bougel' meaning 'bracelet' – not sure they would be at their best on your wrist, but whatever floats your boat.