Inspired by the style and works of Sir Cecil Beaton, the renowned and celebrated fashion designer, portrait and war photographer, interior designer and Academy Award winning stage and costume designer, Beatons Tearooms & Bookshop provides gracious hospitality, charm and elegance in the timeless... Read More
Inspired by the style and works of Sir Cecil Beaton, the renowned and celebrated fashion designer, portrait and war photographer, interior designer and Academy Award winning stage and costume designer, Beatons Tearooms & Bookshop provides gracious hospitality, charm and elegance in the timeless tradition of British tearooms. Read Less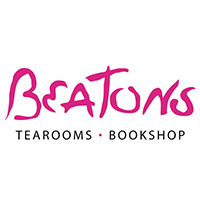 Beatons Tearooms & Bookshop began life as a small and friendly tearoom based in the beautiful village of Tisbury, inspired by the style and elegance of Sir Cecil Beaton.
Beatons has grown to being a thriving franchise group with tearooms spreading across the UK, all serving up its own brand of 'Gracious Hospitality' with a perfect cup of tea; English Afternoon Teas; homemade cakes and food and our 'curated' selection of books to browse and buy.
THE TEAROOMS
Taking pride of place at every Beatons is a range of more than 30 loose leaf teas, brewed to perfection and elegantly served. For the coffee drinker we offer a carefully selected range of freshly ground regional coffees.
Beatons is also renowned for its range of delicious homemade cakes made to our own recipes. A renewed interest in 'home baked' cakes and food offerings following the popular success epitomised by the Mary Berry 'brand' and 'The Great British Bake- Off' franchise.
THE BOOKSHOP
At Beatons we also sell a small but carefully curated range of books. From local country pursuits, speciality cooking, children's books and travel journals through to books written by local authors and those quirky and amusing titles people just can't put down, all aimed at distinguishing Beatons from the rest of the market and promoting the core values of the business.
As the Beatons brand continues to grow we are seeking new franchisees both in the UK and overseas...
A WIN-WIN-WIN SCENARIO
Because we believe that empowering service- motivated people to fulfil their dream of running a tearoom is the best route to success we have chosen to develop a network of carefully selected franchisees to share our aim of creating an international tearooms group which delivers gracious hospitality, a restorative experience and generous value as it celebrates the best of British tea culture.
We are seeking hard-working, dedicated and capable people to become Beatons franchisees both in the UK and overseas, but with the sparkle and passion that comes with turning a dream of owning a tearoom into a reality.
Having a network of franchisees that own their Beatons tearoom creates a perfect 'triple win' scenario. The customer receives an experience worthy of Beatons; the franchisee benefits directly from the hard work; effort and enthusiasm they put into their tearoom, and we all benefit from economies of scale and the wider coverage of the Beatons brand.
We have also structured our central revenue stream so that it is linked to your success.
This means we have a real vested interest in the success of all our franchisees.
MAKING THE FRANCHISE ACCESSIBLE
When creating the Beatons Tearoom franchise we were conscious of keeping the initial set-up costs as low as possible to make owning a Beatons franchise a realistic opportunity for many people.
We have achieved this by setting our Initial Franchise Fee at £14,995 plus VAT. We have also developed a tearoom fit-out process which reduces the need for expensive structural work to premises. In order to further reduce the initial capital outlay franchisees are also able to benefit from a £20,000 equipment lease-purchase option which allows the catering equipment to be financed over 3 years.
COULD YOU BE THE NEXT BEATONS FRANCHISEE?
We take great care in selecting our franchisees because we recognise that the partnership relationship of a franchise is critical to success. You don't need to have any training - we will train you in everything you need to know about running a successful Beatons tearoom.
You do need to be a 'people's person' - someone inspired by the idea of creating a motivated team, who appreciates the value of precision and systems and wants to enjoy the security that comes from being part of an organisation. We train you to become an expert in the proven processes and management systems we've created and provide you with creative marketing resources and dedicated support. This mix empowers you to feel secure and knowledgeable and proud to be a Beatons franchisee as you create the lifestyle you desire.
If you meet this criteria, whatever your lifestyle or background, we would love to hear from you.
Discover more about your earning potential as a Beatons franchisee...