The Bek's Franchise gives you the opportunity to choose from 3 exciting concepts, profit from their 30 years of success and join the Bek's franchise network!
The Bek's Franchise gives you the opportunity to choose from 3 exciting concepts, profit from their 30 years of success and join the Bek's franchise network! Read Less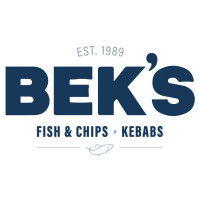 Welcome to the Bek's Franchise Opportunity
About Bek's
Bek's is most famously known and loved as the "Home of the Battered Chip"
We have been operating our hugely successful family-run business for over 30 years and now undoubtedly know that the time is right to share our recipe for success and expand our brand with three exciting franchise opportunities! We serve some of the tastiest chips in the UK to an increasing customer base and you don't have to take it straight from us, we have some pretty amazing reviews as testimony to our success and are one of the highest rated take-away outlets in the UK. We also boast nationwide brand recognition on a huge scale, supported by our ever-growing social media presence and following.
Our most Unique Selling Proposition, is our black country style battered chips that is well en-route to take the nation by storm!

A Brief Background into our Long History
Our journey began all the way back in 1989 in the heart of the English Black Country town of Darlaston, Wednesbury. Famous for our industrious background and now also for its famous 'Battered Chip'. Our affiliation with the potato can date back to as far as the 1960s.
The Bek's business dates all the way back to the 1960s, when Bek's grandfather left Cyprus and entered the fish and chip trade. He became a successful businessman within a short space of time and became a pioneer encouraging further Cypriot chip shop establishments, helping them within the trade and paving the way for many others to migrate.
Fast forward a few decades and we are completely revamping the chip game, bringing the highest standard of tasty potato to the market and putting our unique spin on the chippy scene. We've got a fantastic outlet in the West Midlands, and we are looking to recreate this up and down the country. Bek's have got over 30 years of experience to share and then some!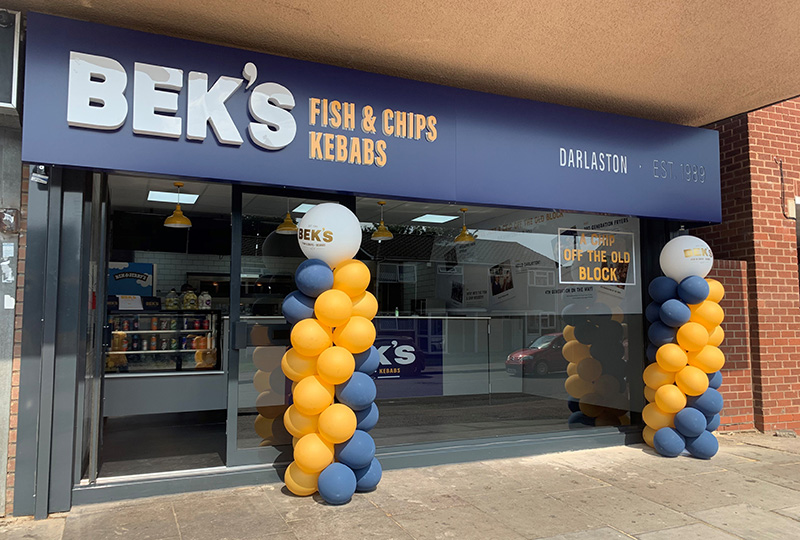 The Opportunity that Awaits You!
Franchisees will form part of a highly efficient and well-known franchise, serving up a storm in their designated territory, leveraging off of the fantastic Bek's Brand and product offering to make a great income. There are 3 different franchise models to choose from depending on the goals and preferences of the prospective Franchisee.
Model One – Bek's Take-Away Restaurant Model
Fully kitted out restaurant serving customers with the full Bek's offering, whether it be seated or take-away, on the local high-street or retail park.

Franchise fee: £27,500
Package fee: £120,000 - £200,000*
Model Two – Bek's Dark Delivery Kitchen Model
Fully fitted delivery only Bek's Dark Delivery Kitchen to serve the local residential population, and benefit from preferential rates with delivery partners.

Franchise fee: £22,500
Package fee: £35,000 - £70,000*
Model Three – Bek's Chip Station Model
The simplest model, being a Grab and Go Chip Station serving plain and famous battered chips with various options for toppings and sauces.

Franchise fee: £18,500
Package fee: £35,000 - £70,000*
The Bek's Advantage
The Franchisee will be the owner of a Bek's franchise business, implementing Bek's proven business model to replicate success as well as support and everything needed to start their new Bek's Business, with comprehensive training and support at inception and on an ongoing basis.
No matter which model you feel is best for you, you will receive the following from us: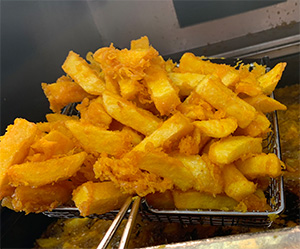 The rights to trade under and operate a Bek's franchise in a defined area for a period of 5 years with the right to renew
Turnkey franchise opportunity
Funding available
Site acquisition assistance
Bespoke shop fitting support
Food safety support systems
Support with purchasing of equipment and stock
Franchise operations manual
Full initial training in all aspects of the business
Ongoing training and support
Daily operational support via telephone
Access to our nominated suppliers
Centralised sales, marketing and PR support
Management reporting tools for you and your staff
NatWest Mentor can be used to provide tonnes of HR and
Health and safety support
Menu recipe creative development
And so much more!
Franchisees will also benefit from Bek's strong Social Media presence, raving reviews and on-going partnerships with partners such as UberEats, Just Eat and Deliveroo.
You need not be a well versed and experienced restaurateur to embark on this journey with us, nor will you be required to wait an enormous amount of time to get started. We will assist with everything from establishment, to training and even funding assistance if so required! We walk you every step of the way!
Are you the next Bek's Franchisee?
We are looking for enthusiastic individuals who want to be a part of our expansion journey and really want to commit to making Bek's a success. We are not looking for investors with huge capital or whose sole focus is purely driven by financial reward. That being said, franchisees can expect a healthy return on investment.
If you have a passion for food and our brand, then you are likely to excel as a Bek's franchisee. We want to see our franchisees succeed, because if you succeed, we succeed. Our model allows franchisees to flourish, and we are ready to build a strong franchise network of profitable Bek's businesses.