Clean up with this lifestyle franchise. There has never been a better time to take control of your future. Bin Dr is offering a fantastic opportunity to grow your own business by reducing the franchise fee by 50%. With cleanliness and hygiene having never been so popular, why not clean up with a... Read More
Clean up with this lifestyle franchise. There has never been a better time to take control of your future. Bin Dr is offering a fantastic opportunity to grow your own business by reducing the franchise fee by 50%. With cleanliness and hygiene having never been so popular, why not clean up with a fantastic offer. Read Less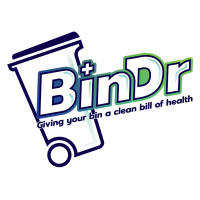 Bin Dr Background
Whether it's a regular plan or a one-off clean, our customers can be assured that we will leave their bin hygienic both inside and out. The bin will be cleaned, deodorised and sanitised using our environmentally friendly, biodegradable products.
Our customers consist of everything from residential properties, restaurants, take-aways, public houses, offices through to nursing homes, retirement homes, hospitals etc...
"In short, wherever there is a bin, there is a potential customer" - Lindsay Vallis, Founder & Managing Director
Bin Dr Franchise FAQ
Q: Do I need experience?
A: No, Full training is provided.
Q: Do I need commercial premises?
A: No, This is a lifestyle franchise enabling you to work from home.
Q: Can I work when I want?
A: Yes, You can mould your business to meet your requirements.
Q: How do I get clients?
A: We will support you in building a customer base through various marketing channels.
Q: Is it a one-off sale?
A: No, it's based on repeat business although we also do one-off cleans
Q: Is it reoccurring income?
A: Yes, our renewal retention rate is over 80%.
Q: Can I earn £50K per year?
A: Yes, as income is recurring, it increases year on year, making this a franchisee that creates compound income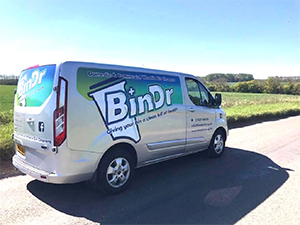 Bin Dr Services
Here at Bin Dr, we pride ourselves on being the best and our standards are second to none. Our ethos is to ensure that every customer is valued, no matter how big or small and that we always provide a quality clean with consistent standards.
Using a specialised trailer fully customised, with a 500-litre water tank and 5 stage filtration system, recycling the water to clean and sanitise the bin, this is then dried and deodorised and returned to the property.
With a Bin Dr franchise your earning potential is equal to the sum of your ambition, with bespoke trailers and equipment capable of cleaning up to 200 bins per day.
This lifestyle franchise can be run from the comfort of your own home, apart from a reliable vehicle and the trailer no further investment is required other than a computer and a mobile phone.
Due to the ever-increasing demand for the services provided, we are now offering this amazing opportunity nationwide to like-minded people through franchising.
Bin Dr Team
Our Team is highly experienced and our brand, much respected. We bring this experience to train and guide our franchisees through the rigors of starting this excellent business and becoming a member of the Bin Dr family. The key to success in any franchise is support, and we have it in abundance!
Bin Dr Training
Our In-Depth and Hands On training programme will equip you with all the tools required to run a successful Bin Dr franchise in your own territory. No previous experience is required as the comprehensive training will ensure that within a short period of time you will be in a position to run your own Bin Dr franchise. Relax, knowing that you have a dedicated team in the background ready and willing to help and support you when you need it. As part of the package, every franchisee will receive our Full Operations Manual covering all aspects of the business.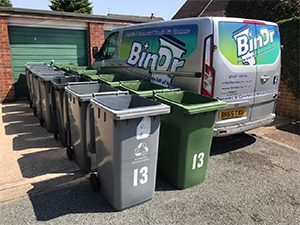 Why Bin Dr?
Covid proof business
Kerb side service - no need for direct customer interactions
Unrivalled customer satisfaction
Fabulous family run business
Competitive prices
Fantastic work ethic
Our strong brand
Flexible packages
Our drive to become the UK's household and commercial name in wheelie bin cleaning
Great eye catching and practical uniform
What is included?
5- year renewable licence fee
Full uniform
Marketing Material
Full training at Head Office
Comprehensive operations manual
Initial high-quality cleaning supplies
Start-up stationary including business cards, bin stickers, invoices etc
Full website
24/7 Help/Support via phone or email
Updates on new developments and products
Access to the full range of Bin Dr documentation
Plus more
Bin Dr -The Investment
This franchise investment to become a Bin Dr franchisee is £4,995* +VAT
The Next Steps
If you are interested in becoming the next Bin Dr Franchise manager, then the management team would love to hear from you.