BizSmart has created an innovative portfolio of Peer to Peer, networking and advisory services that enable small businesses to effectively scale and achieve profitable growth. Through collaboration and consultation, owners are able to transition their business to one that is more likely to fulfils... Read More
BizSmart has created an innovative portfolio of Peer to Peer, networking and advisory services that enable small businesses to effectively scale and achieve profitable growth. Through collaboration and consultation, owners are able to transition their business to one that is more likely to fulfils their ambitions. Our franchisees are at the centre of this transition. Read Less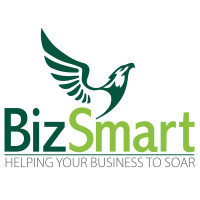 A lucrative opportunity to apply your leadership skills to help small business owners achieve profitable growth.
'Peer-to-Peer' groups are highly effective at helping ambitious SME's to scale and transform. BizSmart's® expertise in facilitating local 'Peer-to-Peer' groups presents its franchisees with the opportunity of running a dynamic consultancy business with six figure earning potential.
It's a fact that only 1% of businesses in this country scale beyond 49 employees, and only 4% get beyond 9. BizSmart® has developed a thorough understanding of the reasons for this trend and devised solutions to move the needles on those dials and to create more ScaleUps.
Biz Smarts® mission aims to radically improve the advice and support available to the owners of small businesses designed to help them scale and improve performance. We do this through a suite of innovative Peer-to-Peer and 1-2-1 support ScaleUp programmes. Collectively, these are our Flight Academy®. This has been designed to help inspire owners to achieve business success by sharing experiences, ideas and feedback with other owners. The focus is on enabling them to gain more freedom and control; to spread their wings and soar gracefully!
The BizSmart® programme
Flight Academy® gives business owners 'wings' through a rock-solid, proven system for scaling and building value. It comprises a suite of membership products that are available to business owners and their teams. The core products are our Smart90® Clubs, offering quarterly workshops and networking events, and SmartBoards®, which comprise panels of 6 business owners that meet regularly as a group and for 1:1 sessions. Supported by a suite of business improvement tools such as videos, webinars and tutorials, these events provide unique forums that stimulate the creative and practical solutions that are key to scaling a business.
The BizSmart® franchise
The role of a BizSmart® franchisee is to facilitate, advise and mentor. It's about using your proven business skills to guide local small business owners towards achieving their business expansion goals, using our highly effective ScaleUp programmes.
Using the suite of 'tools' we provide, BizSmart® franchisees will:
Recruit members; business owners that are seeking the inspiration needed to achieve the consistent rate of growth that will fulfil their ambitions.
Host regular workshops and advisory sessions to help explain techniques for improving revenue growth, profitability and brand value.
Facilitate monthly panels comprising select groups of business owners designed to act as a sounding board and encourage the sharing of good practice and ideas through focused discussion and collaboration.
Meet for 1:1 advisory and mentoring sessions aimed at helping members analyse their business, execute customised action plans and stay focused on the important issues.
Running a small business presents numerous challenges and so the value to an owner of regularly meeting with a small group of other business owners in a collaborative forum offers huge benefits. Our franchisees sit at the heart of this, becoming a tried and trusted mentors.
Why BizSmart®?
Easily operated from home and with no need for expensive equipment or stock, the business is ideal for those with proven leadership and people skills, plus plenty of drive and determination. The personal and financial rewards are significant:
Consistent, recurring revenue from membership subscriptions
Excellent Return on Investment
High membership retention levels
Low overheads
Large, protected territory – circa 10,000 target businesses
Effective membership marketing techniques
Thorough training at our HQ in Worcestershire
Dynamic software to ensure efficient administration
Ongoing mentoring support
A scalable business
Significantly, the market potential for BizSmarts®' services is considerable. Our target market of companies of 2 to 50 employees comprises over 1.3 million businesses. The recent Covid pandemic has particularly highlighted the value of peer-to-peer support and together with increases in Government backed funding to aid small businesses demand for our expertise is extremely buoyant.
The benefits of being a BizSmart® franchisee
Working with like-minded business owners to achieve success provides a genuine glow of personal satisfaction. There are huge personal rewards for being the catalyst that enables clients to effectively scale and fulfil their business ambitions.
From a financial viewpoint, the recurring revenue from monthly membership subscriptions provides predictable revenue and cash flow and, with the low costs associated with a home-based business, earning a six figure income is therefore quite achievable. It's a dynamic and lucrative business ownership opportunity.
Share in our success
BizSmart® are offering exclusive franchises to a select number of high-calibre, experienced businesspeople. Our ScaleUp programmes are unique and our innovative approach is genuinely disrupting the market sector. We will select only the very best people to join our franchise. We seek individuals with the attitude and desire and who want to be part of a movement – a true business partnership with BizSmart® and with your clients.
Franchisees will share in our growth and success as we develop an exclusive network of like-minded people. Our philosophy is based on an African proverb: "If you want to go fast, go alone. If you want to go far, go together". So, if you are excited by the prospects of applying your commercial skills and experience to create a secure and rewarding future as the owner of an innovative, people-focused consultancy business, then join the BizSmart® team.