You've Never Seen Anything Like It!
Bright Eyes Clothing is a unique business opportunity featuring hats that think they're a torch!
Bright Eyes Hats, which launched at the end in 2017, are a unique and innovative new product brought to you from the Bright Eyes Clothing Company.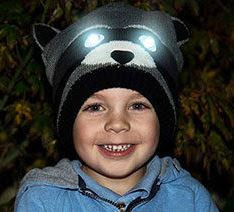 Be the first to showcase Bright Eyes Hats which is already becoming a huge success. You can open up sales channels both online and through traditional retail operations.
Bright Eyes Hats is the first in the line of LED clothing products being brought to market. Bright Eyes Franchisees will be the first to benefit from a whole range of clothing products which integrate LED lights so children and adults can be seen in the dark.
Get in on the ground floor and share in the success as Bright Eyes makes their products available as a franchise throughout the world.
What Are Bright Eyes?
Bright Eyes Animal hats are a new way to see and be seen.
Great fun for kids, teens or young adults, they contain two ultra bright white LED lights integrated into the eyes of the knit animal hat allowing you to use "head lights" and be seen at the same time!
Currently available in seven designs: Rusty Raccoon in grey and black, Cassie Cat in pale and dark pink, Unicorn, Dragon, Monkey, Panda and Tiger.
The hats have two modes. The LED lights can be switched on for use as head lights, or flash on and off to attract attention and be seen.
Great for all outdoor pursuits. See, and be seen, on busy pavements near roads, or in the Park on cold evening/nights.
Great to use in ski resorts and other sporting activities.

The Quality - The hats are designed and manufactured with the highest quality. Unlike many cheap hats, Bright Eyes hats are very well made and fleece lined to make them extra comfortable and cozy.
When people see and use the product, they realize immediately the quality and integrity of the design. When they switch the lights on they simply have to have one!
Bright Eyes Hats are a protected and registered design.
The Business Opportunity - Key Features and Benefits
Low Start-up Cost with significant stock of hats included, to enable you to get selling and make ROI straight away. ( 100 hats included in the initial investment!)
Flexibility to order more product as and when you need it
Great Flexible Business you can start from home
Low Overhead. No expensive premises or offices needed
Grow the business at a speed that suits your lifestyle and ambitions
Access to picture/video library, sales tools to help you market and sell Design registered product
A Protected Area in which to grow your business
Unique and Novel Product Worldwide!
Sell through multiple sales channels, home parties, fairs/markets, schools, retail and online
The Market and Opportunity
The global hats market sells more than 300 million units every year, a figure which looks set to drive the industry to reach a value of approximately £5.2 billion by the end of 2018.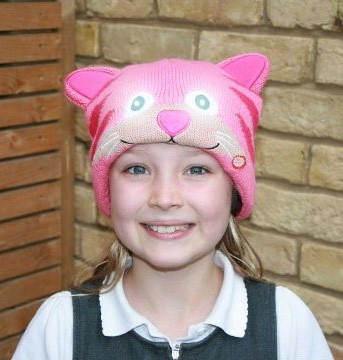 Key factors further contributing to market growth include the rise in aesthetic values; desire to keep pace with latest fashion trends and fads, and growing disposable incomes.
Although Bright Eyes hats have been designed as a children's product, it has become clear already through sales, that adults are also buying it for themselves, as one size fits all.
We believe that there is huge worldwide sales potential for the Bright Eyes hats as they have great appeal to both kids, teens and adults as a fun and unique product.
Will The Business Opportunity Suit Me?
Bright Eyes Hats are such an innovative product that no previous Sales or Marketing experience is necessary.
We are looking for the most talented representatives for the brand and have the following qualities:
Ideally well motivated self-starter with great enthusiasm for our unique new products.
Preferably, parents or grand-parents of children, who have access to a parental network with children
Socially active in the local community where you are looking to sell Bright Eyes Hats.
Initial investment only £1000 which includes stock of 100 hats!