Join the UK's leading garden franchise with initial guaranteed work to ensure your success from the day you start.
Join the UK's leading garden franchise with initial guaranteed work to ensure your success from the day you start. Read Less
The UK's largest ethical garden franchise with over 40 operators.
Cultivate Your Ideal Business
Ed's Garden Maintenance gives you, the operator, the opportunity to join a flourishing business. With a proven business model, an effective support system and the opportunity to grow your business in line with your ambition, Ed's™ gives you the key to the rewarding lifestyle you want.
Founding the business in 2003, Ed set out to prove his hunch that, with the right approach and systems, gardening could be a lucrative business. He was right and started franchising his business model in 2007. Ed's™ has grown at a formidable rate and is now the largest UK garden franchise with more than 30 operators providing a professional and valued service to commercial and residential customers.
Challenge Yourself at Grass Roots Level
An Ed's™ business can be what you want it to be: a career change, a new opportunity, a lifestyle choice. It offers you flexible working hours, work where and when you want it, and a work/life balance to suit you!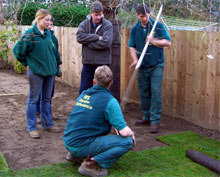 And, depending on your attitude, motivation, enthusiasm and commitment, we offer attractive earnings potential that is considerably more than an independent gardener can earn alone! Ed's™ gives you the know-how to grow your own gardening business in line with your aspirations.
Before you join Ed's™ it is important that you have a clear understanding of what we do and how we operate, so that you can make a clear decision about whether Ed's™ is right for you.
Some highlights of what Ed's™ can offer you: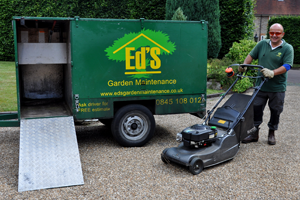 Proven business model.
Start up package including guarantee of work.
New customer enquiries generated through Ed's™ advertising.
Ongoing training, business support and regular business reviews.
The opportunity to tailor your business to suit your lifestyle.
Becoming an Ed's™ operator means joining a team. We are looking for people with a professional attitude and a commitment to deliver a high-quality and reliable service to ensure that the Ed's™ reputation is maintained, which results in more business for each operator.
Most new operators do not have hands-on experience in garden maintenance. The required technical skills are easily learned through Ed's™ training courses.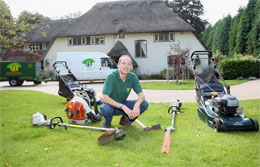 Ensuring Your Success
What kind of business security does Ed's™ offer you?
We are very careful about whom we select to become an operator – we will only select you if we believe you will be successful. To support this, we are prepared to guarantee that you will have enough work to get you started. This means you will have immediate revenue from day one.
You will receive ongoing support and training to ensure that you are able to grow and improve your business. There are regular operator meetings and business reviews to offer ongoing advice and an Ed's™ business coach will work alongside you to help you to achieve your goals.