Let us equip you as a business coach helping small businesses to grow and earn a very sizable income for yourself too! Whether you want to work part-time and earn a few thousand pounds a month with a handful of clients, or scale up into a million pound business coaching empire - this opportunity... Read More
Let us equip you as a business coach helping small businesses to grow and earn a very sizable income for yourself too! Whether you want to work part-time and earn a few thousand pounds a month with a handful of clients, or scale up into a million pound business coaching empire - this opportunity gives you the flexibility to decide. Read Less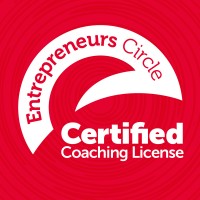 Entrepreneurs Circle Coaching Licence Testimonials
Below is a selection of testimonials from people that operate the Entrepreneurs Circle Coaching Licence or have used the Entrepreneurs Circle Coaching business services in the past.
"The EC's Coaching Licence finally gave me the clarity I needed to hone my coaching and provide my clients with a clear step-by-step process to get and keep customers - which they all LOVE! The depth to the programme's training is immense and gives me the confidence to consistently deliver results time after time (and make great money too!)"
I invested in the Entrepreneurs Circle Coaching Licence as soon as I saw it and it's one of the best decisions I ever made. I've been soooo impressed by the breadth and depth of the training, the support from the team and the templates and materials given to us. It makes running a coaching business as easy as 1, 2, 3! I've got my first client already!
When I saw the opportunity to partner with the Entrepreneurs Circle I couldn't believe it! I had hoped that by partnering with Nigel and his team I would benefit from their years of experience in marketing… I certainly wasn't wrong! The support and advice, not just from Nigel and the team at HQ, but also the insights and help from fellow coaches - has all been invaluable. I can't recommend it enough.
"I am using my EC Coaching Licence to give my existing clients a clearly defined process to improve their marketing. It's a tremendous value-add for them and very profitable for me!"
"The idea of building a future where I am my own boss, setting my own hours, spending my time doing what I love in the area I love all made the Coaching Licence a genuine dream come true for me. The support you get is amazing too, there's always someone on hand.".
As a successful design and marketing agency I have always been passionate about working with small businesses and had been exploring ways to add on coaching to extend my range of services. Having researched a variety of -off-the-shelf' programmes - many were very expensive, and many focussed on the American market (with a very different business culture), I wasn't convinced there was anything out there I could buy in to. I had been aware of Entrepreneurs Circle for year, and absolutely loved what they did - clear, easy to follow business marketing advice tailored for the UK. When the opportunity came up to become an EC certified coach, I jumped at it, and immediately invested! Here was a system perfect for UK small businesses, developed in a structured way to prevent overwhelm and confusion, and one I believed in and was proven to work. The training I have received has been comprehensive and thorough, equipping me with all of the tools and knowledge I need to be able to implement it in my clients' businesses. The teamwork, collaboration and support has also been amazing. The programme is so good, I managed to get my first coaching client on-board within the first few weeks!