Having started ourselves in 2015, and since built a team of 15, a customer base of 10,000+ and started over a dozen franchises across the UK, we are well versed in how to have the highest chance of success and want to help you become the most successful version of yourself!
This position is to become one of our Franchise Partners. We'll provide complete support, generate all customers and manage all diaries/financials. We need somebody who is as crazy about cars as us, someone who is willing to get stuck in and earn a good living doing what they love.
The Team:
Our team is built on the values of passion, hard work and family. The key things we are looking for in a franchisee are:
1. A relentless work ethic - the days can be long in the summer and cold in the winter - we need someone who doesn't mind getting stuck-in to get the job done.
2. A thirst for improving their car detailing ability, constantly learning how to do things better and surpass customer expectations.
3. Somebody who puts family first, who takes care of their responsibilities at home and knows the importance of earning money.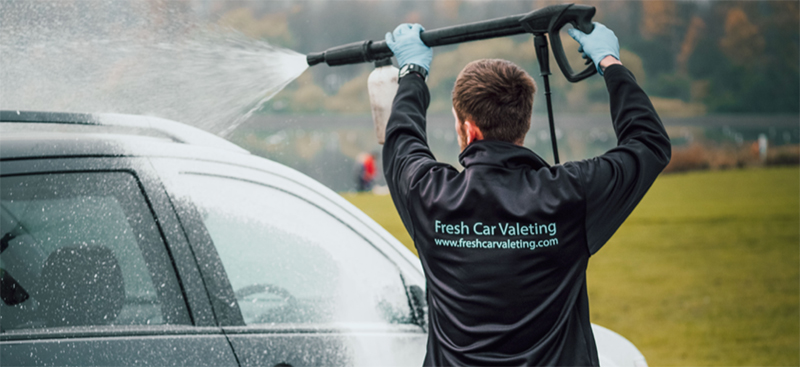 The Details:
This is a self employed position, legally you will be registered as a franchisee. Your earnings vary from £25,000 to £35,000 depending on how much you work, how quick you are able to generate regular clients and how good you are at valeting. (Franchise guarantee policy: If you don't earn a minimum of £1,200 per month in the first 6 months/or an average of £18,000 per year, we will guarantee a top up!)
We will rent you a van if required to keep your upfront costs down.
With huge support from your experienced team, you would be running your own business. This requires you to have the ability and mindset to take a big step in life.
Experience valeting is not required and we will offer you training.
We charge a franchise fee of £5,000. With a lesser management/marketing fee of 20% (charged once your business is successfully up and running), you will be able to make an excellent salary through exciting and satisfying work.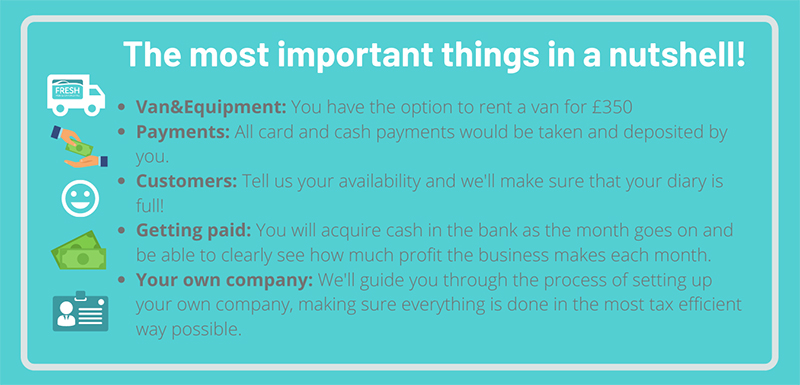 Next Steps
We'd love to partner with you and help you achieve your goals in business. It's tough on your own. Between valeting, looking after the van, calls, emails, social media, bookkeeping, invoicing, customer service, stock management, diary management and all the rest, it's hard to ever get a minute to yourself. Let's be honest, you go into business to make your life better, not worse!
With our systems, support, experience, marketing and brand we can help you take your first step towards running the kind of business that could take your life to the next level!