The Full Circle Funerals Partners Franchise is an amazing new franchise.
Already open in Guiseley, Leeds, Harrogate and Halifax, and with new franchises planned for Lancashire, Cheshire and Cambridgeshire Full Circle is changing the way funeral directors work.
Set aside what you think a funeral directors looks like for a moment.
Modern, non-religious, welcoming and modern, this is a funeral directors, but not as you know it. You won't find the staff wearing black and the dark wood panels of typical chapels of rest are replaced with silver birch and pastel-coloured walls.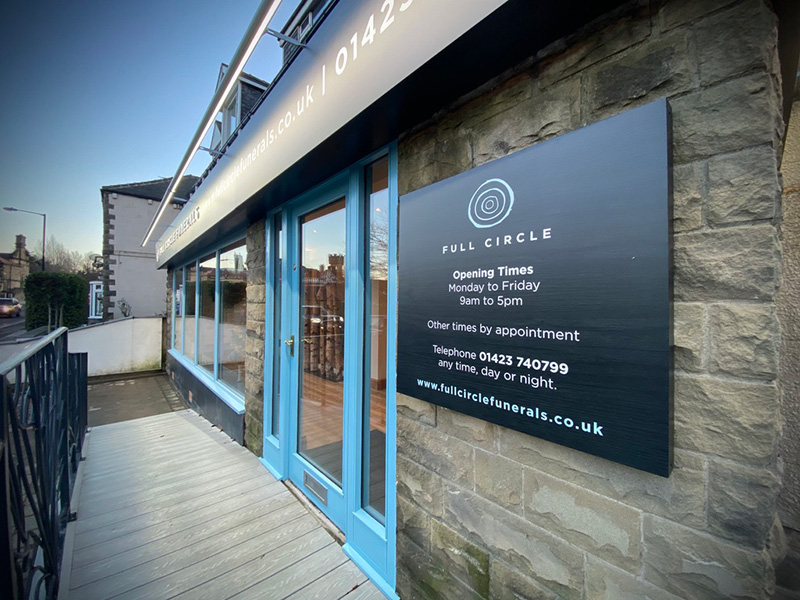 How The Full Circle Funerals Partners Franchise Works
You'll offer a service which supports people to express their funeral wishes, purchase pre-paid funeral plans and to create funerals at need (after someone has died). You will use your own private ambulance to bring the person who has died into your care and look after them in your own on-site mortuary.
Located in premises in high visibility locations, experience has taught us a lot about the right type of building and our team takes great care to research new places based on clear criteria.
As a franchise owner, you'll follow the same premises, fixtures, fittings and furniture blueprint and will be helped to create a warm and attractive environment which enables the delivery of person-centred support.
Training & Support Provided
We believe that with the right support, you can create a funeral which reflects the person who has died and is helpful to you and the friends and family of those who attend the service. Full Circle Funerals Partners aim to provide the perfect balance of hand-holding and independence for its franchisees, providing everything that has proven tow work well and to support each franchise partner as they replicate the business in their own region.
It takes around 4 weeks initially to learn the ropes and that training is held within existing locations so that franchisees get very practical mentoring. Once your own site is open the level of further training and operational assistance is amongst the best in the franchise industry. You'll be mentored expertly and by a team with a vested interest in your success.
Who is our Ideal Franchisee
Applications from those who share our ethos and caring approach above any specific profitability are always prioritised. The business format is well proven and successful and like all great franchises, the financial rewards reflect that. However, to Full Circle this business is a lot more than just a business, we are changing a market place and looking for people who reflect our values and mission.
A new Full Circle Funerals Partners franchise may need up to £100,000 in total funding, if the premises selected need building or remedial works prior to the fit-out. The franchise fee is only £16,000 of that total and the royalty tracks your turnover which means the commercial interests of Full Circle and You are in perfect alignment.
Our History
Sarah Jones founded Full Circle Funerals in September 2016. She started her career as a surgeon in the NHS and more recently owned and managed residential care homes for adults with learning difficulties.
She has always felt that funerals are important and that with the right support, the arranging process and funeral could be a therapeutic process. So, Sarah decided to launch a disrupter business that would deliver modern funeral care, with a person-centred approach.
The company is growing quickly with 3 locations already open in Leeds, Pudsey and Harrogate and a fourth about to launch in Halifax. The company is now offering a proven franchise format to those who share their vision of changing a dour industry and making a tangible difference.
The Next Steps
If you share our vision for success and you have a determination to succeed, we want to hear from you.
If you think you would be the perfect fit for a Full Circle Funerals Partners Franchise then fill in your details below and we will be in touch to discuss this opportunity further.