Finance Available
Headcase Barbers Franchise
Barbershop Franchise
Join the UK's largest barber group, established since 2000. People will always need a haircut.
Training Provided
Business Training and On-going mentoring
Lifestyle
Full Time or Part Time
Available Locations
Franchise opportunities available in The UK, Ireland, Netherlands, South Africa
Headcase Barbers has the perfect, affordable, business model for barber owners or investors looking for an opportunity that's recession resistant. Our model is easy to understand and to operate offering loyal customers a repeat service which makes for great, scalable, business! You will be supported by a dynamic Brand, team and state-of-the-art IT system to help market and manage your business.
The Franchise Opportunity
As the largest, and fastest growing, British barbers brand in the UK, we are looking for new franchise owners to continue our expansion at home in the UK and abroad. We have opened a new site in The Seychelles to add to shops abroad!
With an affordable initial investment and good return on investment, Headcase Barbers offers a recession resistant business model based on an essential, repeat custom, service.
Why Headcase Barbers?
Headcase Barbers, established in 2000, and franchising since 2013, has grown to be the largest franchised barber group in the UK, proudly offering a traditional British Barbers experience. Our scale means we have core experience of operating the model and a team to be able to support you. As an investment with a view to seeking good return on your money, we have an easier and more affordable model than many alternatives.
Men's barbering is booming, Headcase Barbers brings you a unique opportunity to invest in the UK's largest brand in barbering, a business sector that is unaffected by changes to the high street, or the internet. A hair cut is both an essential and personal service which can only be delivered in person - and provides a regular, repeat purchase from the client base.
Our customers come and return to Headcase Barbers because it offers an experience as well as the essential service of a haircut – and as a result they are prepared to pay a premium for the visit because UK consumers have become increasingly discerning. They want excellence, at an affordable price, and we deliver. That is the secret to Headcase Barbers' success because we have always been ahead of the wave.
The Headcase Barbers' founding vision was to revive the experience of first-class barbering. There is a significant business reward for creating a trusted and comfortable destination venue where customers can look forward to their regular monthly visit.
Barbering is recession-resistant - haircuts are essential with regular repeat custom.
Charismatic brand with active social media participation and high customer loyalty.
Easy management and operation – full training with data collecting Point of Sale (ePOS) system, giving you remote access to multiple shops.
Streamlined fixed costs and business model (the business cannot be replicated on the internet).
Strategic business partnerships with global product manufacturers.
With our growing network across the UK, we can outpace any independent barber with reinvestment in your business, from ePOS system upgrades to marketing, training and staff benefits.
We can help you every step of the way, from recruiting and developing talented and committed barbers, through to assistance with financial planning, marketing, business development and operations. We want you to love your business and demonstrate your commitment to your team and the Headcase Barbers brand.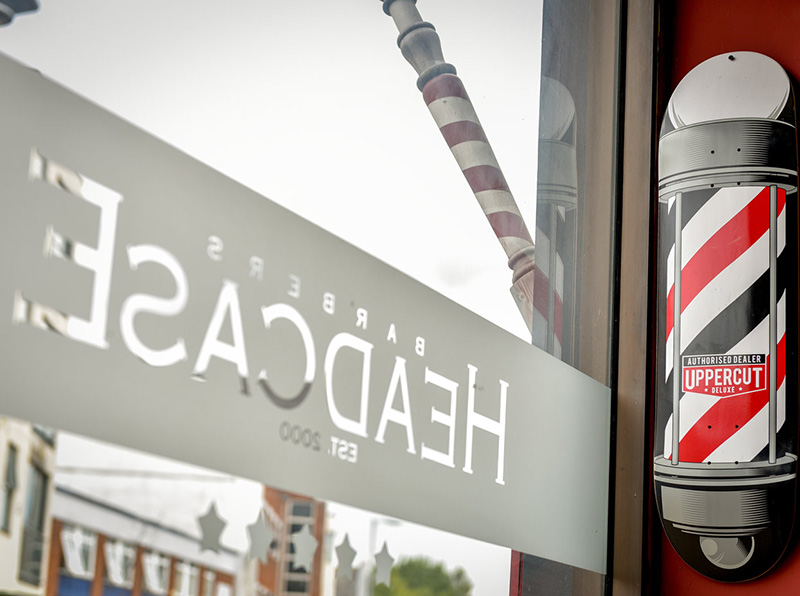 The Finances
People want to understand the total investment they will need to make. There are some variables such as the cost of shop-fitting for example which depends to a degree on size of premises and the condition it is in. But to give as clear an estimate as possible, this is the breakdown;
Launch Support Pack - £34,200 (plus reclaimable VAT)
Includes: Furniture, Equipment, IT, Shop Dressing, Product Inventory and Marketing, Launch Support and Project Management, Business Training, Franchise Fee.
Shop Fitting and Signage – Est. £9,000 (plus reclaimable VAT)
Est. Variables include size of unit, window frontage, condition of premises. Cost could be lower and we have control on costs that are much higher for example by rejecting the premises as a choice.
To explain 'Minimum Investment Required' we can help explore finance options with you. We can help raise the finance required if you have a minimum of £15,000-£20,000, subject to status. Of course, the more you have to borrow the higher the finance repayments you will need to make.
The Next Steps
To learn more about this exciting business opportunity, simply click below to request further information!
Get Your Free Information Today!
To contact Headcase Barbers for more information regarding their Franchise and speak to them directly with any questions you have, please complete the form below.