McNally EV are proud to give you the opportunity to run a highly successful lifestyle-friendly business, providing electric vehicle charging points to homeowners and businesses in your chosen territory. You will receive the necessary support and essential tools to launch and grow your successful... Read More
McNally EV are proud to give you the opportunity to run a highly successful lifestyle-friendly business, providing electric vehicle charging points to homeowners and businesses in your chosen territory. You will receive the necessary support and essential tools to launch and grow your successful electric vehicle charging business. Read Less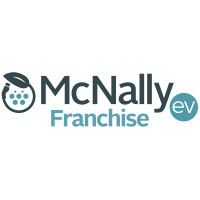 Electric Vehicle Charger Installations
McNally EV are excited to announce the opportunity to be part of a highly successful family run business, installing electric vehicle charging units to homeowners and businesses local to you. The McNally EV franchise is the perfect opportunity if you are looking for a business with fantastic growth opportunities in an ever-expanding market.
Why McNally EV?
With over a decade of experience in the EV industry McNally EV has become one of the most successful and reputable installers in the UK, securing contracts with large worldwide organisations who have an invested interest in a greener future making McNally EV charging experts you can trust. McNally EV would welcome individuals who share the same passion and enthusiasm for renewable energy and drive the business forward securing a greener future.
The electric car market is increasing in popularity, with nearly 260,000 pure-electric cars on UK roads at the end of May 2021, and more than 535,000 plug-in models including plug-in (PHEVs). It is expected by the year 2030 there will be 8,000,000 pure-electric cars on UK roads and more than 11,000,000 plug-in models on our roads. With the purchase of electric vehicles increasing so is the demand for EV charging points to be installed commercially and domestically across the UK.
Our proven franchise model has been developed to deliver high-quality assignments across the UK to a network of franchises, building on the electric vehicle charging foundation we have already created with proven success.
The Franchise Opportunity
McNally EV will provide every franchise operator with the opportunity to build a highly successful business. To help make your business a success we will provide you with the McNally EV business model, branding and all the training and support you need from our highly experienced management team.
With over 10,000 installations completed across the UK, our expertise and experience is extensive and sets us apart from our competitors. McNally EV will only install charge points from the leading manufacturers meaning the products we supply are not only from reputable market leaders names you can trust, but that our recommendations can be trusted too.
Each franchisee owns an exclusive area and will have the flexibility to run a pace which suits your lifestyle and commitments and be confident knowing the scalability is there to make a real impact on your local community. Whether running your franchise as a part-time or full-time opportunity, adopting a collaborative approach with McNally EV will help maximise your success and ultimately achieve the desired level of performance, quality, and loyalty.
What Do I Get!
By becoming a franchise within McNally EV, you will be a valuable member of the team and will benefit from the following:
Company set up and business management – we'll help set you up with the most efficient business structure that is easy to manage.
Branding – We'll provide you with fully branded Vans, Uniform, PPE along with business cards.
Marketing & Sales – We'll provide you with leads generated from McNally EV and support you with your own lead generation along with social media set up and marketing to launch your new venture.
Product and technical training – Providing you with everything you need to know – how to measure, how to fit and how to order your products, we'll be by your side at every step of the way.
Administration systems and procedures – Whatever your personal business skills, we'll make sure that you know how to manage your business effectively and efficiently.
Branding ­– Rights to trade under the highly recommended and reputable McNally EV name.
Area Exclusivity – Your local area will be exclusive to your and no other franchises will be sold within your area.
Website – A well-presented and maintained website
So who are we looking for?
McNally EV are looking to work in partnership with enthusiastic and motivated individuals who passionate in bringing the renewable energy initiative forward by improving the infrastructure for EV charging to your local area and creating a greener Britain.
Previous business experience would be an advantage however not essential as the McNally EV franchise support team will ensure you receive a full induction and launch event to ensure you hit the ground running.
Here's what to do next…
Excited to know more? … McNally EV are happy to explore your franchise opportunity together, fill in the form today to receive further information.