Mogsy Belle Franchise
Dessert Franchise
Mogsy Belle, founded in South Wales in 2019, began with a love for ice cream, having previously had ice cream vans. Our brand is built upon a fun-filled experience for both adults and children alike, offering mouth-watering desserts, gelato, which is made in-house and every ... Read More thing else in between. Read Less
Available Locations
Throughout the UK
Are you ready to run your dream business with the Mogsy Belle franchise?
Brits have a long-standing love affair with ice cream and desserts, even during the global pandemic the ice cream and dessert industry continued to stay the course. Whether covered in cream, scattered with fresh fruit and chocolate or slathered in sauce, our unapologetically indulgent desserts are hugely popular and customers just can't get enough!
Desserts done right
As a rapidly growing business, we are excited to offer you the opportunity to join our fabulous family. We are searching for inspired, passionate, and devoted individuals who will find happiness and success in running their own business in partnership with us.

About us
We believe our desserts are among the best in the UK. Every dessert we sell is delightfully tasty and made with love. Whether it's freshly made waffles, tempting cookie dough, yummy ice cream, amazing milkshakes or any of our delicious and moreish desserts, we have something to satisfy every craving!
The key to a successful business is to make yourself memorable! Our vision was to create a space where families and friends could enjoy amazing ice cream and desserts in a fun and vibrant environment. From the moment we opened our doors we knew we had created a recipe for success. Using our easy to manage operational systems we were able to quickly expand and we now have three successful dessert parlours in Wales.
We are now ready to expand our business further and are excited to offer dessert enthusiasts the opportunity to enter this highly lucrative industry.
Everyone loves a sweet treat and there is no denying the success of dessert parlours around the world, are you ready for a taste of the sweet life?
Cookie Dough & Cakes
Ice Cream
Waffles & Crepes
Milkshakes
The benefits of owning a Mogsy Belle franchise
Brand recognition
When you start your own business it can take years to build brand trust and a loyal following, when you open a Mogsy Belle franchise this has already been done for you.
Extensive training and support
You will receive training at all stages of the opening process. The initial training will provide you will all the skills required to get your business ready to open. When your doors are ready to open we will be with you to make sure everything runs smoothly. Going forward you receive various forms of support. It's your business but you are never on your own.
Easy to manage operational systems
We understand every area of running the Mogsy Belle business, we have opened 3 successful stores after all! All our operating systems have been written with franchisees in mind, they cover everything and are easy.
Marketing
We will guide you in all things advertising and marketing and help you to build an effective local social media presence. You will also receive a digital bundle of marketing materials to market your business.
Excellent products
Our brand reputation relies on quality products, so we do everything possible to make sure we keep it strong.

The Opportunity
Becoming a successful franchisee with Mogsy Belle isn't as daunting as it might seem. Naturally, there will be challenges but the basic requirements you need to overcome them and make your franchise work are assets you probably already possess.
Owning one of our franchises comes with many perks and benefits, from our initial and ongoing support to being part of a brand that puts a smile on customers' faces.
We know the industry and we know how to operate a successful and profitable dessert business. You can rest assured that we are with you each step of the way.
Your success is our goal!
Brand Identity
You will trade under the Mogsy Belle respected brand name. There is already a clear brand identity, a loyal customer following and a set of easy to follow systems and processes in place.
Location, Location, Location
Finding the right location for your new business is key. Our experienced team will work closely with you from finding the right location through to the grand opening and beyond.
A Successful Business Model
We offer a unique franchise opportunity that utilises established systems, modern processes, and a proven operating model all under leadership that you can depend on.
Training
You don't need to have any prior industry experience to run our franchise. The only thing you need is a passion to succeed. You will have access to our supportive and knowledgeable leadership team who will provide you with guidance and training before, during, and after your grand opening.
Ongoing Support
Our head office team are with you every step of the way. It's your business but you are never on your own.
Operational Support
Procedures are a must for any company's operations. Therefore, we follow a strict standard operating manual. Each manual is practical and designed to simplify the delivery of an outstanding customer experience.
Exclusive Territory
Your business will operate in an exclusive territory. Our generous territories have been designed using very specific criteria with complete fairness and scale-ability. This will enable you to maximise the opportunity for revenue as your business grows.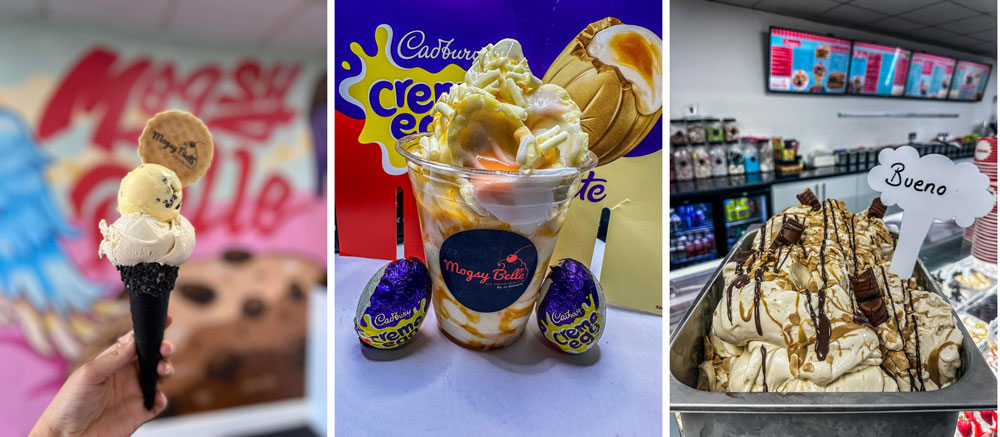 The Investment
FRANCHISE FEE: £14,995 (+VAT)
SETUP COSTS: The setup costs will be between £25,000 and £40,000. They will vary depending on the size and location of your premises.
Your franchise package includes:
Rights to trade under the Mogsy Belle brand name Exclusive territory
A central website
Full training in all areas of the business, including dessert preparation, the day to day management of your business, marketing and everything in between
Assistance with the selection of your premises, design, construction, layout and equipment
Processes, systems and templates to run the business
Ongoing support and regular business updates from our highly experienced management team
Operations manual which covers all areas of running your business Marketing materials, stationery and documents
If you're ready to live the sweet life get in touch today.
Get Your Free Information Today!
To contact Mogsy Belle for more information regarding their Franchise and speak to them directly with any questions you have, please complete the form below.