The world's first takeaway that cooks your food right outside your door. Mostro Pizza is the future of takeaway; they deliver the freshest, hottest, and most authentic pizza.
The world's first takeaway that cooks your food right outside your door. Mostro Pizza is the future of takeaway; they deliver the freshest, hottest, and most authentic pizza. Read Less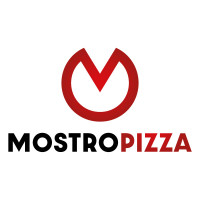 The Mostro Pizza Franchise Opportunity
Mostro Pizza is a takeaway delivery pizza service with a difference! We prepare and cook our food at our customers' houses to provide them with the best quality pizzas served hot from the oven.
About us
Here at Mostro Pizza, we enjoy giving our customers a show, customers can watch us prepare their food right in front of their eyes. From tossing and stretching our pizza dough to removing our sizzling pizzas from a 400°C oven, Mostro Pizza is the future of takeaway.
Nothing beats a pizza served bubbling and steaming straight from the oven, which inspired us to take home-delivered pizza to the next level. Using only fresh, never frozen, locally sourced ingredients, our customers can experience the freshest and tastiest pizzas delivered the Mostro way.
We offer mouth-watering pizzas, salads, sides, gelato, and cater to all dietary requirements. There is something for everyone at Mostro Pizza!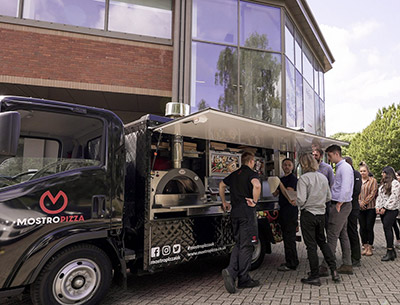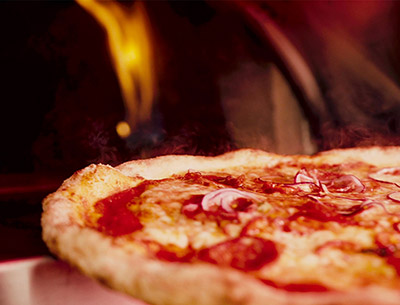 What you will receive
Our franchisees will receive extensive technical and management training on ALL aspects of the business as well as a full suite of materials and tools to hit the ground running with your Mostro Pizza franchise business.
The Opportunity
Be part of a respected brand and have access to our highly experienced management team. You have the opportunity to join a rapidly growing industry and the freedom to run a company without the added risk. You will also be able to provide Mostro Pizza experiences to help you maximise your income, these include:
Mostro Takeaway – Be part of the first takeaway in the world to make and cook at the customer front door! Bring theatre as well as the freshest and hottest pizzas to all your customers in your area!
Pizza making parties – Your customers will be stretching and spinning dough like pros, using our specially selected ingredients, and cooking authentic Neapolitan pizza.
Corporate Events – Whether it's a treat from the business to staff or a regular lunch route, Mostro Pizza is flexible enough to accommodate all corporate enquiries.
Events – Bring events to life with the Mostro Pizza experience, perfect for parties, weddings and festivals, your takeaway customers soon become your event customers too.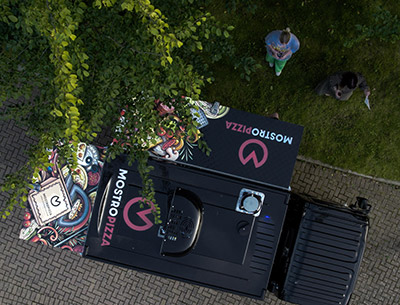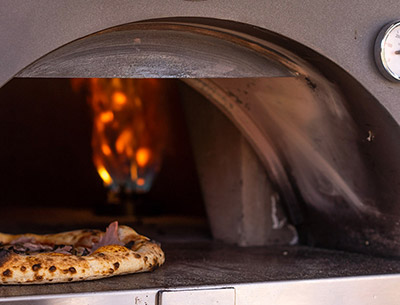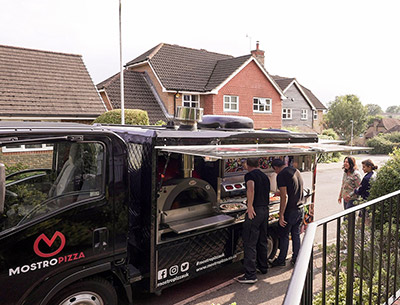 The Mostro Pizza Franchise Model
You will be serving the full Mostro Pizza menu, including our range of pizzas, salads, and gelato in your local area. Your truck will be fully fitted out with all of the equipment and utensils you will need.
Franchise fee - £20,000
We have a wide range of funding options available to support you with the cost of your food truck and necessary equipment. Please enquire to learn more.
Franchise benefits
Vehicle and equipment (bespoke fully branded Isuzu N35.125(S) 6d temp chassis cab fitted fridges, freezer, kitchen equipment and much more)
Technology (tablet, Mostro Pizza app, email address, web page)
Training (pizza making, Level 2 Food and Hygiene)
Sales and marketing (how to promote your business, social media training, local advertising etc.)
"Fantastic experience, hot delicious pizzas cooked outside my house. Everyone loved watching the pizzas being prepared and cooked right in front of you. The taste of the mushroom truffle pizza was outstanding. Looking forward to placing my next order with you."
Paul Constable
The Investment
The cost of the franchise is dependent on which model you choose, please see the franchise models above. Government-led funding is available towards the cost of the franchise fee to help you get your Mostro Pizza franchise business off the ground.
Who are we looking for?
We are looking for motivated and ambitious individuals to join our team. You will need to be able to demonstrate a willingness to learn and a commitment to our brand. You do not need previous experience in the restaurant industry to succeed as you will receive all of the training you will need.
What's next?
If you think you would be a perfect fit for the Mostro Pizza franchise, then please fill in your details and we will get back to you shortly with more information and a copy of our detailed franchise prospectus.