We are looking for a Master License holder in the UK. Network Lead Exchange is an online networking platform that allows entrepreneurs and like-minded business professionals to network and pass quality leads to each other. Network Lead Exchange is broken down into many different Chapters. As the... Read More
We are looking for a Master License holder in the UK. Network Lead Exchange is an online networking platform that allows entrepreneurs and like-minded business professionals to network and pass quality leads to each other. Network Lead Exchange is broken down into many different Chapters. As the master license holder, you would sell a territories where franchisees could own several networking groups. Read Less
Network Lead Exchange is a territory of networking groups with an online platform. Territories are sold and as many chapters as the franchisee desires can be created within that territory. Franchise owners invite business owners and professionals in their geographic area and beyond to join their chapter, with only one participating business per profession in each Chapter.
With the intent of promoting new business referrals within each local chapter, Network Lead Exchange allows members to pass and receive leads virtually. Members earn commissions for the referrals they send and gain access to a new source of leads from businesses they know and trust.
HOW IT WORKS
Members of each local chapter will have the ability to send and receive quality leads to each other in exchange for a commission or additional business.
Join the network
Build your member profile
Start referring other businesses
Collect your commissions
Grow your business

SUPPORTED BY THE GLOBAL LEADER FOR OVER 35 YEARS
United Franchise Group consists of a number of award- winning brands – from #1 in Category by Entrepreneur Magazine, to multiple brands in the Franchise 500, to Top 10 Fastest Growing Franchises, and many, many more! From business-to-business brands, to consultative brands, to retail and food brands, United Franchise Group has been the global leader for entrepreneurs for more than 35 years.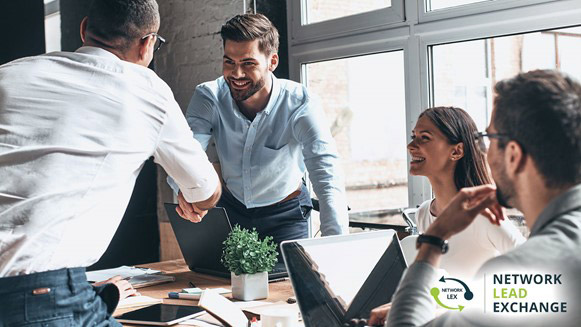 MULTIPLE REVENUE STREAMS
With multiple revenue streams the Network Lead Exchange platform allows your franchisees to take control of their income and make the addition they desire to their salary. With annual memberships fees, commissions for passed referrals, royalties from their chapters, franchise referrals and the growth of their business they will experience the value our technology at Network Lead Exchange can bring to you as a master license holder and them as a franchise owner.
TURN-KEY OPERATION
Your franchisees can fuel their entrepreneurial spirit without the overwhelming capital and guess work in doing it alone. With our easy-to- follow model and system, franchisees can quickly hit the ground running.
LOW-COST INVESTMENT
Network Lead Exchange is a low-cost franchise opportunity with no inventory or equipment to purchase and maintain. The business can also be run by a single owner, if desired, virtually eliminating the costs associated with staf?ng and payroll.
This advertisement is not an offer to sell a franchise. Any offer to sell this franchise will be made by a Franchise Disclosure Document and only following registration by NETWORK LEAD EXCHANGE in any state requiring registration prior to sale.