Reading Time:
4
minutes
Have you ever taken a minute to sit back and ponder where you've shopped the most? The answer is probably your neighbourhood off-licence. You probably pop into one every other night, pick up a couple of beers and a bag of crisps, and go about your evening without a second thought.
Giving it some thought, an off-licence can be an excellent business opportunity.
Simply put, an off-licence franchise or business is one that sells alcoholic beverages to-go. For many of us, our local off-licence is a neighbourhood luxury that often goes underappreciated but brings great value to the community.
Most off-licenses are independent stores, while the rest are chains and franchises such as Thresher, Bargain Booze, and Victoria Wine.
Many off-licence businesses double up as corner shops, convenience stores and newsagents. In contrast, others specialise in offering varying types of alcohol and carry detailed knowledge of craft beers, wines, and spirits. These shops may also stock products such as cigarettes, snack foods, and various convenience store groceries.
Off-licence businesses make for excellent business ventures. If you're considering bringing one to your area, we have all you need to know, from what you can expect to how to get started.
Is an Off-licence Franchise Right For You?
Becoming your neighbourhood's friendly convenience store clerk may sound like a simple decision, but operating an off-licence business has its ups and downs. There are a few things you should consider before deciding to open your own off-licence franchise.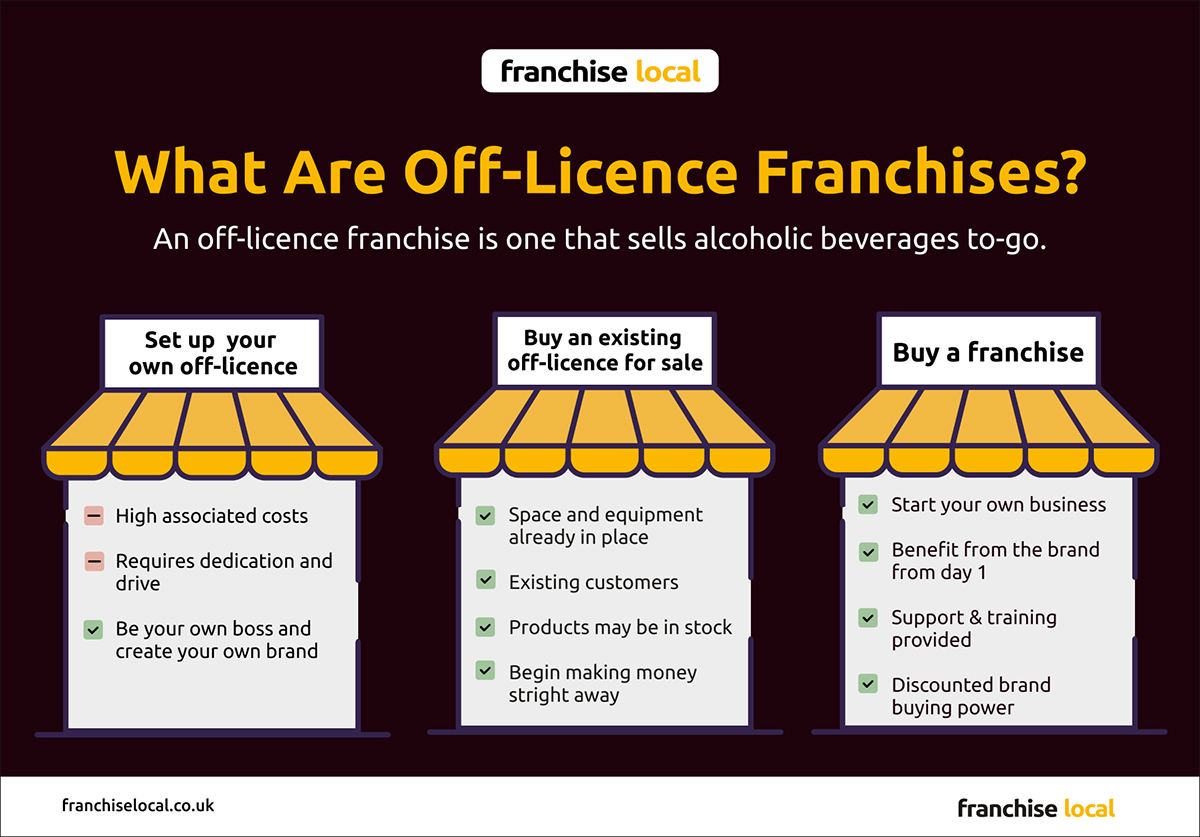 The Hours
Most retail businesses are open from at least 9 am to 5 pm, but an off-licence is typically held to a different standard. If you're operating as a newsstand or coffee shop, you'll want to get an earlier start and catch the morning crowd. At the same time, getting good use of your licence means staying up late and serving the evening liquor drinkers.
You are legally allowed to open at 8 am in England, Wales, and Scotland on weekdays, but if you're not seeking morning sales, you may choose to open later. A late start to the day is nice, but this also means staying open later, until 10 pm or 10:30 pm or so.
Serving everything to everyone means long hours, making work-life balance difficult. Of course, you can mitigate this inconvenience by hiring staff or choosing select days when your hours of operation vary slightly.
The Customers
Off-licence businesses are seen as pillars within their communities; this can be a rewarding occupation for anyone. You will have many interactions with others day-to-day; some will be mundane, others will be joyous, and a portion will be frustrating.
Your more difficult interactions will surround your off-licence status. You'll need a high level of patience with customers who've had a few too many drinks during the earlier part of an evening. You may also have a run-in or two with underage drinkers and smokers you'll have to turn down.
You'll have lots of fun getting to know your neighbours and watching them grow up, but you can also have some particularly unfavourable customer interactions as an off-licence business.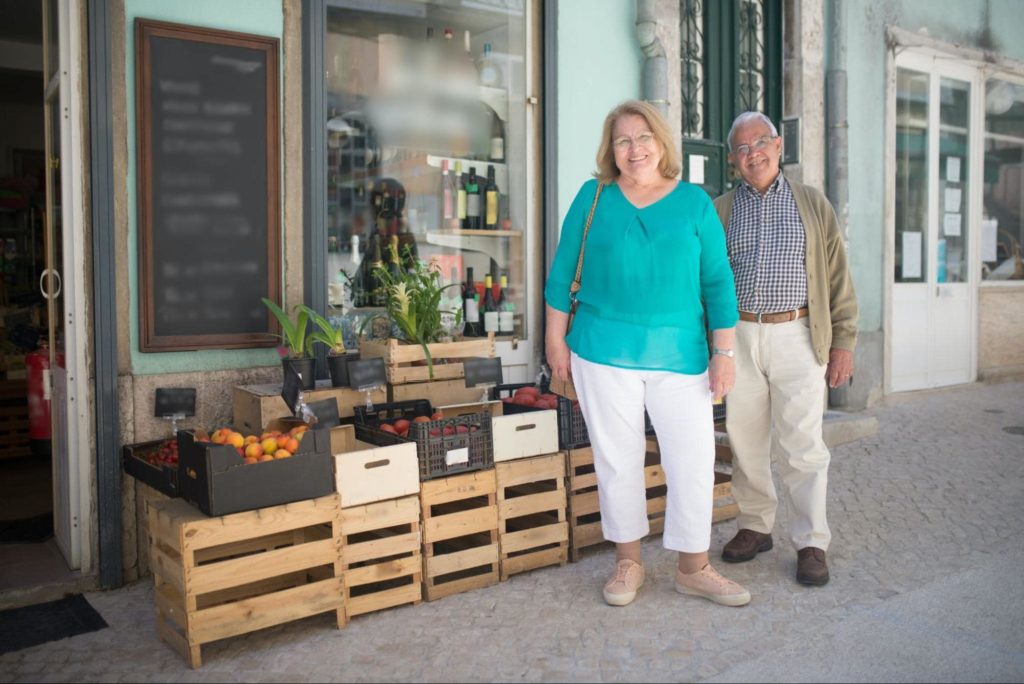 The Products
If you're considering opening an off-licence, you surely have no issue selling alcoholic beverages, but you might be stocking much more. To serve everyone, you'll need a wide variety of products which can make stocking up appropriately tricky. It can take some trial and error, but in residential areas, you'll ultimately be able to sort out what should get restocked and what's not being bought.
You may be comfortable with selling snacks, wines, and spirits, but other products might not sit well with you. As a corner shop, you'll be expected to offer other vices like lottery tickets and cigarettes. When deciding whether or not to open an off-licence business, keep in mind that many of your customers will have dependencies that can make you feel uncomfortable.
How to Open an Off-licence Business
You can take three routes to open your own off-licence business.
1. Set up Your Own Off-Licence
You can choose to open your own off-licence. Deciding to start up any kind of business requires dedication and drive. Though this will require a lot of work and has high associated costs, it will allow you to be your own boss and create your brand. Learn more about the differences between running a startup and opening a franchise on Franchise Local.
2. Buy an Existing Off-Licence for Sale
Rather than establishing your own shop from scratch, you can choose to purchase an existing off-licence business for sale. Choosing this route has several benefits, including the fact that the space and equipment are already there, products may be in stock, and you'll have existing customers. An available off-licence for sale can make for an excellent business opportunity that can begin making money right away.
3. Buy a Franchise
Franchising can be a good middle ground between starting from scratch and buying an existing business. If you purchase a franchise, you'll still be setting up your own business, but you'll benefit from the experience, resources, and the name of a business that is already successful. Many franchisors will provide you with the specialised training needed, stock discounts, assistance with marketing and promotion, and support on various business-related issues.
Each of the above routes to running a successful off-licence business comes with pros and cons. By looking through some tips and advice offered by Franchise Local, you'll be able to better grasp your options and make the right decision for you.
What Qualifications Do You Need to Start an Off-licence?
Under the Licensing Act 2003, anyone authorising the sale (by retail) or the supply of alcohol has to hold a personal licence. To qualify for a personal licence, you must hold a licensing qualification as a Designated Premises Supervisor (DPS). The local authority issues this after you pass a licensing law course known as the Award for Personal Licence Holders (APLH level 2).
Without a DPS in place, you cannot sell alcohol in your shop, even if you buy a business that already has a licence.
If you plan on operating your off-licence as a wine merchant, then, although not required, it's best to develop knowledge of various wines and liquors. Having information to offer on the various beers, wines, and spirits you sell will enhance your customer service and relationships. It's recommended that you take courses to hone your craft and attend wine tastings.
Next Steps to Starting an Off-licence Business
If you are ready to start an off-licence business, it's time to explore your options. Do your best to look into all three routes to an off-licence thoroughly. Remember that you can start your own, purchase an existing one, or buy an off-licence franchise.
Explore the Franchise Local website to learn more about the various investment opportunities across the UK. An off-licence might not be right for you, but your entrepreneurial spirit still drives you towards franchising.
Franchise Local is here to answer your questions and support you through your journey.