OSCAR is the family business that provides the complete pet care service,delivering a comprehensive range of pet foods, treats and pet accessories direct to the door. With 20 years' experience in the industry the value of this personal service has established over 100 franchisee businesses... Read More
OSCAR is the family business that provides the complete pet care service,delivering a comprehensive range of pet foods, treats and pet accessories direct to the door. With 20 years' experience in the industry the value of this personal service has established over 100 franchisee businesses operating within exclusive areas. Read Less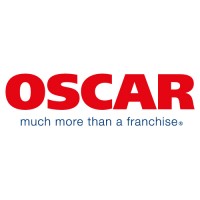 Oscar Pet Foods Franchise Testimonials
Below is a selection of testimonials from people that operate the Oscar Pet Foods Franchise or have used the Oscar Pet Foods business services in the past.
As a lifelong pet owner I think OSCAR came to me for a reason and I really liked the concept. It had a very strong brand presence on the internet - eye-catching and professional, which also gave me confidence. I thrive on a challenge, am self-motivated and very much a people person and I could relate to the benefits of the OSCAR service.

The team at OSCAR were able to answer all my questions, and with additional research on the brand, the company, the pet food market and local pet owners, I knew I was making the right choice. How many franchisors give you the opportunity to gain a recognised qualification which adds to the success of your business? OSCAR does and I was very impressed.
I was drawn to Oscar because of its ethos and proven track record. From day one, I was impressed with their honesty and support and, having dismissed several less attractive options, it was such -humanfactors that finally convinced me to purchase an Oscar franchise.
Our decision to go with Oscar was based on the affordable entry level, a range of well-priced products and the potential for repeat business.
OSCAR, as we see it, will allow us the chance to run a successful business with even more time together.
On joining Oscar I had found an unconditionally friendly, family business that appealed immediately for all the right reasons. Ideally, for me, the flexibility of running my OSCAR business has enabled me to maintain family life while continuing to develop a very healthy customer base.
An OSCAR business allows me to work from home, gives me time with my family and adds flexibility and freedom to my working day. At the same time I have a business that provides me with a good standard of living and a product and service that makes my customers happy and keeps their pets healthy.