Do you enjoy meeting people?
Do you love where you live, and want to help promote its best bits to more people?
Do you have transferable skills – maybe from a marketing, customer service, sales or management background?
Do you want to work from home, around your family and flexibly to suit you?
If the answer is YES, then this up and coming franchise is for you!
About Us
Promoting Local franchisees love where they live. They love their local communities, support the Shop Local theme, shop and use local businesses and enjoy finding out what's going on!
We started with our first pilot franchise in 2018, which has gone on to be Runner Up in the Start-up of the Year local Chamber of Commerce awards, and be featured on BBC Radio 5 Live and local newspapers.
As we started to develop the services and information that people needed, the dream of helping others to start their own businesses and help spread the word about their areas began.
We're a friendly business, approachable and always keen to help others where we can – which is something we want all franchisees to be as well. There's no slick, sleazy sales pitch – just upfront friendliness, supportiveness and a feel-good factor.
Our Services
Our main focus is to help share positivity locally, creating a sense of community and helping to raise awareness of local events, stories and businesses. This is done via:
website blog and events page
local online Business Directory
social media
your own local mobile app
hosting local networking events and Facebook groups
Additional services include social media management and marketing for small businesses - although these can be done via others within the Promoting Local franchise community, not necessarily you as the franchisee if you don't have the skills and experience to do so.
We want to build a community of franchisees that can help each other with support and services that customers need. Therefore, if you have a skill that we can help promote and gain you additional customers, we'd love to have you on board and do so! Be that web design, graphic design, admin support, sales, training, coaching…. All of these are essential for local businesses and communities.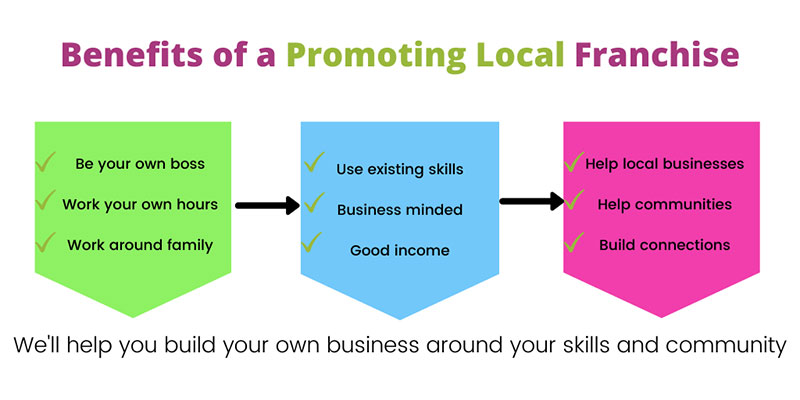 Franchise package/ costs
A Promoting Local franchise costs just £3999, and then £150 per month thereafter (this is to cover website and mobile app hosting and updates, marketing and any additional/ongoing training).
The package includes:
Your dedicated area
Website, social media, mobile app and email set up
Marketing materials and templates
Training and support
Pre-launch marketing campaign
Logo design and branding
Branded t-shirt
In their first full financial year, our pilot franchisee had a turnover of £25,000+. This was for working between 25-30 hours per week. However, depending on your skills and experience this could bring in more than this, or less if you want to work fewer hours. We do ask that you can commit to working at least 10-15 hours per week on your franchise, but this can be days and times to suit you (and your customer needs).
What type of person is Promoting Local best suited to?
One of the main skills we're looking for is a PEOPLE PERSON – a good communicator in person and via telephone, email etc. Confident, but not over-the-top!
You need to be fairly confident on SOCIAL MEDIA – Facebook, Twitter, Instagram. This is where you'll learn about your area, meet others and spread the word about you and your business.
COMMITTED – we want dedicated people to start their own businesses. We will give you the tools and help to get you started, but it's YOUR business – and you'll get more out of it, the more you put in.
A POSITIVE, can-do, ideas-type of person. A go-getter that wants to build a successful business, with our help and support if needed.