Radfield Home Care is offering you an exciting, affordable business opportunity in a growing marketplace...
With over 30 years of experience in providing care to the elderly, Radfield Home Care is an award-winning company built on an outstanding reputation, whose director Dr Hannah MacKechnie is a qualified GP.
Hannah, alongside her brother Alex, grew up in Radfield Residential Home for the Elderly giving them a unique insight and knowledge which they have used to establish Radfield Home Care as a leading name across the West Midlands and North West England.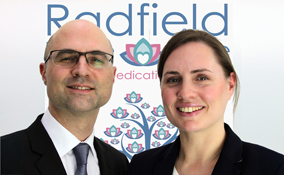 We are the very first Certified B Corp in the UK healthcare sector which demonstrates our commitment to ethical business and treating our franchisees well. A B Corp is to business what fair trade is to coffee.
We are offering the opportunity to share our unrivalled knowledge and expertise with our franchisees to work together to make Radfield Home Care the elderly care provider of choice across the UK.
Why Choose a Home Care Franchise
Most people wish to remain living in their own homes as they get older and the majority of adults who use domiciliary care services are over 65 years of age and this section of the population is growing every year.
A Radfield Home Care Franchise is recession resistant and provides a continual stream of business throughout the year which makes it easy to plan and grow.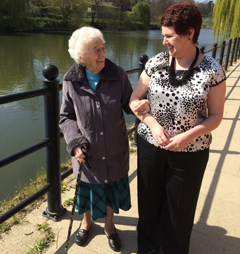 The Radfield Home Care Business Model
We are 'The Elderly Care Specialists' - this means that our business model is targeted into the growing demographic of privately funded elderly clients, whilst keeping the burden of knowledge and training manageable for care staff which helps with recruitment and retention. By focusing on providing care to elderly people it significantly reduces the risks within the business as you are not delivering care into high risk, low profit sectors e.g. childrens services and learning disabilities. Being 'The Elderly Care Specialists' also creates an extremely compelling marketing message to families purchasing care for their loved ones.
Our dedicated teams of carers provide support to elderly people in their own homes, from 30 mins to round-the-clock care, to ensure they can remain living independently for longer at home.
The franchisee will need to run the business and network to grow the client and carer base. They should be committed, passionate and enterprising individuals wanting to build a reputable and successful business with the support of our highly-respected brand. It is not essential to have prior knowledge of the care sector or of running your own business as we can help you develop your skills in these areas.
We partner with the latest technology solutions to run the most cost effective service possible allowing more time for franchisees to devote to the growth of their business and not just the running of it.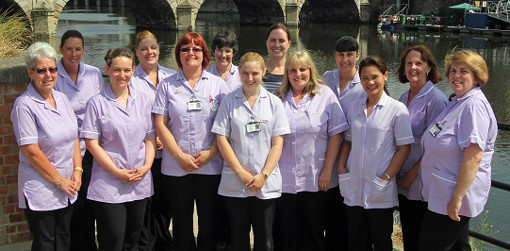 Training and Support
The Radfield Home Care training and support programme is completely dedicated to one objective - ensuring that our franchisees gain the skills and knowledge to dominate their local home care marketplace and build a highly successful business.
We provide our franchisees with an extensive in-depth induction course and ongoing skills-building programme based at head office and at their own location.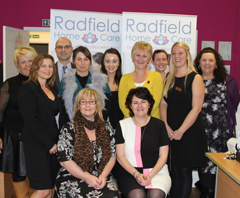 Our head office team is highly experienced in the financial, medical, IT, care, traditional and digital marketing, business development and compliance worlds so we can offer each of our franchisees individually tailored support that can accelerate their business success.
The Franchise Package
Along with the comprehensive initial training programme, our franchise package also includes:
Business development tools
Marketing materials
Branded uniforms
HR and health & Safety advice and insurance
Marketing support for launch of your business
Territories which uniquely are mapped to include both elderly people and those to provide care to them
Establishment of bespoke technology solutions
Branch pages on our fully SEO optimised website
A dedicated franchise support manager
A web portal to access documents
Keeping updated with sector news, policies and changes to legislation
Payroll services
A regularly updated operations manual
Mentoring and networking opportunities
Financials
The cost of a Radfield Home Care Franchise is £30,000 + VAT and working capital of around £45,000 is needed to support the start up phase of the business.
The working capital requirement will be significantly lower if starting the business from home and if you have care management skills within the franchise team.
We have partnered with several banks who are willing to lend money to the right Radfield Home Care franchisees if finance is required.
In Summary
Head and heart – recession-resistant business with huge growth potential while providing a highly valued service to your community
Credibility and Integrity – a Certified B CorpTM - part of a global movement using business as a force for good
Unique expertise of our directors – knowledge and experience of a qualified GP underpinning our service
Forward thinking – using technology to streamline and future proof the business
Thought leadership – Dr Hannah MacKechnie is a respected voice in the care sector
Thinking out of the box – ensuring your territory will deliver both clients and staffing for your business
Share our success – join us in providing Award Winning care services that really make a difference
If you feel you have what it takes to become a Radfield Home Care franchisee then we would love to hear from you.