Safehands Franchisees have the flexibility of being independent business owners while having access to a wealth of experience within our management team.
Safehands Franchisees have the flexibility of being independent business owners while having access to a wealth of experience within our management team. Read Less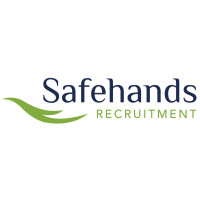 Safehands Recruitment is an independent specialist division of the Partners in Recruitment Group (PIRG). The owners of the business are all experienced professionals both within recruitment and the healthcare sector. Continuous support throughout the duration of your franchise is our commitment to our franchisees.

Own a specialist recruitment business and capitalise on the ever-growing demand for healthcare staff
How many of the 900+ franchises available today can say that daily they have had a positive impact on the lives of others? At Safehands Recruitment 'making a difference' is something that we do every day.
As a Safehands Franchisee you will become a specialist in supplying staff across every sector of the healthcare industry. Experience within healthcare is not essential. As a management franchise, you will possess the ability to establish and maintain relationships with clients and candidates alike. Above all you should have the passion to build a business that provides a vital and much needed service, satisfying the growing demands of the UK's healthcare market.
The Healthcare Market
This is an exciting time to be part of the healthcare recruitment industry. The UK is continuing to make huge strides in healthcare technology and data analytics, opening more opportunities and creating more jobs.

In a post-pandemic world and with an ageing population, demand for UK healthcare services is intensifying. The Government's subsequent pledges to invest heavily in the sector mean more healthcare jobs and healthcare recruitment prospering.
According to Skills for Care, by 2023 the healthcare industry will have created between 350,000-700,000 new jobs. There has been a 19% increase in healthcare jobs since 2009 and the growth projected by 2030 is between 21 & 44%.
Training and Support
Your induction training is carried out over two weeks and will equip you with the knowledge and confidence you need to start trading.
It will be a mixture of class based and online sessions, covering our processes and systems, the legalities associated with our industry and the sales and marketing initiatives you will use to grow your business.

You will also benefit from our ongoing support in the form of a range of 'back-office functions that we take responsibility for, this includes:
Centralised payroll
Billing and credit control
HR Consultancy
Compliance
Health & Safety
Marketing and IT.
This range of support functions allow you the time to concentrate on the business development and growth of your franchise.
Are You Our Next Franchisee?
Previous experience within recruitment, or healthcare, may be regarded as an advantage, but it is not an absolute necessity; we are far more interested in what you can do as opposed to what you have done. You will:
Be a natural relationship builder with both clients and candidates
Have the ability to confront the challenges of a fast-paced business.
Have a burning desire to own a business where you can 'make a difference'
Why choose Safehands??
We know that our success relies on your success as our franchisee; therefore we are fully committed to providing you with 100% support from the minute you sign the franchise agreement to the time that you may wish to sell and realise your investment.

Our support also includes advising you on your office location and ongoing practical 'hands on' support from an experienced team.
Your investment
The cost of our complete Franchise Package is £30,000 + VAT and covers our license fee (£15,000) AND all of your initial training and franchise launch package; you will, of course, need to factor in any working capital you will need for business and personal expenditure for your first 3 months.
We can assist you in deciding the best funding option to get started. The Banks are very supportive typically lending around 50% of the required funds (including working capital). An alternative funding option is the Government backed Business Start Up Loan Scheme which is an unsecured personal loan of up to £25,000, that requires no personal funding (repayable over 5 years at a low 6% interest rate) meaning you could, potentially, only need £12,000 of your own funds.
Your success will be determined by the effort that you put in, as with all businesses. Demand for our services means that owning a Healthcare Recruitment business gives you the opportunity to achieve a £million plus turnover at an attractive net profit margin. We will be happy to discuss specific financial projections fully on an individual basis, but, potentially, you could break-even in as little as 18 months.

Your next steps…
If you feel that working in a fast paced, vibrant, rewarding industry which benefits, not only your clients and candidates, but also those who are receiving care, could be for you, then we would like to hear from you; simply complete the form to register your interest and we will be in touch.