Exciting Car Paint Protection based mobile franchise business. Offering an uncomplicated route into the automotive industry!
Exciting Car Paint Protection based mobile franchise business. Offering an uncomplicated route into the automotive industry! Read Less
SmartMota Franchise Set to Take The UK by Storm
SmartMota began as a family owned business in July 2014 when Tony and his son decided to start their own business.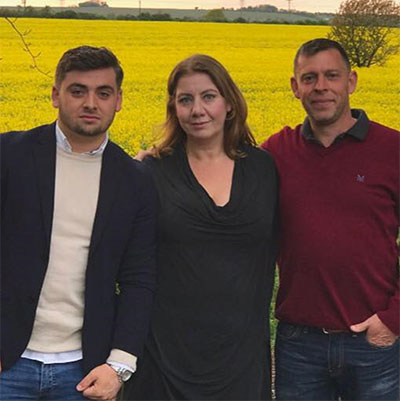 Tony has worked in the automotive and aircraft painting industries since 1988 totalling nearly 20 years' experience. They guessed that if they offered a convenient mobile range of automotive paint and detailing services to customers it could potentially cut out the need for people to lose their car for a few days to a garage or body shop thereby creating business opportunities which ensure the customers received a professional and convenient service and a more affordable price.
They bought a wonderful customised silver mark 1 Mercedes Vito van and all the equipment and began marketing with leaflets and online advertising.
Over time they developed a passion for making cars look great and the before and after job satisfaction feeling was addictive, combined with working outside in the fresh air at different addresses and meeting so many different people they realised that they had found the perfect business that gave them a great revenue but also flexibility and work life balance they had been craving.
Now they want to make SMARTMOTA the brand to expand the business giving opportunity to likeminded others to join us and experience their profession and subsequent growth.

We are asked many questions about the business and how it will work for you.
Can I start this business Part-Time?
Yes, most services take between 1 and 3 hours so can easily be done on a part time basis to fit in with your current commitments.
What if I need help.
We are here at the end of the phone to help you with any concerns you have, whether that be a technical query or business query. Our aim is to ensure you are successful.
Can I start this business with someone else?
Yes, you and a partner could take on the business and work it together.
Where will I get my supplies
You will place your orders with us and we will have them shipped directly to you.
How will I generate work?
Again we will help set up all your marketing (check out Tony's Facebook page for his SmartMota business SmartMota). We will also be launching a nationwide campaign for our franchisee's and forward leads to those in the relevant areas. You will need to do some leg work yourselves of course, we will have leaflets and brochures for you to distribute and a huge amount of our work comes from recommendations, so ensure you offer amazing customer service will ensure you will build your workload quickly.
So, what skill set will you need to start a SmartMota business.
First and foremost, there are no technical skills required for you to begin this process everything you need to know we will teach you.
What you will need is:
A passion to succeed
A commitment to doing what it takes
Be an amazing communicator and great with people
Love working outside
Be organised
Have attention to detail
The types of services you will be offering require no body shop or paint repair experience.
You will be offering services such as:
Full detailing
Paint Protection
Paint Chip repairs
Paint Scuffs
Full machine polishing
Head light restoration
Investment required £12,000 plus stock approx. £3,500 and a Van.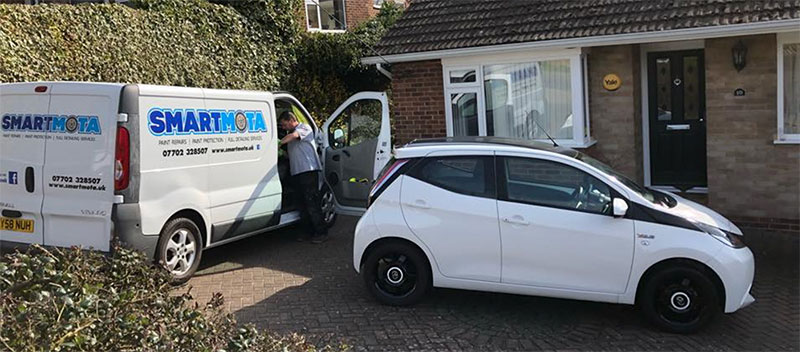 First 10 candidates can get a 50% discount on the purchase price. 5 Diamond Brite Packs will be included along with a Dr Paint Chip kit to get them started.
Minimum investment £8-10,000 excluding your transport.
As a team, we are all here to help you succeed in your new venture.
Target income
£150 per day as a minimum and up to £350 per day. Based on a 5 day working week will give you an annual turnover of £39,000 to £91,000 per annum. Based on these figures you could look to break even within 6 months of starting your business and still be taking a salary for yourself during that time.
Not only with this business give you freedom and flexibility with the potential have a fantastic income it will also give you immense job satisfaction. Working with new people every day. Setting your own hours gives you the freedom to create the perfect work life balance giving you quality time with your family and friends.
Next Steps
If you think the SmartMota franchise would be a great fit for you, fill in the form and you will be sent further information on this fantastic opportunity.