Snack-in-the-Box is a low cost franchise priced at just under £20,000.
We are the UK's No.1 Vending Franchise, who guarantees to find the Franchisees initial customer base.

Vending services are delivered to offices and workplaces free of charge, employees simply pay for what they eat and drink. There is a range of vending equipment to suit all business, ranging from vending boxes to Slimline and large glass fronted vending machines.
The customer base provides Franchisees with repeat business – Franchisees visit weekly restocking their snacks and collecting money.
Our central support centre provides customer service, sales, operational and marketing support.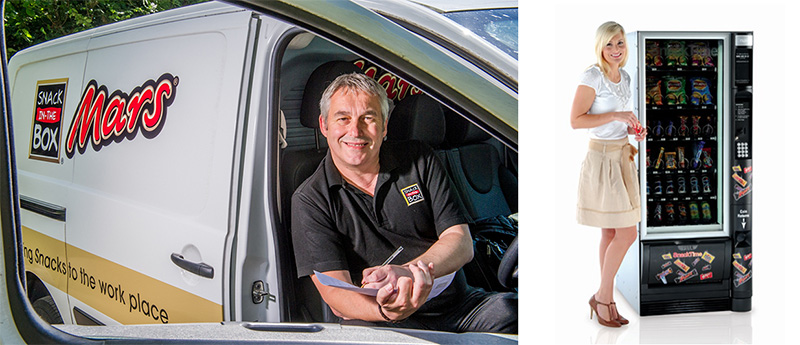 Our franchise package
Equipment:
225 Self Service Vending Boxes
15 Slimline Vending Machines
1 Combination Vending Machine
Initial Stock: Provided for your initial batch of new customers.
A Comprehensive Training Programme: A one week course at our Head Office,
2 Week on-site Business Launch: Our experienced sales team will visit the area to establish 100% of the initial client base. Time will be spent 'hand holding' with the franchisee in order to provide training.
This provides the franchisee with a customer base and income from day one.
Additional Sales Support: An additional week of sales support is providing during year 1, to assist Franchisees in finding new customers.
Marketing Materials and Stationery: A selection of branded materials and stationery will be supplied to enable franchisees to operate and market their business.
Software Packages: A bespoke customer and sales database allows Franchisees to monitor their business. Specialist accounting software is also provided that will assist with VAT returns, year-end accounts and financial planning.
Van Livery: Your vehicle is sign written with our corporate imagery.
Additional Field Training: A series of visits from Snack-in-the-Box personnel will take place over the first few months of trading to provide, systems, operational and sales support.