Sunny days in the park, festivals, parties, corporate events - everyone loves ice cream and Incredible Ice Cream are now offering franchises to give you the opportunity to profit from this lucrative, high margin, business.
Sunny days in the park, festivals, parties, corporate events - everyone loves ice cream and Incredible Ice Cream are now offering franchises to give you the opportunity to profit from this lucrative, high margin, business. Read Less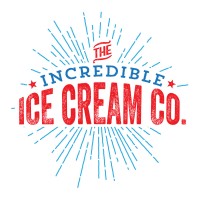 The Incredible Ice Cream Company was launched in 2008 and in the eleven years since has proved to be a unique and successful enterprise.
Our bars have been seen at hundreds of private, public and corporate events around the UK with no territory limits. You also have the opportunity of fixing your bar at one location, for example, in a shopping mall, garden centre, retail park – there is a list of endless opportunities as the bars are amazing and attract attention wherever they go.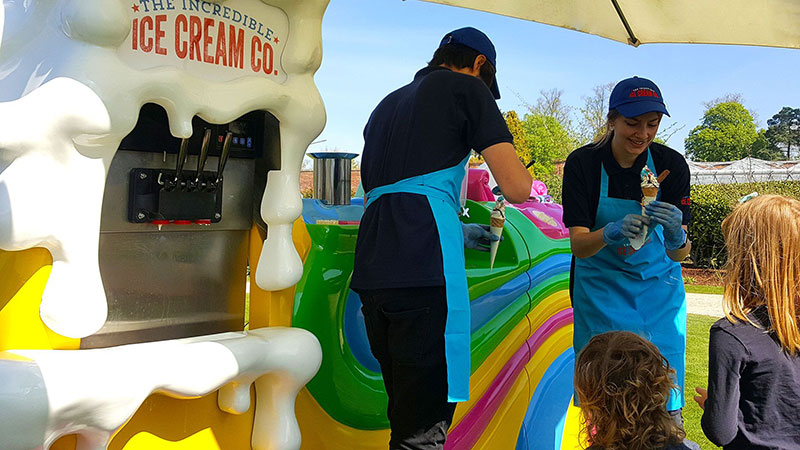 Investing in the Incredible Ice Cream Company bar opens up a world of potential and we also supports you to help your business grow. Very soon you could be on your way to ditching the 9-5 and creating an exciting fun business with profit margins of at least 60%.
We firmly believe that an Incredible Ice Cream Company business is a lucrative opportunity with minimal investment but with a fantastic profit margin. Our Wonka inspired ice cream bars draw people to them and wherever there is an Incredible Ice Cream Bar, there are customers who want to have the Incredible ice cream experience.
There's no question that pretty well everyone loves ice cream and the British consumed more Ice cream than the Italians in 2018 (500 million litres!) and this trend is not about to stop!
Not only is an Incredible Ice Cream franchise a great opportunity for profit, it's a fun business too. If you like to be sociable, work with people from all walks of life, enjoy the great outdoors and would feel proud to serve a product that gets admiration and fabulous public feedback – look no further!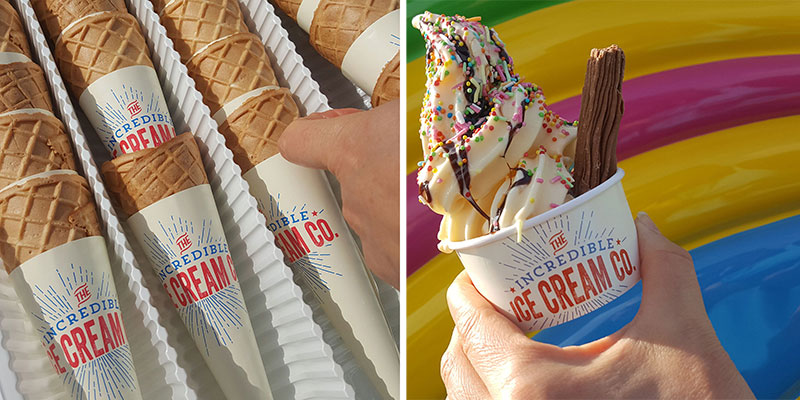 Mobile Means Go Anywhere!
The Incredible Ice Cream Bar is easy to transport and is designed so that a person on their own can easily take it to indoor and outdoor events and set it up within an hour.
Events range from pre-booked parties and corporate events to roadshows, festivals, street events, markets and tourist attractions. Bookings are either paid for by the customer in advance or you can operate a cash till.
While the peak season is undoubtedly Easter through to September, private events are held year-round and the Christmas party season is one of our busiest periods!
Incredible Means – Well, Just That
We don't server cheap ice cream – everything about Incredible Ice Cream lives up to its name, including our delicious premium quality ice cream.
We don't use palm oil, just delicious, creamy whole milk and natural vanilla essence served ice cold in a cone or a tub. Our sprinkles and sauces are the highest quality too, adding delicious, unctuous hot caramel or chocolate sauce for mouth-watering flavour with crunchy sweet treats just makes for a superb ice cream, ready to accept the ubiquitous, but necessary, genuine Cadbury Flake.
Incredible Ice Cream is a treat to match the visual feast of the bar, and customers are drawn to it in crowds, eager to try something that promises so much more than a standard van or ice cream trike.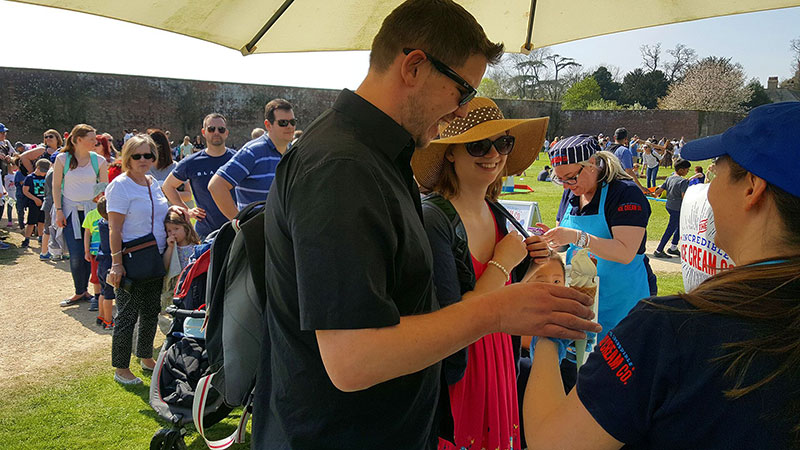 Incredible Also Means - Profit
Each ice cream sold typically represents 60% margin on your costs. At an RRP of £3.00 per ice cream, that means you could be earning more than £1.50 profit on each sale. If you go to a busy summer event, you can easily sell hundreds of ice creams in a single day.
Private and corporate events are great profit earners too. Ice cream servings are typically sold at a lower price but they are pre-sold in bulk of typically 100 or 200 servings. Add to that the hire charge of the bar and you can often earn £500 or more for an fun evening's work – all paid for in advance.
So what could you earn in a year? Well, that depends on how much work you put in and how effective your marketing efforts are, but our recommended target is £50,000 in your first full year, rising steadily as your business grows in the following years.
How Do You Get Involved?
Simple – just contact us using the enquiry form below.
If you go ahead and sign up you will get a 5 Year Term (designed to roll-on if you want it to), full training, an Incredible Ice Cream bar and all the hardware that goes with it and enough consumables to make your first £1,000 of sales!
There's no time like right now to get your future started, so contact us today and let's make your business Incredible!