The established Artisan Cookie company offering mouthwatering cookies & cookie treats at foodie events, shows, farmers markets, popup locations and more is now releasing a limited number of opportunities for ambitious franchisees to join the exciting new Thomas Cookie Co 'Cookie Partner'... Read More
The established Artisan Cookie company offering mouthwatering cookies & cookie treats at foodie events, shows, farmers markets, popup locations and more is now releasing a limited number of opportunities for ambitious franchisees to join the exciting new Thomas Cookie Co 'Cookie Partner' programme. Read Less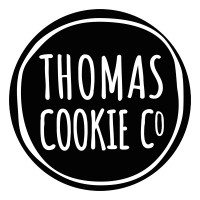 Here at Thomas Cookie Co we are searching for enthusiastic people who enjoy selling to the public to become 'Cookie Partners' through our new soft start and easy entry franchise arrangement. You would be selling Thomas's well known fantastic range of cookie products at a wide variety of markets, shows and festivals.
Cookie Partners are free to develop their own sales leads too whether in wholesale, corporate and events like weddings. The list just goes on!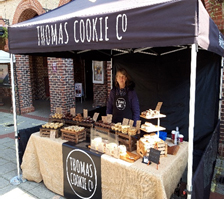 Our Cookie Partners are coached by our own experienced staff who will also arrange supply of the equipment you will need, train you how to use it and help you to succeed. Over the last 5 years Thomas and his team have built a well-respected brand, a unique product range, an on-line shop, a positive rating with numerous sales venues and a significant social media following. All Thomas' creations are made in his own 1500sq ft kitchens by his dedicated baking team to guarantee top quality product.
As this friendly family business grows now is the time to share success and offer an opportunity to get in at the start of our ambitious expansion plan.
So what's so special and why?
This is a limited and low cost entry opportunity to exploit the Thomas Cookie Co brand focusing on the South East where local venues, farmers markets, the boom in foodie events and festivals full of discerning customers has created a fantastic opportunity for motivated 'Cookie Partners'.
The history: building baking
Thomas started baking in his now mother in laws kitchen but soon found out that keeping up with food standards requirements, hygiene criteria and jumping through all the other hoops in the food industry was a really big headache in a domestic kitchen. He could also see that there was no way he could get the economies of scale from such a small area and so took a big and expensive risk to set up his first fully equipped commercial kitchen.
Compared to baking at home the overheads were eyewatering and he wondered if he had made a mistake as unexpected costs spiralled. He fought it back, worked 7 days a week selling, baking, building a team and creating new products until finally, he was getting great and consistent products with an increased margin. This was the momentum that allowed him to finally create his 1500sq ft cookie factory vision where today's amazing range of cookie products are still made by hand with the same good ingredient values but on a commercial scale.
and selling
Thomas also spent the last 5 years travelling up and down the country to identify and sell at the best and most lucrative venues for his product adding them to his Hotlist as he goes.
Just as importantly he has weeded out the ones that don't deliver a profit!
His brand now has a reputation for fielding a professional point of sale which conforms to legal and venue requirements and so his applications are always approved at the go-to locations because organisers know their gate footfall will be boosted by Thomas' following and his great product.
Now Thomas is making the results of all this commitment and hard work available to you as a limited edition easy entry franchise.
Great product, good margin and a respected brand platform
Easy entry franchise?
£1,700 including a complete branded stall & display
Or
£800 including a standalone display
Or
£1 if you rent a Thomas Cookie Co stall and/or display
Why?
Thomas knows the future is all about quality and innovating his product for Cookie Partners to sell so is keeping his focus on filling his kitchen with baking and creating new and exciting flavours. Now a select group of 'Cookie Partners' can pick up the opportunity of entering his established markets and develop new ones of their own on the back his brand.
His low entry strategy free from the high cost of large 3rd party loans enables you to tailor your business to your lifestyle whether you want to work weekends, part time or full time the Thomas Cookie economics give you the freedom to choose.
We plan just 6 franchises in 2020 on this amazing deal so, if you are interested, don't hesitate to get in at the beginning of something special.
If this could be the one you have been waiting for, find out more - fill out the form today.