Tiny Trimz is a unique children's hairdresser. We turn the dreaded haircut into a fun and relaxed experience with funky cars transformed into styling chairs, I-Pads and TV's loaded with all the popular cartoons to keep children entertained. While the children are kept busy mum and dad can get... Read More
Tiny Trimz is a unique children's hairdresser. We turn the dreaded haircut into a fun and relaxed experience with funky cars transformed into styling chairs, I-Pads and TV's loaded with all the popular cartoons to keep children entertained. While the children are kept busy mum and dad can get their hair done too. Read Less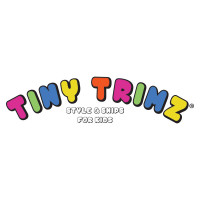 Tiny Trimz are proud to give you the opportunity to run your own fun and unique children's hairdresser with the potential to earn a fantastic income.
Due to the increased demand for our services we are now looking to develop our existing operations through new Strategic Franchise Partnerships.
We have created a successful business model which provides you with all the tools and support you need to run your own successful business. You will benefit from having an industry expert supporting you every step of the way as you grow your business.
If you are looking for a fun and rewarding business opportunity then Tiny Trimz is the right franchise for you. Whilst no two days are ever the same you are guaranteed that everyone is filled with fun and laughter!
Come and join our team!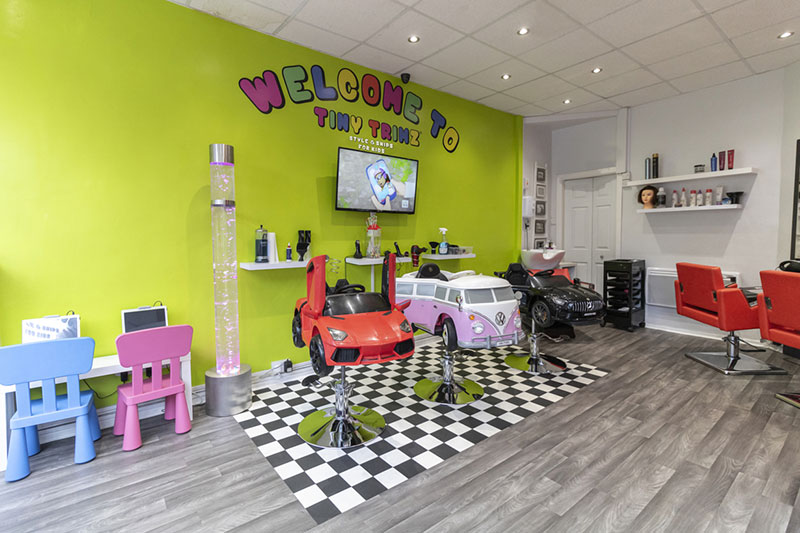 About Tiny Trimz
Tiny Trimz is an award winning children's hairdressing salon based in Leeds. Our salon is designed for children of all ages.
Taking younger children to get their hair cut can be challenging and stressful, we have turned the dreaded haircut into a fun and relaxed experience. Our salon is kitted out with styling chairs disguised as funky cars, I-Pads and TV's loaded with all the popular cartoons to keep the children entertained. We have installed sensory mood lighting lamps to create a positive calming effect on children with autism; helping develop, balance and encourage them to enjoy the experience.
Whilst the core of our business is children's haircuts we also have an adult section in the salon to cater for Mums and Dads. It's no always easy for a parent to find the time to focus on themselves, so we keep the children busy while they spend some time having their hair cut, coloured and generally made to look gorgeous.
It's not just a haircut our customers get from Tiny Trimz but a unique experience. It's a place that children and adults love to experience again and again.
This unique bespoke service understands that every child that visits has different needs and requirements, we have highly trained members of staff to ensure that every visit to the salon is a rewarding and unforgettable experience.
We understand that some children may take time to become comfortable in the salon, these children are welcome to visit the salon to get used to the environment. We may need to build a friendship with them and gain trust back from previous bad experiences (this is a important part of the experience).

Key Franchise Benefits
Use of the Tiny Trimz brand
Strong brand with a proven business model
Systems and processes to run the business
Full training given in all aspects of the business
Franchise Support
Comprehensive start-up package which includes systems, tools and processes to run the business
Exclusive territory
Central website
Stationery and marketing materials
"Our business has given us our freedom back, to enjoy time with the people that really matter to us."

Tamara Morris
The Opportunity
Cutting children's hair requires a unique combination of patience and skill not found in many regular hair salons. With a Tiny Trimz salon you will provide a fun atmosphere for every child's haircut experience.
We understand that parents and children are looking for something different from the regular salon experience. That's why at Tiny Trimz we have created a completely interactive environment where children and adults can have fun while receiving a superior haircut by friendly, fun and experienced stylists.
This amazing business opportunity will provide you not only with a fantastic income but also a fun and rewarding working day.
The core of the business are children which accounts for 70% of the sales with adults making up the remaining 30%.
Approximately 18-19% of the entire UK population consists of children aged 15 years or less. This comes to a total market size of approximately 11 million.
Proven Business Formula
As a Tiny Trimz franchisee you will have the opportunity to build a successful business with the training, support and experience of an established business behind you. We have a proven business formula which will form the basis on which your franchise operates.
Proven Lead Generation
We have a proven formula for generating leads and business. Key areas covered include target markets, sales activity, lead generation tools and techniques.
Use of the Tiny Trimz Brand
As part of the franchise agreement you get to operate using all the successful Tiny Trimz processes and systems, including the name, logo and website. This gives you instant leverage through the established brand and the confidence to go out into the market place and get off to a good start.
Training and Ongoing Support
We have spent several months developing our Franchisee Training Programme and Operations Manual. You will receive full training which includes everything you need to know about the set up and running of your business.
Exclusive Territory
You will have a large exclusive territory giving you the opportunity to build a sizeable business over the coming years.
"Fantastic place. Max isn't great with his hair cutting but Kim was amazing with him. Thank you and would definitely recommend."

Ryan Coulson

I'm Interested. What do I do Next?
At Tiny Trimz our top priority is to provide our valued customers with a fun and engaging experience that will keep them coming back for more. To achieve this, we put our customers at the centre of everything we do. Therefore, our ideal candidates must also be thoroughly enthusiastic about serving their customers in this manner. Ideally you should have at least 2 years salon experience and be skilled in hairdressing and barbering up to a level 2 as a minimum but ideally a level 3.
If you believe you have what it takes then you are ready to take your application further, please complete the form below to get in touch.