Tots Play offers a complete programme of award winning, multi-activity play based classes, parties and resources for babies and toddlers, designed to enhance development and also support parents, while being great fun for everyone involved. Our aim is to be Every Class a Child Needs in... Read More
Tots Play offers a complete programme of award winning, multi-activity play based classes, parties and resources for babies and toddlers, designed to enhance development and also support parents, while being great fun for everyone involved. Our aim is to be Every Class a Child Needs in One! The Tots Play franchise programme offers the opportunity to use our proven business model and systems to run your own Tots Play business in your local area at times that suit you. Read Less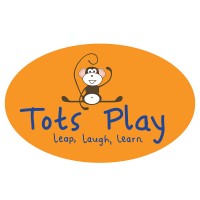 Looking for a fun, rewarding business to fit around family life? A Tots Play franchise could be just what you need!
"I'm so glad I chose a franchise, there is no way I would have been able to have started this sort of business up on my own. If you are looking for something to fit in around your family life then this business is perfect, and the support you receive from the start mean that you're not on your own so it's not like starting a regular business from scratch. I'm so glad I made the decision to start my Tots Play business." - Michelle, Franchisee, Basingstoke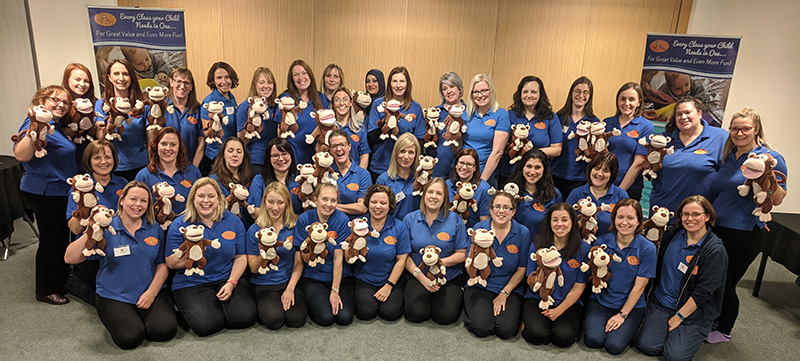 About Tots Play
Amongst the day to day business of raising a young child are those special moments of wonder, joy, pride and laughter that make it all worthwhile. Of course, every parent wants the best for their child, and they are growing and learning so fast that every minute together is precious. A regular class is a great way for parents to spend focused time with their child/children, playing together, learning new things and enjoying each other's company. But what kind of activity should they choose...?
A Music Class?
Massage?
Physical Play?
Baby Sign Language?
Sensory Play?
Yoga?
Often, they like the sound of them all. Each brings so many benefits for their little one, and would be lots of fun - but how will they fit them all in? Well now it's easy!
One of the reasons our customers love Tots Play is that it offers a little bit of (almost!) everything.
Instead of having to choose between a massage class, a music class, a yoga class, a movement class, a signing class etc…. for their little one, they can give their child all these experiences and more in one programme. It is also designed so that the classes are as fun for mum or dad as they are for their baby or toddler, and that they provide a relaxed and welcoming environment to help support them through these early stages of their child's life.
The programme allows them to spend focused, quality time with their child, while learning a whole range of ways to play, interact and communicate with their baby or toddler that provide not just one, but many benefits for their development.
Tots Play is also one of the few programmes that offers classes for very young babies, and for new mums ready to get out and meet new people and wanting to make the most of their (often short) maternity leave from work, while doing something fun with their baby, this is invaluable.
They are then able to continue through the different stages of the programme as their baby grows, meaning parents often stay with you for many months or years –and then bring their next child along.
Parents are also encouraged to continue to play with their child at home using the ideas and resources that Tots Play provides, and the sale of these resources offers an additional stream of revenue for your business.
As a franchisee you will be able to offer our comprehensive range of classes and services, suitable for babies and toddlers from birth to 4 years.
What Is The Tots Play Franchise Programme?
The award winning, Tots Play franchise programme offers you the opportunity to use their proven business model and systems to run your own Tots Play business in your local area at times that suit you. It has been carefully designed with the following aims in mind:
For it to be flexible – It is designed so that it can work for you whether you want to run just a couple of classes a week around your little ones or to top up the family finances, or build it into a bigger business bringing in a full time income. It can also grow and change as your family and circumstances do.
For it to be affordable - This is a business designed to suit both your lifestyle and your budget, a complete business for much less than you might think.
For it to reward the effort you put into it – A low flat rate monthly franchise fee means that the more you earn, the more you get to keep. Tots Play do not take a percentage of your profits.
For it to be easy to operate – Business doesn't need to be complicated. Tots Play provide step by step training to help you feel confident in running Tots Play sessions and to get your business up and running. They then help you to set up simple systems to ensure your business continues to run smoothly.
For it to be fun! – Well it is in the job description to play all day!
Joining a franchise means that although you are in business for yourself, you are never by yourself, as full training and ongoing support are all part of the package.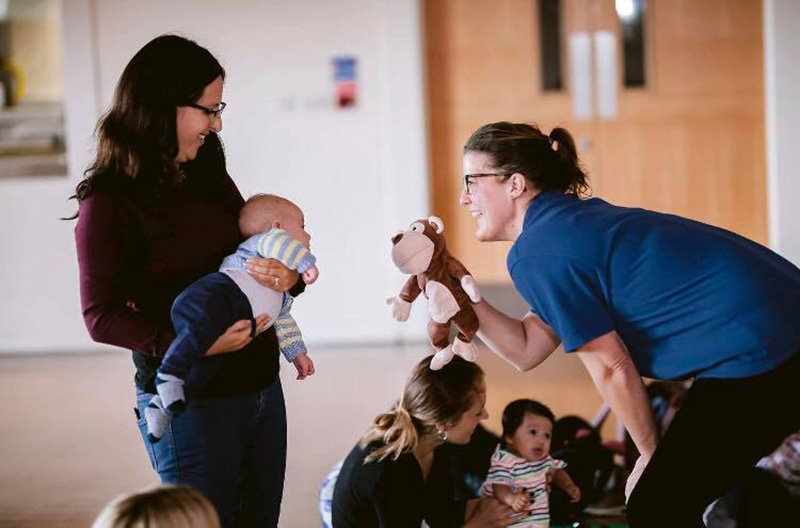 Who Are We Looking For?
As a franchisee your role would include leading our high quality, interactive, play sessions and parties for local families, making lots of friends in your community as you spread the word about the fantastic developmental benefits that the Tots Play programme provides, creating new sensory experiences to share with your customers and helping to build the Tots Play brand so even more families can enjoy what we do.
When choosing our franchisees we are looking for people who not only share our commitment to providing the best possible experience for the families who attend our sessions but also have the enthusiasm and drive to share that passion with families in their area, and a willingness to work hard to achieve their goals. The personal qualities you bring are therefore far more important than experience running a business or working with children.
While you therefore don't need to have any specific qualifications or experience to run Tots Play classes, you must enjoy working with young children and their parents, and be able to make them feel welcome and at ease.
You will also need plenty of energy and enthusiasm to get everyone involved, and the confidence to lead a group in various play activities including singing simple songs. Good organisational skills are also important as a small amount of administration will be required.
Our franchisees come from a wide variety of backgrounds but all are achieving success on their own terms, around their family and other commitments, with no boss to answer to, and enjoying the support and encouragement of an experienced head office team and wider network of existing franchisees who know exactly what you going through at every step and are able to give you that helping hand just when you need it.
Running a Tots Play business is great fun, very rewarding, and lets you choose when and where you work. Help and support will be available to ensure that you are able to run your sessions successfully and profitably.
Why Become A Tots Play Franchisee?
Build a business that works around you
The business is completely flexible – your business can be as big or small as you want to make it, and is able to grow, change and adapt as your life does.
Choose when and how much you want to work to fit around your family and other commitments.
Great earning potential
Earn up to £80 per hour doing something rewarding and fun.
The option to run weekly classes, short courses, parties, nursery sessions and to earn commission from the sale of resources provides multiple streams of income for your business.
With classes available for babies from birth you are targeting a market that is actively looking for these services, and willing to pay well for them.
Keep more of what you make
With lower start up costs than many similar franchises, you are able to start to make a profit within just a few months or even weeks!
The simple flat rate monthly franchise fee, when compared to the percentage of earnings charged by other companies, means that the more money you make the more you get to keep – you are the one benefiting from your hard work.
Provide a valuable service that's rewarding for you too
Help parents in your community to feel confident and enjoy valuable play times with their young child, at a time in their life when that support is often greatly needed.
Share the joy, excitement and pride of seeing the babies and toddlers at your classes grow and develop each week.
Benefit from an established business model with ongoing training and support
By joining a business with a proven track record and where the programme and business infrastructure is already in place, you need only focus on building your customer base and providing a great service, making it easy to get up and running in a short space of time.
From your initial training, to dealing with day to day queries within your business, you will have the support of a friendly and experienced team behind you, plus a network of other franchisees to help you along the way, so although it's your business, you are never on your own.
Your business on your terms
You are your own boss, and will be encouraged to bring your personality and experience to the business to provide the best experience of Tots Play for both your customers and for yourself.
What you make of your business is down to you, and you will have the opportunity to challenge and develop yourself in order to reach your goals and create the business and lifestyle you dream of.
Next Steps
If starting your own business is on the horizon, why not explore Tots Play and learn more about their franchise opportunity by completing the form below. You could be on your way towards joining an amazing family.