If you have an interest in problem-solving and have had previous experience in Capital Equipment sales, you are already halfway there to becoming a Unique Copiers franchisee.
This multifaceted business allows for various un-capped income opportunities and the training is broken down into step-by-step exercises – just like an instruction manual for a printer.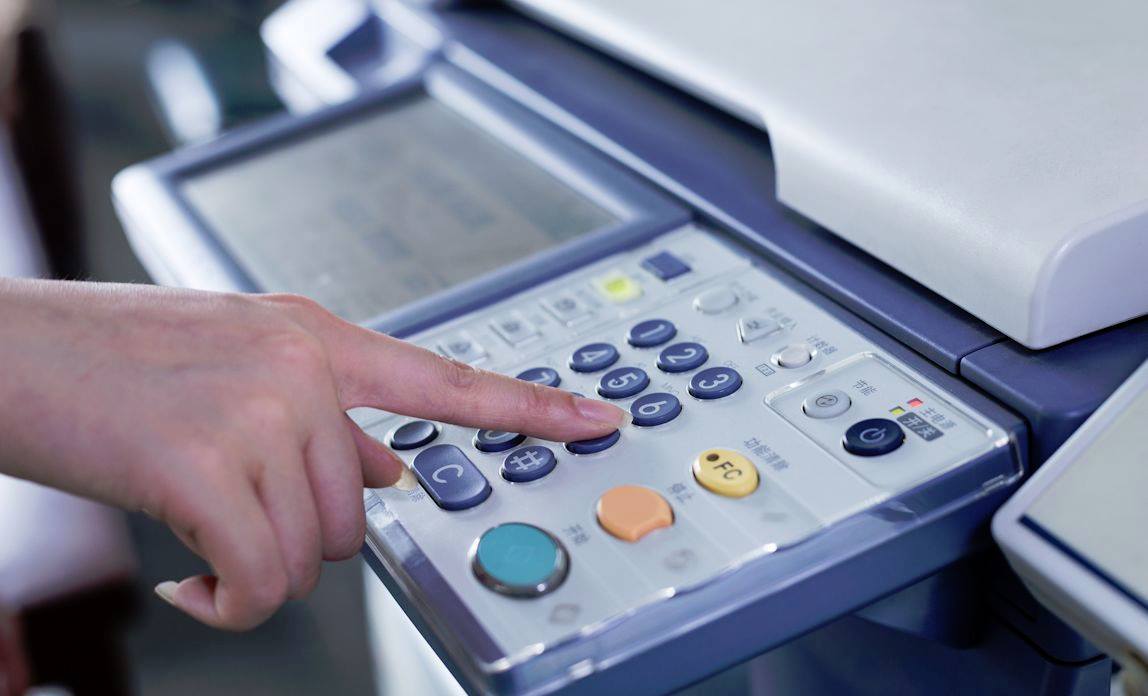 Why are Unique Copiers high in-demand?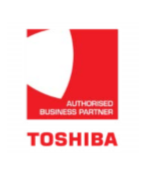 If you have ever worked in an office environment, you will probably be all too familiar with the chaos that breaks out between colleagues when the printer goes down.
That's where the industry-trained, Toshiba-accredited professionals at Unique Copiers come in. We are infact the main Toshiba dealers in the Midlands!
For over 31 years, this family-run photocopying firm has been selling environmentally friendly new, used and fully refurbished photocopiers and printers to businesses such as Rodgers Leask, and schools such as Grove Junior School.
Client Testimonials
"As my school has grown, UCL have worked alongside me to ensure that all my printing needs are met at the very best price. We always have access to a toner and the Technicians work alongside my IT consultant in order to ensure that the system is always operational so that learning and teaching are not compromised. We have developed a great relationship with the team over the past three years and long may it continue!" Head Teacher – Grove Junior School
"I visited their office and tried the equipment before purchase and we now have two copiers from Unique. Quality of the features, speed and cost were all excellent. I am sure they will save you money on your print costs and open your eyes to the facilities that are available while saving on cost." IT Manager – Rodgers Leask
We're an award-winning team
UK Business Professional Services Supplier of the Year by The Best of UK
Second place in the Business in Telford awards
Recognition as one of the top 100 businesses across UK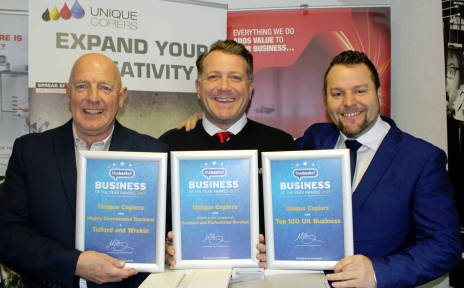 Do I need experience to become a franchisee?
No – although it'd be great if you had an interest in Capital equipment as most of us are better and faster learners if we are interested in a certain subject.
When you become part of Unique Copiers Ltd, we find out if you have any previous experience in sales, so that we can ensure that the correct training is delivered to you, as well as letting you share knowledge with the rest of the team.
The total cost of the Unique Copiers franchise is £25,000 + VAT and you will get:
Unsecured government funding on 80% of the franchise fee
Full training – on company operations and all aspects of product ranges both in house and on territory
Operations Manual
An initial 5-year agreement, renewable at no extra cost
Up-capped earning potential
Full administration support (CRM/invoicing)
Immediate brand recognition and consumer awareness
Interactive website, CRM and email
Full servicing support to clients
All you need to have is:
Have the ambition and drive to run a business
Have the ambition and drive to keep the printers running!
Think cartridge ink! – Have an interest in IT and/or printer solutions
Be willing to learn and to be trained
Ability to become a methodical problem solver
Be dedicated to customer service
The family-run photocopying firm has also received attention from the media and has been featured on television programmes such as ITV's 'Tonight Show' and 'Getting Britain Back to Work'.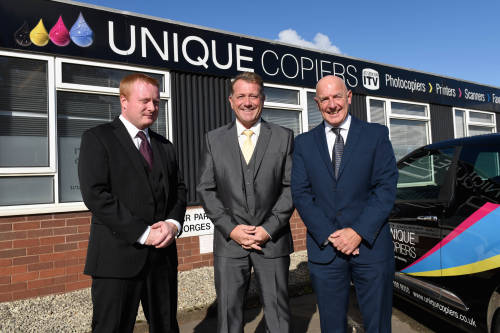 Get in touch
If you're interested in exploring the Unique Copiers opportunity, don't delay, why not get in touch through the form below?