Finance Available
We Do Greetings Franchise
Events Franchise
Fastest growing franchise sector in the USA set to explode in the UK. Outrageously profitable without competition, suitable for both male & females of all ages, simple, straightforward, logical business in super high demand industry.
Financing Assistance
Yes, through a third party
Lifestyle
Full Time or Part Time
Available Locations
Opportunities available across the UK
NO ONE DOES GREETINGS LIKE…

BIG, bold, beautiful, colourful & PERSONALISED rental signs for all occasions, celebrations and events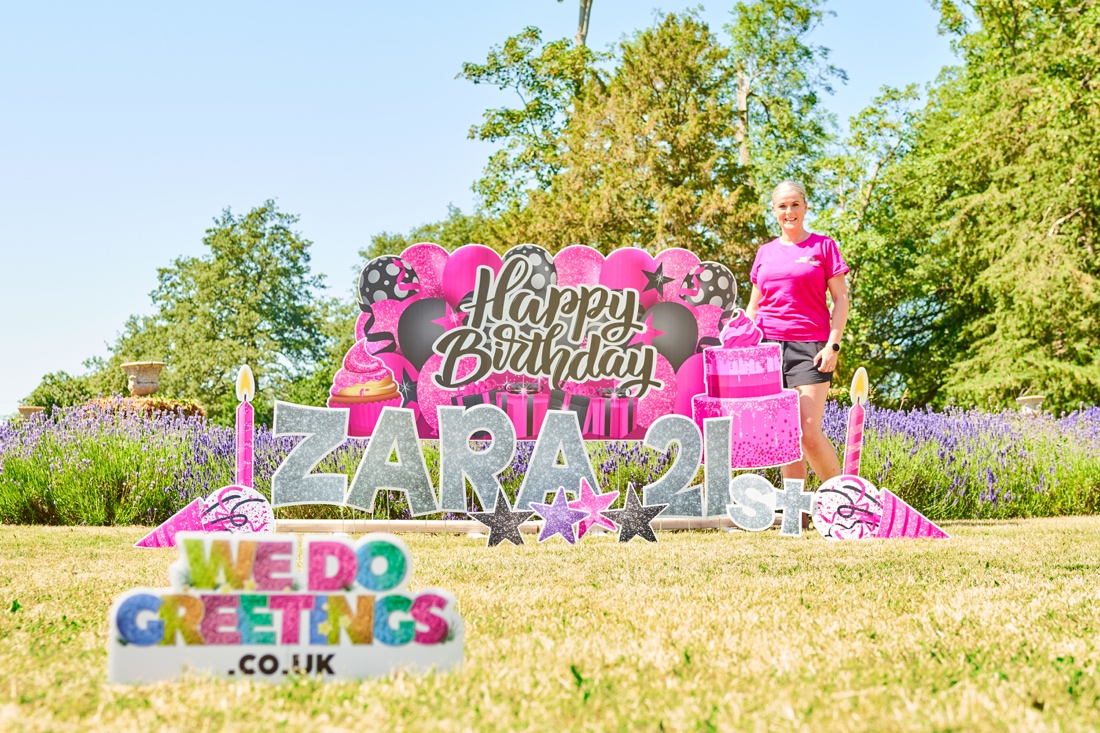 This rental industry has literally exploded in the USA with thousands of successful operators.
Now, for the first time in the UK, you too can have fun, see the smiles of happy customers and reap the rewards of this exciting, lucrative NEW business opportunity working either part or full time.
Join the WE DO GREETINGS team NOW, become an Official Partner and benefit from subsidised joining fees that start at just £4,995 plus VAT, (£5,994). Please note the super low level entry costs are reserved for our first 30 joiners, and as of 25/08/23 we are at 24.
WE DO GREETINGS Ltd is the first to market in the huge and ever-growing greetings/occasions/celebrations industry. And, being new to the UK means, certainly, initially, you are very unlikely to experience competition.

Our business celebrates occasions with BIG indoor and outdoor, personalised signage that is rented for 24 hours. Examples of some relevant occasions are:
Birthdays
Anniversaries
Weddings
Engagements
Congrats
Halloween
Retirements
Baby Shower / Gender Reveal parties
It's a Boy parties
It's a Girl parties
Christenings
School Prom
Mothers Day
Fathers Day
Valentines Day
Let's Celebrate… could be anything
Easter
Xmas
Diwali
Eid
Local Events - fun days, fetes, BBQ, farmers market etc
Not forgetting of course, you can make your own messages and literally; "SAY ANYTHING"

Once you are familiar with the installation process, the signs will take, on average, 15 minutes to put up, and then need collecting either later the same day or the following day (5-10 mins break down), so not too much work!
Rentals start from £95 up to £145. All jobs will be booked on the main WE DO GREETINGS website and, depending on where you are in the UK, will start at £95 for rentals Monday through Thursday and up to £145 for rentals Friday through Sunday.
In the US, an average operator, bearing in mind there is a ton of competition, will do 20 rentals per week. Interestingly 75% of US operators are FEMALE, and many fit the work in during school hours or evenings; some even use their teenage kids to help. The full-timers can achieve 40+ rentals per week, and those with staff can achieve even more.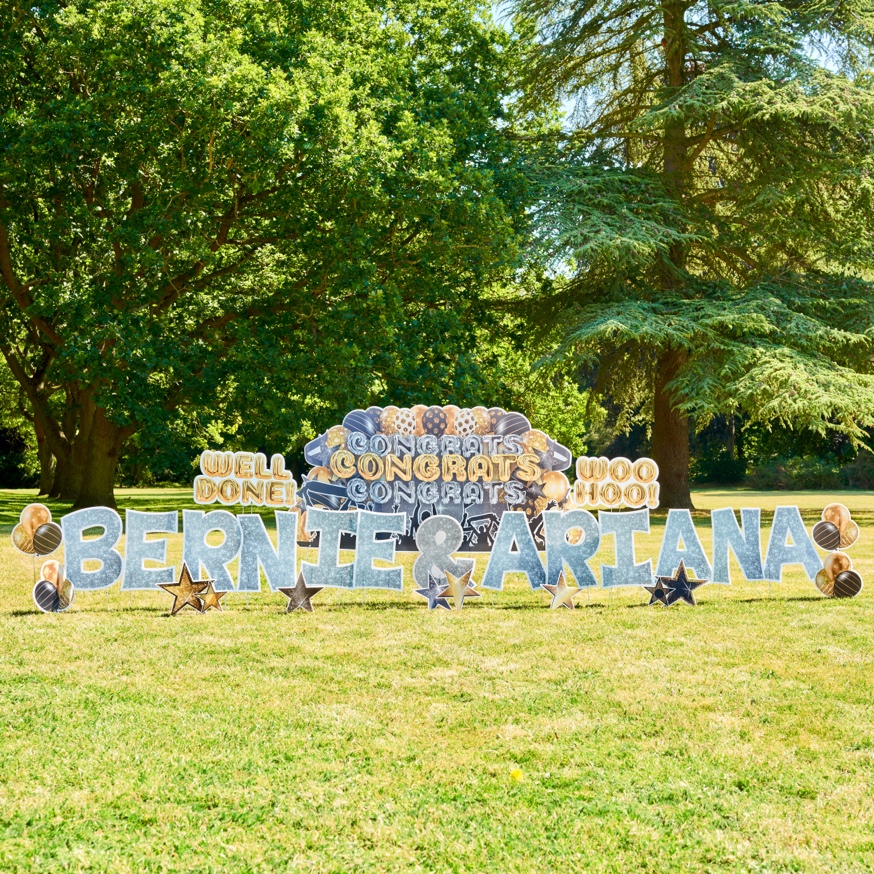 The way the business will work is as follows:
Main website, the customer enters their postcode to find their local operator.
This takes customers to the calendar & booking page of their local operator.
The customer selects the required date and then chooses from the available selection of signs, enters the name/age of the recipient, preferred colours etc.
The system checks the local operator's calendar and stock availability of all components of the order for the preferred date, and, if all ok will allow them to book and pay.
The payment is taken, and the card processing company credits the Official Partner with 100% of the payment.
The intricacies of the business will be discussed in detail if you want to know more.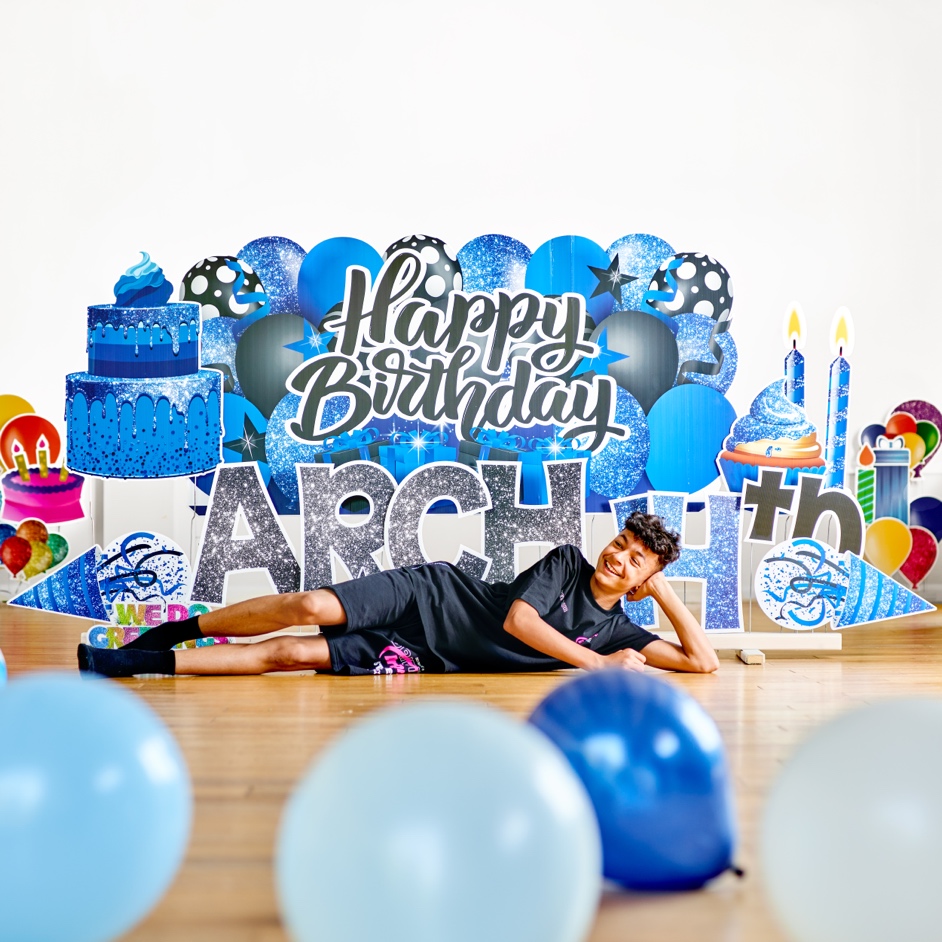 The engine behind the customer-facing website starts with the postcode locator to find the local operator. Then each operator's calendar, their rental inventory and their individual booking system is all managed by a sophisticated platform that has been created solely for WE DO GREETINGS.
There are no ongoing monthly management fees. We charge a royalty which will also cover the card processing fees, and a third of the royalty is invested into national marketing.
A very extensive starter pack is included in your joining fee that contains hundreds of individual signs, enabling you to fulfil numerous daily orders. You will also be able to order more sign sets through HQ, and we will offer relevant seasonal sets at the appropriate times, such as Halloween, Valentine's, Mother's & Father's Day etc.

The STARTER PACK makes the business as turnkey as possible and includes:
An assortment of over 800 signs – don't worry, it's not complicated. Remember, included in this are 26 letters of the alphabet & 10 digits, and you get various quantities of each letter/number. And this is repeated across 6 colours. Plus, numbers, characters and all sorts of accessories and backdrops
First year's public liability insurance (£2M)
WE DO GREETINGS branded clothing
Business cards
Flyers
Magnetic car signs x 2
Social media set-up and management for your first 3 months
Ongoing support
What Can I Earn?

Looking at the numbers, the income potential is impressive. Let's assume you nett (after royalty deduction) an average of £100 from a rental booking.
Just 5 rentals per week, that's £500 weekly, less fuel costs (£25?).
Really not bad weekly earnings for part-time work, only 5 installs and collections.
10 rentals per week, that's £1,000 weekly, less fuel costs (£50?).
Still part-time, but impressive weekly money for just 10 installs and collections.
20 rentals per week, that's £2,000 weekly, less fuel costs (£100?).
This is very achievable and seriously good weekly money for just 20 installs and collections.
I won't do the 30 and 40 rentals per week numbers; let's get there first, but needless to say, they are achievable, eye-popping, impressive and starting to become life-changing income!
Want to Know More?
If you'd like more information on the We Do Greetings franchise opportunity, please complete your details on the form below and we will be in touch.
Get Your Free Information Today!
To contact We Do Greetings for more information regarding their Franchise and speak to them directly with any questions you have, please complete the form below.