About Dallas Chicken and Ribs
We are a halal fast food brand with multiple franchise retail outlets and a distribution supply chain. Offering both eat in and take away franchise outlets.

Dallas pioneered the Halal Fast Food movement in London, tapping into the large market audience of Halal eaters. Many fast food imitators followed suit, but they could not rival the success of Dallas. The first Dallas office was in a small, congested room above the Tooting shop, where 6 other seasoned fast food veterans were brought together to create the Dallas Team. It is here, where the expansion of Dallas commenced.
Dallas Head Office now operates out of 20,000sq. ft. warehouse and office premises, with in house accountants, legal officers, business development officers, franchising team, distribution team and our warehouse floor team.
All divisions of our office work closely with one another to maximise the attention and support that our customers and franchisees require and deserve. As well as Dallas Operating in the UK, it has now spread its wings to Europe and Asia where master franchises have been granted.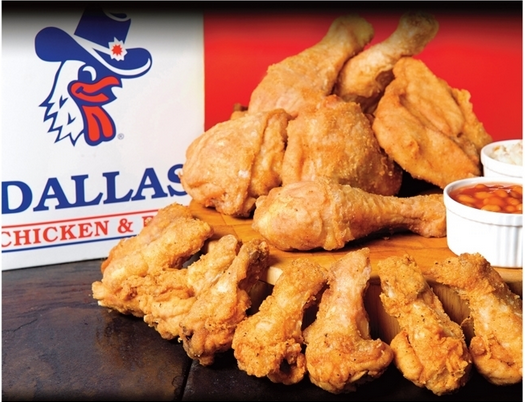 Why Dallas?
Dallas offers the most cost effective franchising option with low or free joining fees, along with the cheapest royalty payment options within the industry.
This ensures that our franchisees success comes first which makes Dallas a favourite amongst fast food franchisees.
Full franchising assistance provided from training, property searches, store fit out, sourcing and ongoing business operations.
Dallas prides itself on the post approval support that it can provide to its franchisees outlets. We operate many post approval strategies in-house to provide fast and quick support. We also work closely with third party organisations providing an almost immediate response. Our existing franchisees can provide the ultimate testimonial that staff at Dallas Head Office are available at any time, be it day or night, for advice, support and emergencies.
The financials are strong also with a net profit of over £79,000 available to established franchisees this could be the opportunity you have been looking for!
What Dallas Need From You
Personal character, commitment and experience are beneficial traits to possess when seeking to franchise with Dallas. We require our potential franchisees to be hands on with their franchise business and to work in conjunction with head office to become as successful as possible.