ChipsAway International is the dominant player in the lucrative and rapidly growing SMART automotive repair market.
ChipsAway International is the dominant player in the lucrative and rapidly growing SMART automotive repair market. Read Less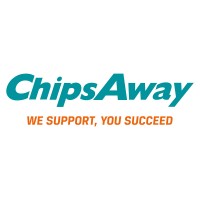 ChipsAway is the original, market-leading automotive SMART car body repair franchise. We have over 20 years' experience successfully developing, nurturing and supporting franchise owners with varying backgrounds, work experience and ambitions.
ChipsAway is a full member of the British Franchise Association (BFA), and is also part of the Franchise Brands plc group, an international multi-brand franchisor with a wealth of knowledge and expertise to share.
What Do ChipsAway Franchisees Do?
ChipsAway Franchisees offer a convenient, high quality and cost-effective alternative to car body shops. As a franchisee, you will repair paintwork scratches, bumper scuffs, minor dents and kerbed alloy damage to vehicles, all from a fully equipped mobile workstation.
Latest research shows that over 64% of the 34 million vehicles on the UK's roads have 'ChipsAway' damage on their bodywork, and demand for our service is still growing.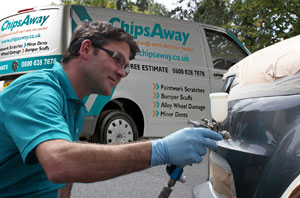 What Investment and Experience Do I Need?
No experience is necessary when beginning your ChipsAway journey. The system is easy to learn and simple to manage, and our experienced team of technicians will teach you everything you need to know at our unrivalled, bespoke IMI-accredited centre.
The total franchise investment is £29,995 + VAT, but with the various pricing options that we offer, you only need £15,000 + VAT to get started with a ChipsAway franchise.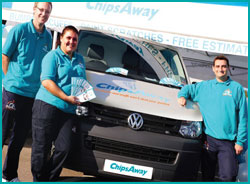 What Are the Opportunities for Growth?
The proven, tried and tested business model is easily scalable and completely flexible to suit your ambitions. Most franchisees initially opt for a van-based franchise at first and many have then go on to develop their business further, either through a multi-van, multi-territory or unit operations with their own Car Care Centres – the opportunities are endless!
Why ChipsAway?
With a ChipsAway franchise, you can finally take control of your own life and reap the rewards of your own hard work, backed by an incredible, secure support system. You will be your own boss and have the opportunity to dictate your own working hours to suit your lifestyle, resulting in an excellent work/life balance.
With our proven business model and national marketing campaigns, over £150,000 worth of leads* are generated per franchisee per year.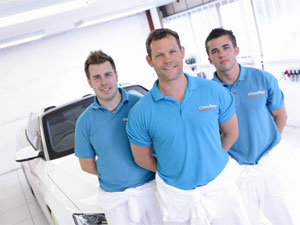 The Whole Package in a Nutshell
With your franchise package, we will provide you with the following benefits:
Proven Demand – ChipsAway is a publicly recognised brand with high and widespread awareness throughout the UK.
Fantastic Earnings Potential – rewards for hardworking franchisees are unlimited for everyone, depending on your ambitions.
Expert Knowledge- ChipsAway's proven business model is tried and tested. Working with Franchise Brands plc gives you easy access to a wealth of advice and support.
Regular National Advertising – including extensive TV campaigns, SEO, PPC, and online and offline coverage to continually reach new customers and increase demand.
An Exclusive Territory – You will receive a fully profiled territory which is dedicated and protected, providing you with access to tens of thousands of car owners.
Unrivalled Training and Ongoing Support - no experience needed, guaranteed. Full, certified training is provided, including business, marketing and technical training.
Brand Leader – ChipsAway is the UK's leading minor automotive paintwork repair franchise brand as confirmed by a recent YouGov Survey.
Management Expansion Opportunities – The franchise model is flexible and allows you to rapidly expand into multiple territories and workshops. You can choose to go directly to your customers or rapidly expand into a fixed base workshop.
What Do Current Franchisees Have to Say?
Having been made redundant in 2011, Andy Cornell decided he wanted to take a different career path and launched a ChipsAway franchise: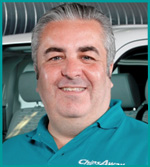 "I'm absolutely thrilled with the way my business is going. I'd always dreamt of running my own business rather than seek another job. I wanted something flexible, that was not massively expensive and which had the potential for growth. ChipsAway has proved to be everything I'd hoped for. 'It does what it says on the tin', and if you follow the business model you can't go wrong!"
Richard Dexter:
"Joining ChipsAway has made my life so much better! I spend less time stuck in front of a computer, there's no office politics, I have more time with my family and can even take the dogs to work. Overall, it's just a happier, healthier work / life balance. I've always wanted a job where I wake up and want to go to work, and I have that now!"
How Do I Find Out More?
If you're tired of your current career and like what you've read, just fill out our short contact form and we will send you more information to assist your research. If you're interested in starting your ChipsAway journey today, why not attend a free, 'find-out-more' Open Day, held at our West Midlands based Head Office?
* Contact ChipsAway to discuss our various pricing options that we offer. A minimum personal investment of £15,000 is required, total franchise investment is £29,995 + VAT.
**Based on existing franchisees.
All figures unless otherwise stated are from YouGov plc. Total sample size was 2,016 adults. Fieldwork was undertaken between 3rd - 5th September 2012. The survey was carried out online. The figures have been weighted and are representative of all GB adults (aged 18+). *The average franchisee received over 1,000 enquiries via Head Office in 2020, which at our average repair value equates to over £150,000 worth of work.