Countrywide Signs franchisees erect, manage and take down For Sale and To Let boards, working closely with estate agents to deliver a vital service to property buyers and sellers, as well as landlords, commercial agents and tenants. Countrywide Signs was established in 1998 and has a network... Read More
Countrywide Signs franchisees erect, manage and take down For Sale and To Let boards, working closely with estate agents to deliver a vital service to property buyers and sellers, as well as landlords, commercial agents and tenants. Countrywide Signs was established in 1998 and has a network approaching 40 franchisees nationwide. Countrywide Signs also provide commercial signs of all kinds to businesses, giving franchisees extra revenue streams. Read Less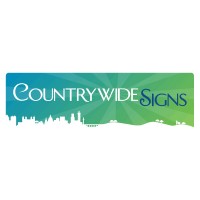 THE Property Signage Franchise
Do you see yourself as a Countrywide Signs business owner?
Countrywide Signs is a franchisor with over 20 years of impressive expertise in the property signage business, and its nationwide network is not at capacity… The team is still on the search for more dynamic, driven, and enthusiastic entrepreneurs looking for a new venture.

Proven, Scalable, Profitable
The business model is proven, lucrative, and holds vast customer potential throughout the UK. In fact, there is upwards of 30,000 estate & letting agents across the nation and a growing commercial signage market to match.
The scope is huge! Just look around your own local area and you'll see numerous 'for sale' and 'to let' sign boards, many of which will have been installed by the Countrywide Signs network.
Plus we have adapted our franchise package!
Out of an initial £22,950 investment, £10,000 will now be reinvested back into your Countrywide Signs business! A strategy designed to give you even more of a helping hand in year one.
Financial Rewards
The Countrywide Signs business model has two aims: to quickly generate cash flow to give you the lifestyle you want, and to grow as an asset to sell in the future, providing you with a long-term return on your investment. How quickly you get to this point is up to you, but the support team is there to help you along the way!
It may be hard work, but if you're practical, hands-on and business-minded (and of course if you choose), you could grow your single-van business into a multi-van Countrywide Signs franchise and take the next step to become a regional operation.

Flexible Investment Options
Countrywide Signs offers exclusive territories, with a choice of size and investment levels for new start-up businesses:
Single van business
On average our franchise owners enjoy 60-65% profit on their turnover with a single van operation, averaging between £5-6k sales per month.
Multi-van operation
Expansion and development bring significant rewards; Countrywide Signs has several franchise owners operating multi-van businesses who enjoy turnover more than £250k per annum! With top performers running multiple territories who continue to increase turnover year-on-year! Now that's a pretty great return!
Even with a multi-van or management franchise, you can start with one van and build up to a second van around 12 months later.
Established Businesses for Sale
In addition to new starts, existing Countrywide Signs franchises become available to purchase when current franchise owners are ready to realise their investment and sell their business. These resale opportunities come with established clients already in place, so you can start making money from day one, nurturing your existing client list while building new business.

So What's Included in Such a Lucrative Franchise Package?
Answer: Everything you need to succeed!
An investment of just £22,950 provides you with everything you need to get your business started and growing. Thanks to our strong relationships with lenders, who are familiar with our business model, up to 70% funding is available subject to status - meaning you could get started with just £5,000-£10,000 of your own money.
Detailed marketing plan to hit the ground running
Centralised credit control & invoicing
Regional franchisee meetings
Regular interaction with rest of the franchisee network
Email and telephone support Developing technology to support all aspects of the role
Work from National Account agents
Ongoing business development and marketing support and training
The Franchise Model is Simple but Very Effective
You become a property signage expert, managing customers' property board needs from print, install, update instructions, signboard removal through to aftercare.
The business opportunity requires low investment as no premises are required. You would simply run your new business from your home and conduct your daily property signage installs throughout your territory area on the road in your Countrywide Signs van.
As a result, overheads are minimal, and if you follow the proven-franchise business model, as well as take full advantage of the business development and marketing support available; profit, business growth and your future retirement security are cemented.
In fact, Countrywide Signs has an outstanding success rate of 96% of franchise owners making a success of their business – that is one of the best records of any UK franchise network.

Training & Support
Our comprehensive training package includes remote learning and classroom style sessions, a strategic business launch programme followed by a strategic ongoing support structure.
Countrywide Signs new franchisee training is led by highly successful former franchisee Sue Jamil, and covers:
Marketing and sales to win business
Our unique Print. Manage. Promote service offering
Health and safety
Practical board installation and management skills, to meet our high quality standards
Managing and growing your business and income
Online systems and simple accounting procedures
In fact, everything you need to become one of our Property Signage Experts!
Support includes:
Training and operations; maintaining high standards including best practice and safety.
Business development expertise; identifying opportunities, implementing growth strategies, and maintaining customer relations.
Marketing guidance and support; promoting services on a national, regional and local level.
National accounts; managing and overseeing our multi-location clients.
Online business management software; to manage orders, data, credit control and invoicing.

Could You Be a Countrywide Signs Franchise?
Countrywide Signs are looking for people with a passion for excellent service, who enjoy getting out and about. If you're motivated, determined and prepared to follow the business model, and prepared to work on developing good general business skills, a Countrywide Signs franchise this is the ideal business for you and can provide a fantastic life.
With a professionally sign-written van, you'll benefit from instant credibility with agents. Offering a local service backed by our national standards, recognised brand name and full support, this is the opportunity to become the go-to provider of board management services in your local communities.
Would you like to start a Countrywide Signs Franchise?
To get in contact with Countrywide Signs regarding their Franchise opportunity, please complete the form below.