Support your community with a Driving Miss Franchise. A caring assisted transportation with companionship service enabling choice and independence for all who cannot or choose not to drive for whatever reason.
Support your community with a Driving Miss Franchise. A caring assisted transportation with companionship service enabling choice and independence for all who cannot or choose not to drive for whatever reason. Read Less
Driving Miss Daisy offers a safe, friendly and reliable driving and companion service for anyone who is unable to drive but wishes to remain independent.
If you live in an area that you think might benefit from a Driving Miss Daisy service and are interested in owning your own home-based business with low investment costs, then please read on and fill in the form below.
About Driving Miss Daisy
Make a difference! Driving Miss Daisy is a unique transportation and companionship franchise using a proven business model with a solid track record. Its business opportunity offers low start-up costs and is home-based, thus, benefiting from low overheads. This presents you with the opportunity to develop a profitable business and build equity value.
Driving Miss Daisy understands the power of supporting each other to build sustainable, profitable businesses. It thrives on optimism, hard work, fun, and 'telling the story'. You will be in business for yourself, but not by yourself. You will be joining a supportive, collaborative team; you will be part of the Driving Miss Daisy family.
How much does it cost to own a Driving Miss Daisy® Franchise?
To open a Driving Miss Daisy® franchise the investment level starts at £5,000 + VAT, depending on the size of the territory, your location and your aspirations (terms and conditions apply). Driving Miss Daisy® has secured competitive finance packages with financial institutions to assist with setting up your business. When required, these options can be explored with you.
You will require a liveried, fit-for-purpose vehicle for your services which will be purchased by you. Driving Miss Daisy® works with you to deliver the vehicle you want and organises the livery of the car.

What's included?
A Licence to run your own Driving Miss Daisy® business; an established brand with a proven track record

Full, comprehensive training providing you with best-practice, knowledge and expertise to hit the ground running

A 12-point Support Programme for ongoing growth and development of your franchise, including a mentoring programme

A comprehensive business system and customer relationship management system including invoicing and reporting capabilities

A Franchise Resource Pack in an easy reference modular format, to support the successful running of your business

Marketing materials to promote your business and stimulate demand as soon as you are operational, including uniformSupport in gaining appropriate hire licences

Launch a professional image with dedicated local Facebook Page, business stationery, business cards, letters of introduction

Website and social media facilities to socialise the brand and your business in your locality

Our dedicated Client Services Centre field the calls from new potential clients in your area, sympathetically taking their requirements and passing the details to you. They act as your dedicated call centre ensuring you don't miss a lead

On-going training and best practice will always be available; we are passionate about sharing ideas that lead to success

Earnings of £25,000 to £100,000 per annum depending on size of territory, number of vehicles and years in operation.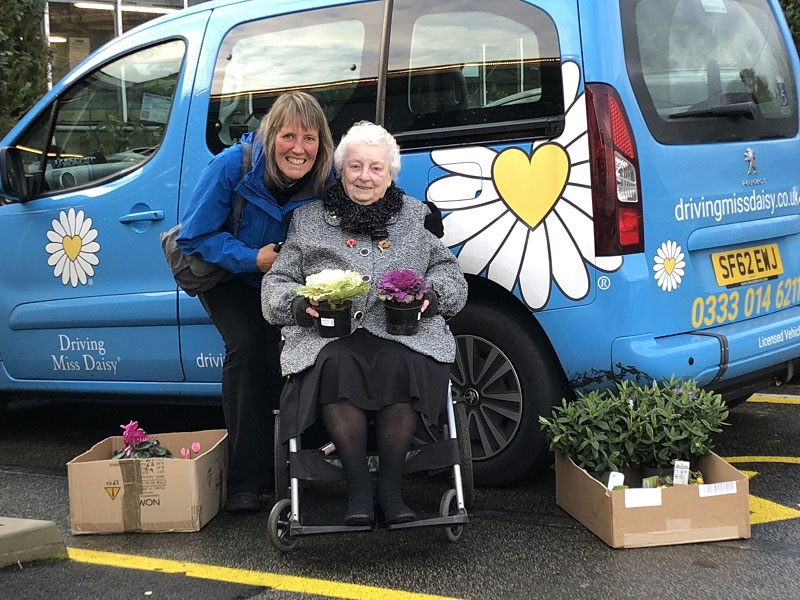 Who are we looking for and where in particular?
If you are the type of person who is caring, compassionate and wants to make a difference to others and or give something back to your community we want to hear from you.
We are looking for Franchisees especially in Northern England, Scotland, South of the M4 and South East who:
Have an open mind to learn new things and want to give something back
Are very customer focused
Want to go the extra mile to help someone else
Are able to build relationships quickly and easily
Next Steps
If you would like to learn more about this exciting franchise opportunity with Driving Miss Daisy, please click below to make an enquiry. We'll send you more information.