Husse UK Franchise
Pet Franchise
£7,000 start-up support from Husse - the global leader in pet food home delivery.
Available Locations
Franchise opportunities available in England and Scotland.
All you need to know about why joining Husse, the leading super-premium pet food home delivery service, is the right move for you.
Super-premium product super-premium quality.
Husse offers a vast range of products (Just over 350 in fact) including supplements, snacks & accessories. However, where Husse shines is our dry and wet food where we have won multiple European awards since the company was founded in 1987. Our range of super premium dry food for cats and dogs is industry-leading and offers some of the best prices per portion that you will find on the market.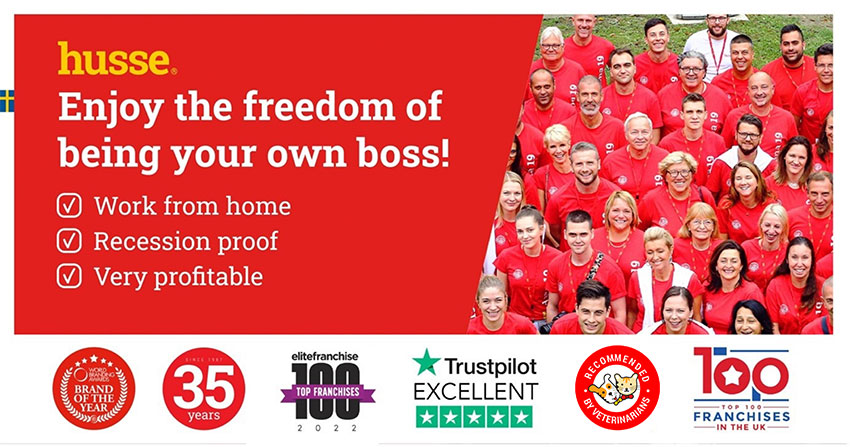 Husse is the world's fastest-growing pet food franchise and the only one with international success. The pet food industry has been categorised by Forbes and other publications as 'recession proof' and is attracting a host of entrepreneurs and investors to join this thriving £7 billion industry in the UK.
Huge business potential.
There are currently 25 million cats and dogs in the UK with just over 60% of all households in the UK now owning a pet, this means you will have the opportunity to target well over half of your territory to provide product and will only need to gain 1-3% of the pets within your area to be making a more than 30-60k a year. Pet owners have shown a huge rise over the last 10 years, this is expected to continue increasing (Good news for us!)
Recession-proof, Pandemic proof.
Husse prides itself on being an all-year-round business. Pets will need food during the Summer, winter, spring and autumn and we will be there to provide it. As a franchise, you will be able to rely on business throughout the calendar year with the different seasons allowing for new fun promotions and advertisements to increase the customer base.
High profit, low overheads.
As a franchise, you will have a 40% margin across our products with very little overhead. We aim to make your territory as local to your home as possible as this saves on fuel and vehicle expenses. As a franchisee, you will have the ability to recruit distributors and agents to help expand the business. They can bring in the new revenue and you can arrange payment via commission and sales.
Ethos on excellence.
As we never settle for second, Husse is always striving to improve aspects of the business. New recipes, new products, new franchise initiatives to keep us one step ahead of the competition. Our trust-pilot speaks for itself with a 4.9 star which is the best score you can get with 1 review less than 5 stars.
How can your life change?
Flexible lifestyle business – work the hours you want, earn the income you want, operate in your local area. You will truly be your boss. You will be able to approach the business from multiple angles, gaining numerous revue streams from targeting businesses such as kennels, breeders, groomers to working markets and events locally and nationally
Why do so many pet owners choose Husse?
Unique Scandinavian recipe – pets love the taste of our unique Scandinavian recipe. Unlike other local products, which all possess similar ingredients and a similar taste to each other, Husse offers something different to the rest!
Natural – made with only natural human-grade ingredients, no artificial colours, flavours, or preservatives. We have grain-free, hypoallergenic, and cold-pressed products to name a few
Outstanding health benefits – promotes longevity and vitality, saves on vet bills; as seen in the Daily Mail!
Competitive pricing – high-quality ingredients and high digestibility make Husse a more economical choice for pet owners.
Personal, friendly service –Husse nutritionists receive extensive product training to give the best recommendations and best advice to pet owners.
We even do horse products
Just when you thought there was no more Husse had to offer we also provide horse food and different natural supplements/care products franchisees the option of entering the horse market and connecting to owners who are more than likely also the owner of a dog or cat.
Franchise Packages
Platinum 80,000 households – exclusive territory
Price: £14,900 + VAT
Including £5,000 worth of dry food RRP and samples
Gold Pack 60,000 households – exclusive territory
Price: £10,900 + VAT
Including £2,500 worth of dry food RRP and samples
Silver 35,000 households – exclusive territory
Price: £7,900 + VAT
Including £500 worth of Samples
(All Including Livery)
Husse Bespoke packages
Husse UK offers bespoke franchise opportunities.
This package will be developed alongside eager entrepreneurs with a good business background and a high level of skill in business.
The investment would be larger than a standard franchise however ROI's would be much higher.
The new franchise owner would set up their own warehouse and generate distributors to cover deliveries and help with generating customers.
A bigger territory and household amount will be given with this package dependent on city capacity.
For more information, please contact us.
(Minimum level of investment £25,000+VAT)
Husse Training and Support
Husse's initial training program covers product knowledge, pet nutrition (centre of excellence canine nutritional qualification), sales, marketing and user training for our bespoke CRM and order tracking system.
Our ongoing support gives you access to a franchisee mentor when starting your business to give you tips and advice.
We provide offline and online educational materials.
Receive unlimited access to our in-house vet for nutritional and product advice
Social media specialist and graphics team to help with all leaflets, flyers, and online presence.
Husse arranges regular meetings, seminars and webinars offering continuous development opportunities to its franchisees
If you are interested in being part of a rapidly growing company within a thriving industry, then get in touch with us.
Get Your Free Information Today!
To contact Husse UK for more information regarding their Franchise and speak to them directly with any questions you have, please complete the form below.