Finance Available
Kitchen Makeovers Franchise
Home Improvement Franchise
Start your own management franchise with Kitchen Makeovers! This home-based opportunity boasts huge earnings potential and requires no prior kitchen experience. Don't miss out on this chance to take control of your financial future.
Financing Assistance
Yes, through a third party.
Training Provided
Full Training Provided
Industry
Home Improvement
Lifestyle
Full Time or Part Time
Available Locations
Franchise opportunities available across the UK.
Start Your Own Kitchen Makeovers Franchise
Run your business from home and control your lifestyle whilst making an impressive income – the smart way to build a business.
The Kitchen Makeovers franchise provides you with the opportunity to start and operate your own kitchen makeover business in your chosen area, with the full support and expertise from our highly experienced head office team using a proven business model.
There's no need for hands-on kitchen installation or practical experience; this isn't that kind of business. Your role will involve meeting clients, providing quotes, overseeing fittings, and conducting follow-ups to ensure customer satisfaction and smooth operations.
Why Our Clients Choose Us
Our expertise lies in creating value and enhancing aesthetics, thereby redefining the heart of the home!
It's A Service That Saves Money
We Provide High-Quality Products
It's A More Sustainable Service
We Offer A Quick, Hassle-Free Service
Our Products Come With A 6-Year Quality Guarantee
As distinguished leaders in the industry, we specialise in the revitalisation and transformation of kitchens without compromising on affordability. We pride ourselves on delivering exceptional quality services that are not only reliable but also accessible to a wide range of budgets.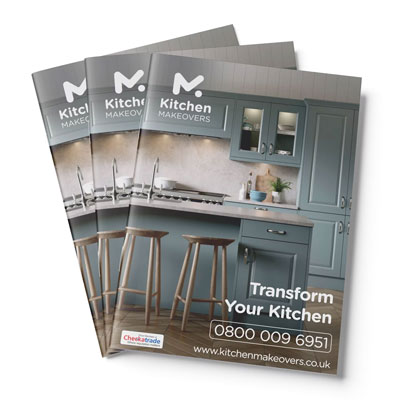 Why A Kitchen Makeovers Franchise
As this is a Management Franchise, you won't be carrying out the installations yourself. You will be trained in all kitchen jargon – products, finishes and methodology. All you need is the drive and determination to succeed.
High Earning Potential
Kitchen Makeovers has experienced exponential growth since its inception, and we're eager for you to share in this success. We're on the lookout for ambitious individuals who mirror our determination and are ready to operate their own Kitchen Makeovers Franchise in their preferred area.
Our franchisees enjoy high sales rates, with an achievable turnover of over £300,000 per year by the second year of operation. But it doesn't stop there - we also offer the potential for high earnings, with franchisees typically earning over £90,000 per year in their second year.
*A detailed three-year profit and loss illustration is accessible once you express interest in the Kitchen Makeovers Franchise.
What Sets Us Apart
The Kitchen Makeovers franchise is an online business which can be run from home or a small office, translating to low overheads and increased profit margins!
What distinguishes the Kitchen Makeovers franchise from others is its remarkable flexibility and profitability. As an online business, it allows for operation from the comfort of your home or a modest office space. This means significantly reduced overheads, paving the way for increased profit margins. It's an entrepreneurial dream come true - a business that fits seamlessly into your lifestyle while providing financial stability.
Additionally, our streamlined and efficient operational model ensures that most jobs are completed within 2 to 3 days. This quick turnaround not only enhances customer satisfaction but also enables you to serve more clients in a shorter time span. The result? A highly profitable business that is manageable and presents an expansive income opportunity.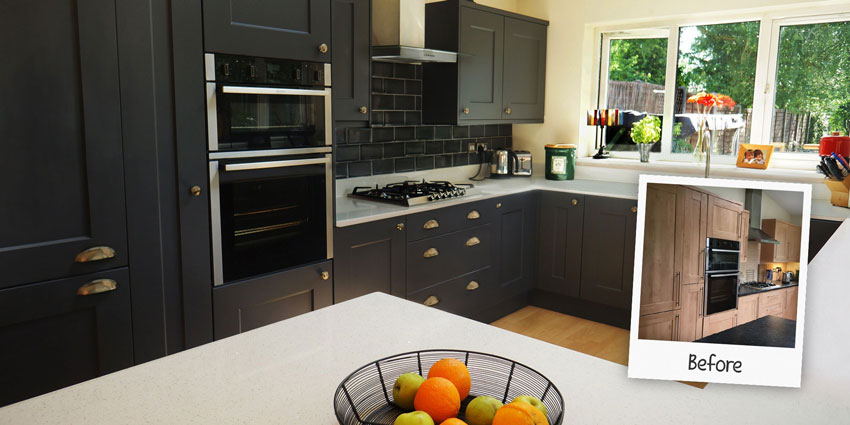 What's in it for You?
Access to an established brand and tried-and-true business model
Flexibility to work from home or an office
Control over your working hours
Tools, support, and training to help you establish and run your business
Exclusive operational area
Local website page (fully SEO optimised)
Email address, phone number, and call system
60,000 marketing leaflets
Business cards, and stationery
Corporate branded clothing
A full range of door and worktop samples
Training in all business aspects
Access to a variety of effective marketing materials
Marketing
Our experienced marketing professionals will equip you with an arsenal of powerful materials and cutting-edge tools, designed to facilitate impactful, targeted campaigns. We ensure cost-effective strategies that yield remarkable results. More than just a partnership, we offer unwavering support at every step of your journey, ensuring your operation thrives in a dynamic marketplace.
"Thank you to the team for my fabulous new look kitchen. New worktops and handles completely transformed my kitchen, and all done in one day for a great price! I'd highly recommend these guys."
Fiona Jones - Kitchen Makeovers Client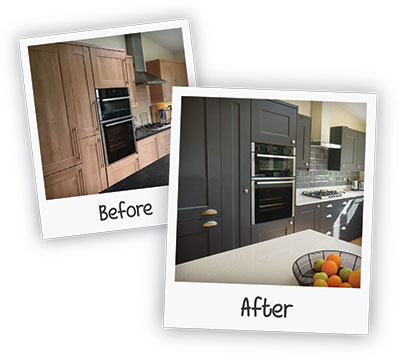 The Investment
Embarking on your own entrepreneurial journey with the Kitchen Makeovers Franchise is not just an exciting opportunity but also an accessible one. The franchise fee is set at a competitive rate of £12,500+vat, making it an attractive investment for those looking to break into the thriving home improvement industry.
What makes this opportunity even more appealing is the availability of government-led funding that covers up to 100% of the franchise fee. This significant financial support provides an incredible boost, making it easier than ever to launch your own business.
This all-inclusive package includes comprehensive training, marketing materials, access to our time-tested operational systems, and continuous support from our experienced team. With Kitchen Makeovers, you're not just buying into a business; you're investing in a proven system and a bright future.
Funding is available for 100% of the Franchise Fee!
Next Steps
If you think you would be the perfect fit for a Kitchen Makeovers Franchise, then fill in your details below, and we will send you more information, including a free and comprehensive Franchise Prospectus.
Take the leap today and transform your career with a Kitchen Makeovers Franchise. We're here to help you every step of the way.
Get Your Free Information Today!
To contact Kitchen Makeovers for more information regarding their Franchise and speak to them directly with any questions you have, please complete the form below.