Local Eats Franchise
Online Businesses Franchise
Run your own Just Eat-style business - Current licensees are making over 70k in their first year from just £6,000 initial investment.
Industry
Online Businesses
Lifestyle
Full Time or Part Time
Available Locations
Franchise opportunities available across the UK.
Run your own local online food ordering business.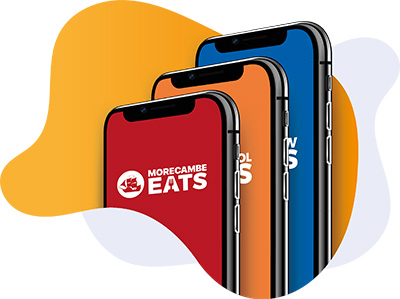 With Local Eats, you can run your very own Just Eat style food ordering company and earn in excess of £70,000 in your first year!
Online food ordering is one of the fastest-growing industries in the world right now and with Local Eats you will have the perfect technology and business to take a piece of the ever-growing pie.
About us
Launched in 2018 in just one area of Cumbria, Local Eats has rapidly grown into a number of successful franchises across the North West.
Through vastly expanding its support team in 2020 Local Eats are now in the position to re-open their franchise applications to entrepreneurs across the UK with some outstanding opportunities already identified – particularly in the south of England.
It all started in 2018 and after just six-months of trading in Eats realised the potential that their model had… Through continuous investment in their technology and constant refining of their business strategy, Local Eats have quickly been able to establish franchises in a number of major cities and towns in the North, growing their market-share week on week.
Due to the high level of support provided to each licensee, Local Eats do not offer unlimited licences to unlimited applicants, so if you are interested in running your own online food ordering business and making up to £70,000 in your first year, we'd advise that you register your interest with Local Eats quickly!
The Opportunity
Local Eats provides you with the opportunity to run your own food ordering business from just a £6,000 investment.
What is great about Local Eats is that the model is proven - we have been there and done it already and have multiple Local Eats licensees who earned in excess of £70,000 in just their first year in order-commission alone!
As part of your licence, you are provided with everything you need to be up and running within 10 days: Your custom-branded apps, your website, your own support team, your own admin team, all contracts between you and your restaurants and direct access to our marketing resources that have proven time and time again to be so successful.
All you are left to do is sign up those restaurants and with recommended fees that undercut Just Eat by 50%, it's never been easier to grab a slice of the fastest growing pie in the UK!
How it works
The Technology - As part of your licensee package you will receive a market-leading, fully branded website, mobile app (both IOS and Android) and management system that stands head and shoulders above the current market-leaders.
The Business - We provide you with a proven business model that has had unprecedented success. The market leaders are taking millions of pounds a year from small local areas and now it's your time to have a slice of that pie. No need to worry about any of the legal documents that baffle so many new business owners, we provide fully branded contracts and waivers and to ensure that you have total coverage.
The Results - Once you have added restaurants and takeaways to your new platform you can go live and begin to earn! Our marketing tools and support will allow you to watch your customer-base grow day-on-day and the maths is simple – The more customers, the more orders and the more orders - the more you earn.
What can I earn
Here is the good bit, your earnings are unlimited! The more orders your restaurants get, the more money you earn. Using our unique model, current licensees are processing over 20,000 orders within their first three months and are now earning in excess of £8,000 per month. Those numbers may sound like pie in the sky or unrealistic, but the truth is they are not, they are real life examples and some licensees are surpassing those within their first 18 months.
In this rapidly growing industry, we have all the tools you need to not only compete with the market leaders but to surpass them in double-quick time to become the most prevalent food ordering platform in your area.
Here is a real-life table showing the success of one of our licences that started in March 2020
Franchise Territories
We have a unique territory-mapping program based on a sample of existing licensees. Having this allows us to provide you with an exclusive Local Eats territory meaning your scope for potential growth is huge due to the guarantee the area you licence will be exclusive to you.
Exclusive territories allow you to choose your area and never compete with other Local Eats Franchise Partners and if you are the first licence within a large zone you will also get first refusal on any surrounding territories.
As an example of this, Oliver one of our licences started out with Morecambe as his territory and when another individual enquired to Local Eats about purchasing the Lancaster licence due to seeing Morecambe's success, Oliver exercised his first refusal and purchased the Lancaster territory too.
How is Oliver doing now you may ask? Oliver now has over 70 outlets and is processing in excess of 5000 orders each week less than 7 months from taking his first licence.

How much Does it cost?
You can have your very own local marketplace up and running within 10 days weeks with an initial investment of just £6,000. For this low initial investment, you will receive our full package with no hidden costs, no extra add-ons, just the freedom to become your own boss and earn up to £70,000 in your first year.
Next Steps
If you would like to start a Local Eats franchise, please scroll down and complete the form below. Once we've received your enquiry we will be in touch with more information.
Get Your Free Information Today!
To contact Local Eats for more information regarding their Franchise and speak to them directly with any questions you have, please complete the form below.