Reading Time:
3
minutes
At Extra Help, we understand that happy franchisees work harder, contribute fresh ideas to the business and strive to exceed customer expectations. Ultimately, all of this works towards improving the overall efficiency of the network, and, therefore, their feedback is of the utmost importance to us.
This week, we have some very exciting news to share! We're incredibly pleased and proud to announce that Extra Help has just been awarded 5-Star Franchisee Satisfaction in a recent benchmark survey, conducted by WorkBuzz*.
WorkBuzz is a leading, independent franchise consultancy that helps reputable franchisors to improve their performance and growth. One of the ways they do this is by conducting franchisee surveys, in order to identify and understand how the franchise network is performing from its franchisees' perspective.
In June 2022, our franchisees, who all run their own home-help franchises in their local areas, were invited to complete an anonymous questionnaire, the results of which were compiled and analysed to produce an overall Franchise Satisfaction Benchmark (FSB) score, along with a comprehensive report that allows us to pinpoint exact areas for improvement. 69% of our franchisees participated and provided us with many significant and valuable insights.
The WorkBuzz Franchise Satisfaction Benchmark (FSB) not only provides us with a snapshot of our franchise owners' satisfaction today, but also tomorrow as it indicates their level of optimism about the future. Using a five-point scale, our franchisees were asked to rate Extra Help on six key dimensions, which research shows make up, and contribute to overall satisfaction: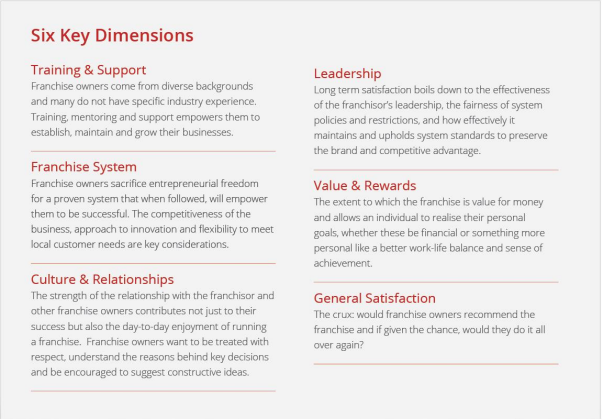 Our Franchise Satisfaction Benchmark Score
In order to achieve 5 Star Franchisee Satisfaction, the survey results needed to prove that Extra Help is excelling above the industry average in all six areas. With our previous score of 76%, we'd already set the bar fairly high but this year, our score has significantly increased!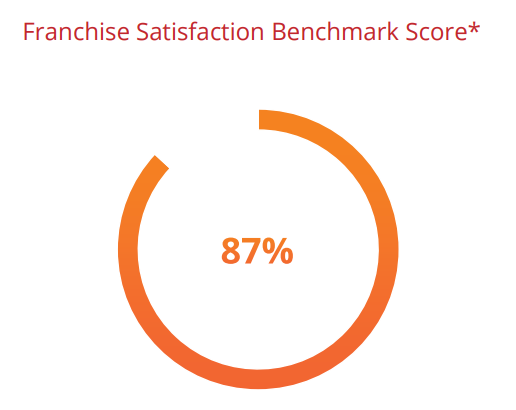 * The Franchise Satisfaction Score is calculated by taking an average of all positive responses received for the 21 questions asked for the purpose of benchmarking/awards.
The WorkBuzz survey is an excellent way of showing how well we're performing and the results speak for themselves:
• 100% of franchisees were satisfied with the initial training and support we provided
• 90% of franchisees would recommend Extra Help to prospective franchisees
• 95% feel valued
• 75% of franchisees expect their profits to increase over the next 12 months.
As well as the report, we received a selection of lovely comments from our franchisees and these are very much appreciated.
One franchisee said:
"I've never had a job where I enjoyed so much flexibility, achievement and helping my local community. It really makes my heart sing, I couldn't recommend Extra Help enough to anyone looking for a fulfilling and rewarding business opportunity. If you love people this is perfect for you."
Another said:
"I feel extremely well supported, I feel comfortable to ask anything about the business I am unsure about, without fear of being judged. Both Head Office and our whole network are welcoming and supportive, Claire puts on a Power Hour every week, so I can always go there to find out anything I'd like to know, and speak with other franchisees."
Claire Robinson, Managing Director of Extra Help, said:
"I'm delighted with the results of this survey and Extra Help's 5-Star Franchisee Satisfaction status – it's a great tribute to my Head Office team and the fantastic work they do in supporting our franchisees.
I'm so proud of our amazing franchisees and their teams, providing such valued home-help services to their local communities every day. Our franchisees are very important to us and it's wonderful to know the support we're providing is helping them to grow their own, successful businesses.
But that doesn't mean we can sit back and relax! The survey also highlighted some areas to focus on, where we can make improvements to ensure our franchisees receive even more robust support, moving forward."
To find out more about how you can own a successful and rewarding home-help and domestic cleaning franchise, offering a flexible range of services to your local community, give us a call to find out if your area is available. You can also visit our website for more information.
* The report is published by WorkBuzz. It is not intended to be an endorsement or recommendation by WorkBuzz. It is strongly recommended that any prospective franchisee completes thorough due diligence and receives professional advice before investing in any franchise.
About the Franchise Satisfaction Benchmark (FSB)
The FSB is provided by WorkBuzz, a leading independent franchise consultancy. It works by inviting franchisees to participate in an anonymous, online survey, which asks them questions about their franchise ownership experience. Using a consistent methodology, the franchise is assigned an overall FSB score and the highest performing franchisors are recognised in the Best Franchise Awards.