Extra Help is one of the UK\'s premier home help and domestic service providers, offering assistance to the elderly, mothers and everyone in between.
Extra Help is one of the UK\'s premier home help and domestic service providers, offering assistance to the elderly, mothers and everyone in between. Read Less
Extra Help - With You Every Step of the Way
Extra Help is a franchise company that operates in a rapidly growing, recession-resilient market.
A Prime Opportunity
Recent studies show that Britain's general population is ageing. The number of older people is rapidly increasing, with many of them choosing, or being forced to stay in their own homes and live independently. Along with the closure of many care homes across the country and the fact that local authorities are mostly unwilling to provide non-personal care, a huge opportunity exists to provide the help and assistance that elderly people need to make their lives more comfortable and allow them to maintain their dignity and independence.
As well as helping the elderly, Extra Help provides flexible home-help and domestic services to literally anyone who needs them, from the elderly to new parents and working professionals.
Straightforward Business Model
Our tried-and-tested business model is straightforward and easy to follow. Clients are charged a flat fee per hour and home-helpers are self-employed, thereby organising their own tax and National Insurance. As Extra Help is a management franchise, your job as a franchisee is to find clients and recruit responsible, caring and honest home-helpers to meet their requirements.
Modest, Monthly Management Fees
Extra Help's ongoing service fees are modest at £200 + VAT per month. You can realistically recoup your original investment within the first year, meaning that, upon completion of your first year in business, you could be well on your way to generating serious profits. The management fees rise to £250 + VAT in year two onwards.
Join Our Family
We provide full, initial training and follow-up training and support for as long as you need it, so you'll never feel alone. Our franchise network really is unique in that we are like one, big, extended family. Our franchisees are truly passionate about helping people and are encouraged to support and communicate with each other, through social media and regular meet-ups.
Ethical, Honest Trading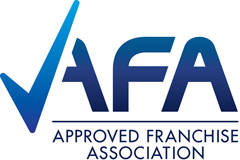 Extra Help is an open, trustworthy company that abides by trading law and has undergone the appropriate training and background checks to enable us to receive the following accreditations:
✔ Approved Franchise Association (AFA) member.
✔ NatWest Bank and RBS Approved.
Our Franchise Packages
An Extra Help® franchise costs only £5,950, representing amazing value for money. For this price, you will still receive our comprehensive franchise support package that provides everything you need to get up and running and grow your business successfully.
Our aim has always been to provide an unrivalled level of support to our franchisees, and this is set to continue. So, the best news is that, as an Extra Help® franchisee, you will still receive a package that is jam-packed full of benefits to get you up and running straight away, including an exclusive territory of 75,000 homes, comprehensive training, ongoing support, access to our special, franchisee Facebook group, complete branded stationery pack, telephone number, email address and web page, use of our customised, database management system, social media advice and more!
Could You Be Our Next Franchisee?
Extra Help is currently searching for caring and motivated franchisees to join our growing network.