Reading Time:
3
minutes
Launched back in the 1930s, Colonel Harland Sanders took a while to perfect his blend of 11 herbs and spices for his fried chicken recipe but, once he did, the business took off at an astonishing rate.
KFC franchises now serve a staggering 12 million customers every day and, there are currently, around 847 KFC outlets in the UK. KFC franchises are available in the UK but they don't come cheap and, in this section, we'll have a look at what is required if you fancy grabbing a piece of this finger-licking good business for yourself:
Franchising is booming in the UK, particularly within the fast-food industry.  The British fast food industry is worth a whopping £15 billion across around 58,000 outlets – the majority of which are franchise businesses.
What is a franchise business?
If you live in a town or a city in the UK, then you'll most likely walk past, or even into, a fast-food franchise business every day.
In a nutshell, franchising allows anyone to start up their own branch of a well known fast food business, without the risk or expense of starting a brand new venture.  An individual (known as the franchisee) will pay a set fee to the company (the franchisor) in order to gain permission to open their own outlet.  The franchisee will then pay a percentage of their takings or profits to the franchisor each month.
Why buy a franchise?
A franchisee enjoys the benefit of tapping into a well-known business with a ready-made customer base as well as the ongoing support of the company.  Another advantage is that, with a franchise business, you won't always need experience to get started.
Can I start a KFC franchise in the UK?
The company currently states that they're not actively looking for new franchisees right now, but if you think you've got the right stuff, either as a business or an individual, they'd like to hear from you.
How much does a KFC franchise business cost?
To start your own KFC franchise, as detailed on the Kentucky Fried Chicken UK website, the company states that you'll need to have £5 million in assets and £2 million in liquid capital. The franchise fee, which is payable upfront, is approximately £38,000. While that is a fair chunk of change, there'll also be other fees and costs involved before you finally open the doors to your own branch of this incredibly popular fast food franchise.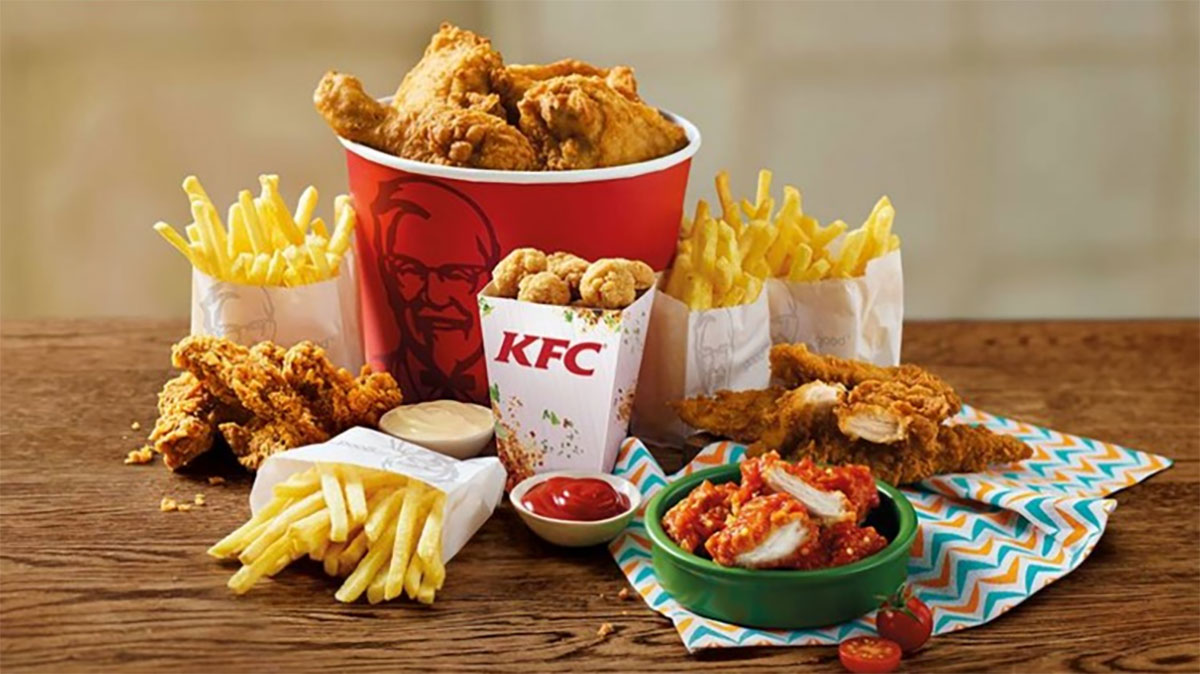 What kind of franchise is KFC?
KFC franchisees can choose between three different business models dependent on availability in their area and, these are:
A restaurant – If you're ready to shell out the big bucks, you can grab yourself a standalone KFC restaurant in the UK.  These can be located in a number of places including high streets, business parks and more.
Food court – A slightly less expensive way of getting your wing around a KFC franchise is to open an outlet within a shopping centre food court.
Drive-thru – This grab and go option can sometimes be attached to a KFC restaurant but this isn't always the case.
Each of these options has very specific requirements in terms of size, design, nearby amenities, and location.
How much can you make from a KFC franchise?
Although this does, of course, vary depending on the location and the type of franchise business (as above), most KFC franchisees can expect a revenue of between £50,000 and £80,000 per year.
What you need to become a KFC franchisee
As well as being able to lay your hands on the necessary cash for your business, you'll need to be able to tick a few more boxes, including:
Experience – Most KFC franchisees are expected to have some prior experience within the food, drink or hospitality industry.
Business skills – KFC looks for franchisees who have skills and / or experience in running a business.
Entrepreneurial spirit – As with any business owner, you'll need to have the drive and ambition required to make your business succeed.
Leadership skills – As a KFC franchisee, you'll be responsible for recruiting and training your own staff and, so, strong leadership skills are essential.
Attention to detail – In order to maintain quality and standards, KFC monitors its franchisees on a regular basis. This means that you'll need to be able to follow strict protocols and guidelines to ensure that your franchise meets the brand's extremely high standards at all times.
How do I get started with a KFC franchise?
KFC is incredibly selective when it comes to handing out franchise opportunities in the UK and, before even starting, you'll need to make sure that you fit the criteria listed above.  If so, the first step is to fill in an online enquiry.  If successful, the process will usually take several months and will include multiple interviews as well as work experience within a KFC outlet.
Conclusion
Rather a lot is expected of a KFC franchisee – including a considerable investment.  While this is no doubt daunting for most normal folk, this is offset by the fact that this is one of the most successful fast-food franchises in the world and, that franchisees can expect to recoup their initial investment several times over if they work hard to make their business a success.