Be your own boss and run your own franchise with Oven Rescue. No experience is necessary with this business that has huge earning potential and can easily be run from home. You will offer a top-quality, unrivalled oven cleaning service with exceptional support from a successful, national franchise... Read More
Be your own boss and run your own franchise with Oven Rescue. No experience is necessary with this business that has huge earning potential and can easily be run from home. You will offer a top-quality, unrivalled oven cleaning service with exceptional support from a successful, national franchise business. Read Less
Join a profitable, established oven cleaning
franchise with 90% customer retention
Control your own lifestyle - work from home whilst making an impressive income with no previous experience - the BEST and ONLY way to build a sustainable business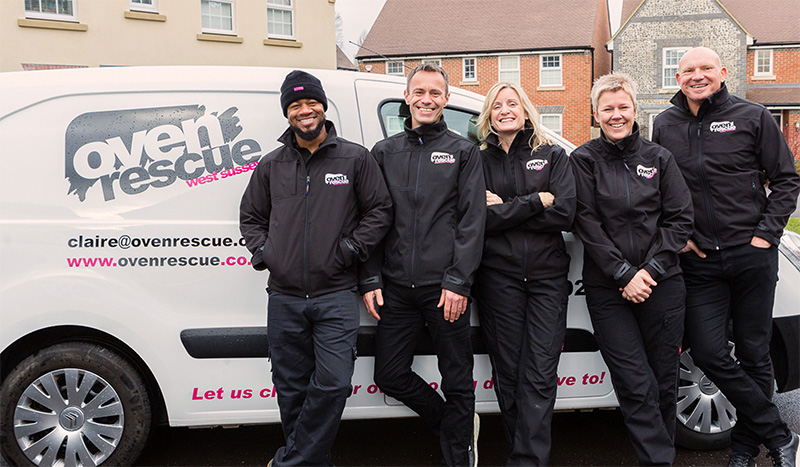 At Oven Rescue Group, we take great pride in bringing ovens back to their former glory. Customer service and satisfaction is our top priority. 90% of our customers come back to us each time they need their oven cleaned, meaning this is a highly lucrative franchise to invest in.
Oven Rescue Group began with one van covering West Sussex, and now everything is in place for Oven Rescue Group to grow from strength to strength to cover the rest of the UK with franchisees buying into the business.
Our franchisees are very important to us, and Oven Rescue Group prides itself on excellent training and first-class support during the whole process.
Why an Oven Rescue Franchise?
For starters, you will be YOUR OWN BOSS and, most importantly, be in charge of your own diary! - providing great flexibility - you can earn as much as you want.

One person can operate this business, or it can be operated as a management franchise - where your staff do the hands-on work as you manage the business operations.
Here are some of the best things about Oven Rescue Group:
Earn £1,250 plus per week - even more as a management run franchise
Join a profitable, long-standing and very successful oven cleaning franchise with a GREAT reputation
No previous experience is necessary
National marketing so you can build your customer base very quickly
We have a 90% customer retention rate
Customer service and satisfaction is our top priority
Fast-growing franchise as demand for our services increases all the time
We are with you every step of the way
Your very own exclusive territory
Fantastic start-up packages - with HUGE earning potential relative to the investment
What Our Franchisees Do
As a franchisee, your days will be spent developing your relationship with existing Oven Rescue clients as well as signing up new ones, offering each one the best oven cleaning services available. You will also spend your day managing your business, ensuring all enquiries and paperwork is completed before you put your feet up and enjoy the return on your investment.
The Franchise Package
Oven Rescue franchisees will be investing in and enjoying the benefits of our experience, including brand awareness, cleaning knowledge in both the domestic and commercial sectors, pricing structures and good commercial practice.
As part of the package, you will be provided with:
Training: two weeks intensive hands-on training course in the field.
Vehicle and livery: you can choose the type of van to suit your budget and styles.
Products and consumables: we supply the initial three months' supplies.
Tools: the tools you will need are provided in full.
Branded workwear: Oven Rescue Group polo shirts, jackets and trousers provided.
Brochures and business cards: this is an essential marketing tool, providing you with lead-generating brochures and business cards.
Advertising: we work in partnership with you to ensure that your business is represented on the internet on our website and in local advertising.
60,000 households - £12,500+vat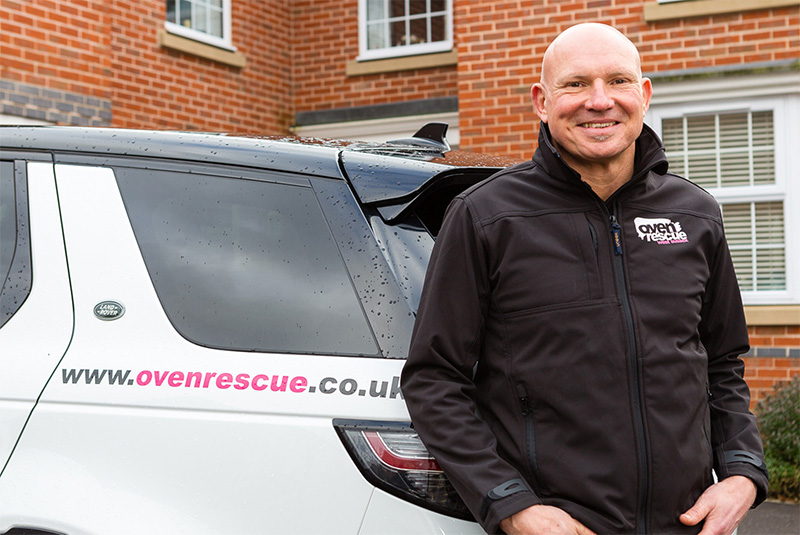 Training and Support
It is important that your business emulates Oven Rescue Group's objectives, branding and style. We know how to make things work and will pass our experiences onto you through an extensive training package and ongoing support:
Comprehensive business start-up support.
Comprehensive initial and ongoing training.
Infield support and business development.
Marketing and branding guidelines and updates.
Management systems to schedule repeat business.
If you answer YES to the following...
Do you want to be your own boss?
Do you want to work flexible hours?
Do you want to work around your family and other commitments?
Do you want to earn £1,250+ a week as a sole operator (more as a management run franchise)?
If you think you'd like to join Oven Rescue's successful franchisee network, submit your details below, and one of our team will contact you. We look forward to hearing from you.