Oven Rescue Franchise
Oven Cleaning Franchise
Want to be your own boss, control when you work, and earn £1,250+ a week? You don't need experience to be an Oven Rescue franchisee, just a 'can do' attitude and a commitment to doing a great job. With full training and support, you become part of a smart, professional ... Read More brand that customers trust. Read Less
Training Provided
Full Training Provided
Lifestyle
Full Time or Part Time
Available Locations
Franchise territories available in the UK and Northern Ireland
Join a profitable, established oven cleaning
franchise with 90% customer retention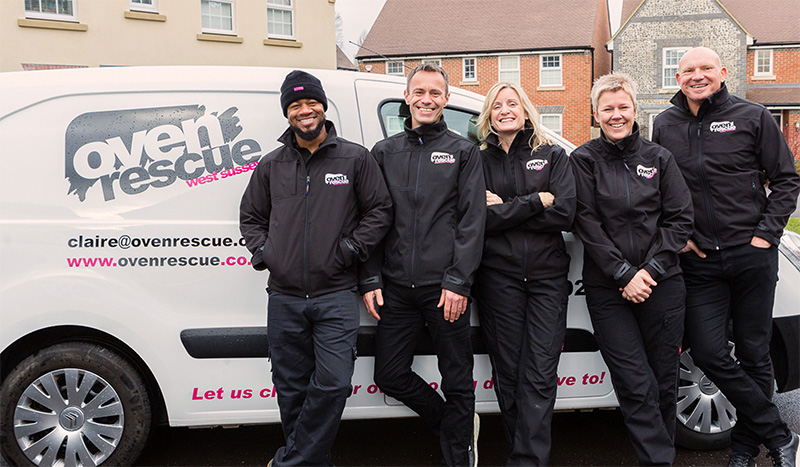 At Oven Rescue Group, we take great pride in bringing ovens back to their former glory. Customer service and satisfaction is our top priority. 90% of our customers come back to us each time they need their oven cleaned, meaning this is a highly lucrative franchise to invest in.
As well as being part of a successful, national franchise business, when you join Oven Rescue, you also get the personal support of founder and oven cleaning expert Mike Harris, who is passionate about helping every franchisee share in the Oven Rescue success story. Mike's commitment, together with his experience in business and oven cleaning, are massive factors in the success of Oven Rescue franchisees.
Join Oven Rescue now – enjoy the work-life balance you want, with all the support you need to run your own, highly profitable business.
You are in control of the hours you work
See your earnings go up with the effort you put in
Achieve the work/life balance you've always wanted
Enjoy the convenience of running your franchise from home
Be part of a totally professional, fully branded business

Oven Rescue is a proven success story
Oven Rescue has a rock-solid business model that's working fantastically well for all of our 34 franchisees. The UK has over 26 million homes, and there's an oven in every one, so it's no surprise that there is plenty of demand for oven cleaning services.
Mike Harris started the business in 2008 and has a wealth of hands-on experience of cleaning ovens. Oven Rescue is built to work for franchisees, with proof in the fact that all of our franchisees are still with the business – 3 of our franchisees have been building their successful businesses with us for over 10 years. Everything is set up to give everyone who joins Oven Rescue the opportunity to build their own businesses and earn a very healthy income.
Mike is passionate about delighting customers, promoting Oven Rescue, and proper oven cleaning. Two weeks on-site training will set you up to get all parts of the job absolutely right, so that you can look forward to a long and successful Oven Rescue career. You can even grow your business by taking on new staff and servicing more customers. The only limits are your ambition and your drive.
How is Oven Rescue different from other oven cleaning franchises?
Some oven cleaning franchises have been set up by businesspeople who have never cut through the grime of a dirty oven and left it as good as new. By contrast, Mike's always been very hands-on, and knows pretty much all there is to know cleaning all types of cooker. He's fully focused on what customers want and knows how great service keeps them rebooking with Oven Rescue.
Mike also knows what works for franchisees, and what everyone in the Oven Rescue family needs to make a success of their business. We don't put you in a classroom to clean an oven that is already clean and then expect you to go out and build a successful business. The franchisee packages are set up with franchisees in mind, to deliver all you could ask for in terms of training, support, materials and marketing. And if there's ever a question about issues like taking an oven door off, or dealing with stubborn grime, Mike is at the end of the phone with the answer.
Mike is also determined to see every franchisee succeed. He's proud of his business, and he's especially proud of everyone who takes the opportunities Oven Rescue offers for a fulfilling, prosperous working life. Mike will be there to help make it happen for you.
The way an Oven Rescue franchise works is completely transparent, with some important differences from various other franchise arrangements. The costs are exactly what you see at the outset, with no extras. The monthly fee is fixed, rather than taking a percentage of earnings. You are free to source your own vehicle, without having to buy or lease a particular van, or use a nominated motor trader. We also supply products direct from suppliers, and we don't mark up prices for franchisees with rebranded cleaning fluids and equipment.
What franchisees say
Here's a flavour of why our franchisees love working for Oven Rescue. We can also put you in touch with any of our 34 franchisees to hear their stories and how the business works for them.
"I'm soon to be starting my own family and I'll be able to pick up my kids from school"
Stefan, London
"The marketing you have at your disposal allows you to quickly build your customer base "
Paul, West Sussex
"We manage our own diary and can work around the children and any social activities"
Nichola & Claire, West Sussex
"You're entirely your own boss and can earn as much as you want "
Simon, Surrey
What customers say
"Trevor did an incredible job on both our ovens and barbecue. We honestly didn't think either could look brand new again. So worthwhile and won't hesitate to ask back again in 6 months."
Lesley Robertson
"Great job by Mike yesterday. Moved into new home couple of weeks ago and oven filthy. Now looks like new! Sincere thanks Mike."
Gary Porter
"What a great job, my oven looks brand new, thanks so much, would highly recommend."
Stacey Lawrence
"Just had my double oven cleaned by Jon Goff in Dorking. What a fantastic result, it looks and smells like new! So pleased I booked, 2 and a half hours later job done with a bulb replacement in the oven and a free ceramic hob clean too. I thoroughly recommend this company and Jon."
Tracey Killick
10 ways we help you run a successful Oven Rescue franchise
Practical business start-up support: advice on how to run your business, and a guide to the business tools you need.
Full training on cleaning ovens and customer service: two weeks intensive hands-on training course in the field shows you how to clean ovens perfectly, and delight customers.
Exclusive access to customers in your territory: you have exclusive rights to every household and business in your franchise area.
Vehicle and livery: choose the right type of vehicle for your budget, and we'll add Oven Rescue logos and details for a totally professional look.
Products and consumables: we supply the initial three months' supplies of eco-friendly, odourless and highly efficient cleaning materials. We connect you with the suppliers so you can get the best price for your materials.
Top performing tools: we equip you with all the tools you will need, including special implements for tricks of the trade.
Branded workwear: we provide Oven Rescue Group polo shirts, jackets and trousers to underline our professional approach.
Brochures, business cards: professionally produced brochures and personalised business cards.
Online marketing: you have your own spot on the Oven Rescue website, and advice on how to advertise on Facebook, Instagram, Google and other online platforms to make sure your business is easy to find.
Local advertising: we guide you through using local advertising so that customers in your area know about you.
Key facts about Oven Rescue
Established in 2008
34 franchisees and rising
Growing demand throughout the UK
National coverage
Owned and managed by founder Mike Harris
About you
No experience necessary
Your background and age don't matter
You're prepared to make a go of it
You know the importance of customer service
You're easy to have around, and will get on with the job
Your potential earnings
Up to £1,250+ a week if you're working by yourself
Even more if you take on extra people
Your outlay
For 60,000 homes £9,500 + VAT to all franchisees that sign up before Jan 2023. Min deposit required.
Monthly management fee £210 + VAT, fixed
Payback achievable within 6 months
Everything is totally transparent, with no hidden extras
Advice on grants
Grant loans of up to £17,500
Where?
South-east based
Opportunities throughout the UK
Flexibility
Manage your own diary with no reporting back to head office
Work when you want to
Schedule your work around your family
Set your own pricing that fits your local area
Mix short working weeks with longer ones
Work more when you want to ramp up your earnings
Get away for long weekends or a mid-week break
Find time for hobbies, leisure and a spot of fun!
Your customers
Exclusive area of 30,000 or 60,000 homes
90% of customers rebook
All ovens need cleaning every few months
Find customers with our marketing support
Easy to find you on ovenrescue.co.uk
Why your customers will love you
You're doing a job they find difficult to do without all the tools and industry products
They'll be wowed by their ovens being like new
They'll love having a reliable oven cleaner on call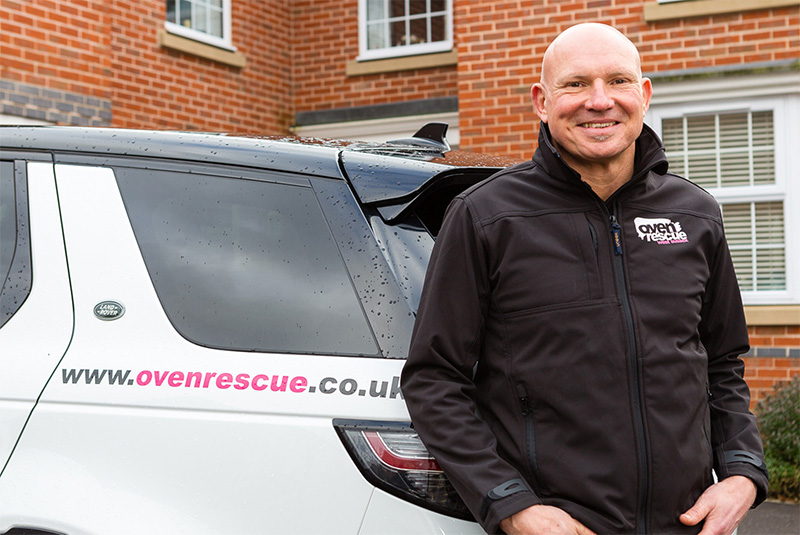 Next steps
"Get in touch and let us tell you about Oven Rescue – the training and support you get, the way our franchisees work, the package of marketing support and everything else you need to know. It's how to make a huge difference to the way you work and live – we'd be delighted to hear from you.
We'll even encourage you to go on a taster day with me or one of our franchisees to see for yourself what working with us is really like. Don't be just another franchisee in a business that doesn't really care about you – have a close look at joining the Oven Rescue family.
Get Your Free Information Today!
To contact Oven Rescue for more information regarding their Franchise and speak to them directly with any questions you have, please complete the form below.