Progressive Sports Franchise
Sports Franchise
If you're ready to embrace the freedom of becoming your own boss, no more limitations on earnings and want to be part of a network with a proven track record of providing schools and communities' specialist sports coaching, Progressive Sports is most definitely the right ... Read More franchise for you. Read Less
Break even in
< 12 months
Available Locations
Opportunities available across the UK
Inspire & Encourage Children To Be Active In Your Area With Your Own Sports Franchise.
We help commercially experienced, senior managers and directors who are considering the next steps in their career to invest in, launch and grow a successful sports education business.
Without them worrying about acquiring their first customers, making unnecessary, costly, and time-consuming mistakes - that most start-ups make and without previous industry experience.
We offer a proven turn-key solution to create an owner managed six-figure income business, which impacts the lives and health of thousands of children every week.
16 Years and Counting…
We're experts in supporting schools and communities to inspire and encourage children to be physically active and we've been doing so since 2006.
Founded by Eddie Ray who started out working in local schools in Staffordshire and the business now covers over 19 franchised territories across the UK.
Eddie has over 16 years of business experience in the sports education market. He has founded, built and sold two companies and also acquired one other company. Eddie and the team have the know-how on what it takes to build, scale, and exit a business in this sector.
You'll have direct support from Eddie and the team to help you achieve your goals.
"We guarantee to get your first 5 customers for you worth over £40,000 and all within the first 3 months!"
Our Mission Is To Get Kids Active!
The first ten years of a child's life are game-changing in creating a lifelong commitment to physical activity. The case for promoting and encouraging a lifestyle that includes physical activity is unquestionable.
We take the role we play to support schools and parents to inspire and encourage more children to be more active, more often very seriously.
You'll get access to multiple revenue streams that supports this, from; school PE lessons, out of school activities, enrichment experiences, holiday programmes and much more.
What's The Earning Potential?
The sports education sector has seen consistent growth for the last 20 years and things are not slowing down with over £320 million per year of government funding invested into primary schools to support school PE, sport and physical activity. A further £200 million of government funding per year is also invested in the holiday activities and food programme (HAF) to support free school meal children access holiday activities.
The market potential of a Progressive Sports franchise is £2-4 million dependant on the size of the territory. With healthy margins you can soon be operating a business that allows you to earn six figures from the business.
"I'm now into my 5th year of trading and I consistently take out over £4k per month out of the business. The work I put into the business directly correlates with what I earn… becoming my own boss was the best decision I ever made!" Adam Holland, Franchisee in Derbyshire and Nottingham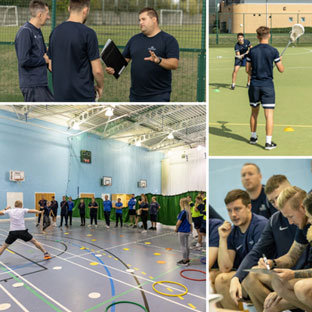 What Training and Support Do I Receive?
Investing time, money and effort into supporting our franchisees is something we love doing.
We commit over £20,000 per year to support CPD for the franchise owner and their team.
5 days of initial training to get you up and running
1:1 monthly coaching calls with Eddie the Founder
1:1 annual visits from the Head Office team
3 Business Growth Days per year to help you grow your business
Annual Franchise Training week, which includes CPD for your team and the franchise owner
Support from fellow franchisees through networking opportunities
"For me one of the key selling points of joining Progressive Sports was all the support I knew I'd receive. I had a good feeling from the start that everyone would be really supportive and invested in my success. It's also been great to see that all the tried and tested methods I was shown have really worked!" James McTiernan, Franchisee in Bath
Our Promise To New Franchisees…
You'll get access to business marketing assets that have generated over £1+ million for our franchisees
We've got a proven launch strategy that means you'll get your initial investment back in revenue within the first 3 months
You'll reach a break-even point in the business by the 3rd month of trading
We'll build a robust financial plan for the first 12 months; measuring and optimising the right numbers in your business – which ensures your success
Our Head of Operations will help you to recruit your first staff member and onboard them with you.
You'll get help along the way from the whole Head Office team that have over 50 years of experience in the sector and will guide you through any potential pitfalls.
You'll also get everything else you need to start the business; e-commerce website, sports equipment, print materials, uniform and more.
AND most importantly… we'll give a blueprint on how to build a business that allows you to take six figures out of the business per year.
Discover If Your Area Is Available and Request More Information on How You Can Turn Your Passion Into A Profitable Sports Education Business.
Get Your Free Information Today!
To contact Progressive Sports for more information regarding their Franchise and speak to them directly with any questions you have, please complete the form below.