Finance Available
Sourced Franchise
Investment Franchise
Do you have an interest in property? The industry that creates more millionaires than any other? Would you relish the chance to work with people who have been there and done it? Join the leading property investment franchise in the UK and start your own property business with ... Read More full training, ongoing support, and a 100% funding facility. Read Less
Lifestyle
Full Time or Part Time
Available Locations
United Kingdom and Northern Ireland
We believe that making money from property is far more accessible than most people understand.
At Sourced, our purpose is to make property investing accessible to more people. We achieve this by empowering you with knowledge, offering unlimited support, providing exclusive property leads, offering bespoke tech platforms to help you systematise, and even by funding your projects with our in-house private lender.
All of this, while being a part of a positive and collaborative network of exceptional individuals.
Whether you're starting out in property or if you have an existing business or portfolio, we have a track record of success in helping people like you achieve their financial dreams.
Choose what you need, then take advantage of it, all with the knowledge that everything else is waiting for you when you're ready to use it.
The package is tailored to property investors because that's what we are. We have stood in your shoes, and we know what is necessary for you to reach the next level, which is how our package has been so effective to such a wide range of people and situations.
Sourced Franchise is a unique franchise opportunity, to the extent that it's the first and only franchise of its kind in the UK property investment sector.
We will work with you to create a bespoke property business plan and support you every step of the way, as you navigate through your property journey.
If you are looking to start a business that promises great returns, an excellent support network and an exceptional growth opportunity, the answer is Sourced.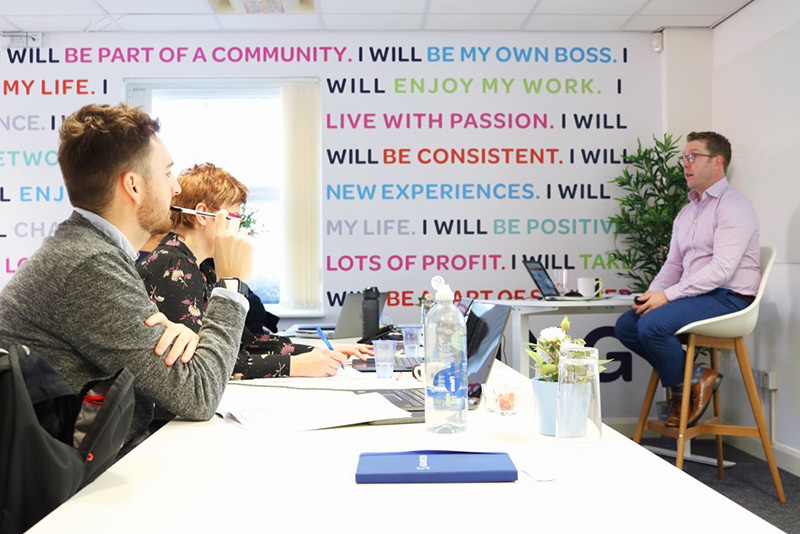 How Does It Work?
Our goal is to help our network of franchisees achieve their dreams and gain financial freedom through property.
You'd be joining an innovative, energetic, down to earth, and friendly network of over 200 franchisees. Your challenge would be to grow your own profitable property business through your network and the power of Sourced.
The limits to what you can achieve through this fantastic opportunity, can only be defined by you.
What Is My Earning Potential?
Investment property is one of the most profitable sectors in the world and that is no different in the UK. At Sourced, we train our franchisees on all the below strategies and build a development plan to help you achieve your financial goals. We've listed the typical returns we've achieved as a business, to give you an indication of the income you could generate:
Rent to rent / serviced accommodation - £700+ per month.
Lease option - £3-8,000 + average profit.
Assisted sale - £30,000 minimum profit.
Title splits - £20,000 minimum profit.
Property sourcing – 2% average fee.
Refurbishment - £25,000 minimum fee.
Conversions - £60,000 minimum profit.
New build - £150,000 minimum profit.
Off plan – 6% average fee.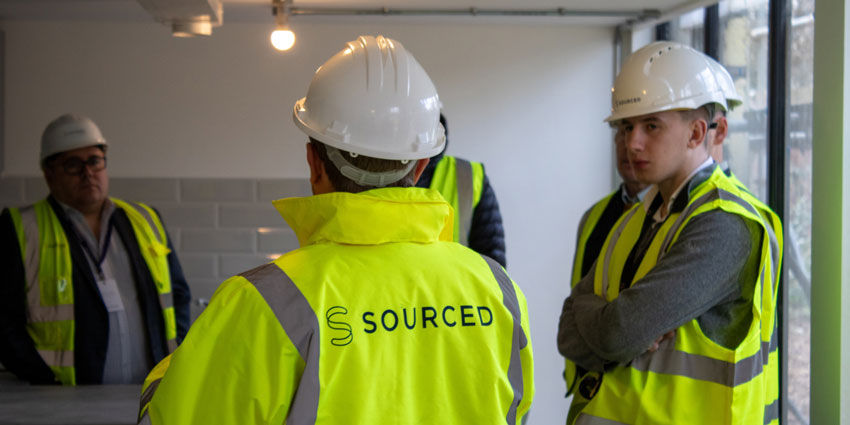 How Will Sourced Help Me?
Sourced will provide you with a unique step-by-step process, excellent training and ongoing support to be effective. We can fund up to 100% of your own property projects too!
We will help you start, standardise and scale a property investment business that will enable you to achieve remarkable and industry leading results.
As a result of the training, franchisees are equipped with the skills that will allow them to:
Source and identify investment opportunities
Package and structure those same opportunities
Present these to investors around the world for a substantial fee
Cherry-pick opportunities to refurb, convert and develop for their own portfolio
Thanks to the Sourced team, franchisees are trained by industry leaders, supported by people who themselves run successful property businesses, and developed by a motivated and incredibly supportive team. You will get a dedicated national mentor to support you every step of the way, as you build and grow your new venture.
Some of our current Sourced franchisees joined us with absolutely no property investing experience at all and yet, with our training, support and experience, managed to grow pipelines of more than £100,000 in less than three months.
What Makes Sourced Franchise Different?
Sourced are the biggest sourcing network in the UK.
We will fund 100% of the purchase and development of your profitable deals.
No office, staff or experience necessary.
Huge earning potential with low working capital requirement.
Full training and on-going support from the industry leading experts – so much more than a property training course.
The backing of a trusted brand and its strong reputation within the sector.
Lead generation – we generate over 35,000 property and investor leads a year for our franchisees.
We work with you to define a suitable and realistic territory and ensure exclusivity in that location.
We provide ongoing marketing support, with a centralised marketing team at Head Office.
Undoubtedly, one of the biggest benefits you will receive when joining us here at Sourced Franchise is the structure of an already successful national company, with the freedom to run your own business.
It's never too late to do what you want to do. Imagine a career as an Investment Property Specialist, building your own property portfolio. Loving what you do and creating a sizeable business while doing it. That's exactly what a Sourced Franchise gives you.
The Sourced management team have been investing in and developing property for a combined time of over 75 years. As such, it's a business model that works – exactly the type of security you need when starting up your own property investing venture.
The Next Step
Please fill out the no-obligation form below and you will receive a personal email and an introductory phone call from a dedicated Franchise Manager.
Get Your Free Information Today!
To contact Sourced for more information regarding their Franchise and speak to them directly with any questions you have, please complete the form below.