Our franchise model is designed to be run from home thus keeping your overheads as a franchisee to a minimum and maximising your opportunities to make profits. You just need space to park the vehicle and secure storage for the paints & products used in the processes...
Our franchise model is designed to be run from home thus keeping your overheads as a franchisee to a minimum and maximising your opportunities to make profits. You just need space to park the vehicle and secure storage for the paints & products used in the processes... Read Less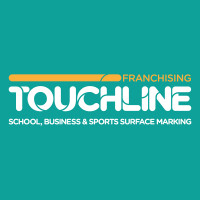 We've done all the groundwork.
We provide the tools, knowledge & support to help you succeed.
Who are Touchline Marking?
We are offering an opportunity which is profitable, home-based, and in a unique, widely unknown franchise sector.
Many people believe that schools, sports grounds, car parks, hospitals and others have their own people marking out the lines at their facilities when in reality, it is companies like
Touchline Marking who carry out this valuable service
It's a fact that most of the work that we do at Touchline Marking will be taken for granted by the majority of the people who see it but our work can be found in sports facilities, schools, car parks and even within factory environments where we lay out clearly defined areas which are essential for effective health and safety practices.
Up to this point you, like a lot of other people, might simply not have noticed the amount and variety of jobs that Touchline carry out. As you now know our service contributes to the enjoyment and safety of the UK population on a daily basis.
The only people that don't take our work for granted are our 100s of satisfied clients!

What is the demand for the Touchline service?
In one word 'enormous'! The range of services that you will be able to offer as a Touchline franchisee are designed to help you maximise your income opportunities and build a lucrative and sustainable business.
If you just take the number of schools in the UK as of Oct-2019, according to besa.org.uk (the British Education Suppliers Association) whose figures come from the Department for Education; Welsh Government; Scottish Government; Northern Ireland Department of Education (2018/19); there are currently 32,770 schools in the UK the majority of which have playgrounds, sports areas & playing fields!!
What would my role be?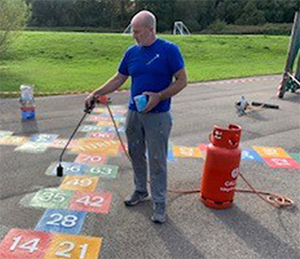 As a Touchline franchisee you will be the one supplying, installing and maintaining the thermoplastic surface line markings. Your services are in demand in Schools, where you can install anything from a cycle track to a Snakes 'N' Ladders board. Local authorities and retail outlets where you will mark out parking bays and even 'brand' those bays with company logos providing retail outlets with a permanent advertising presence.
The Touchline Franchise Package
At Touchline we offer two options to allow you to own our franchise:
Option 1- Includes the specialist lining machinery as part of the Launch Package
Option 2- Reduces the initial cost by providing the machinery on a leased basis where you have a fixed manageable monthly payment
Your total investment (excluding working capital) will range from £25k-£32k depending on which package you go for. Up to 50% of the initial set up costs (including working capital) may be available (subject to status) via bank funding. We will be happy to discuss potential earnings with you at our initial meeting. Based on our existing business you can expect to show profit from year one.
The initial agreement is for five years with two automatic renewal rights for two further five-year terms.
As our franchisee, you will benefit from Touchline's reputation, for quality of work with both Local Authorities and Local Education Authorities, which is second to none and will gain opportunities for you as a franchisee. Prior experience within the Industry is not necessary as our training will ensure that you are fully conversant with the specialist materials and machinery that we use.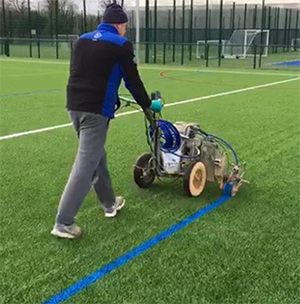 You will also have:
Low ongoing overheads by operating from a home base
Excellent profit margins
Exclusive territories
Full launch package with everything that you need to get started
Equipment purchase or lease option to lower your initial investment
No direct competitor within the franchise sector
Training & Support:
At Touchline, we are here to support you during your time as our franchisee. That support starts with helping you set up your business, supplying you with all the tools and equipment that you need to get started and training you in how Touchline operates and what marketing they we have used to gain clients during our 20+ years in the business.
Franchising is a partnership. If you commit to our tried, tested & proven methods then we will commit to supporting you to succeed from day 1.
If you have the desire to build a business, we're looking for you!...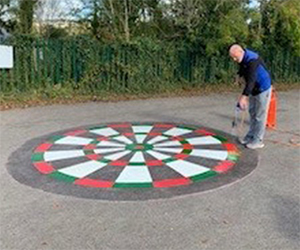 The Touchline Marking franchise model is an 'Owner/Operator Model', so as the business owner you will be the person who actually goes out and carries out the work required.
You will need to be a person who is willing and capable of doing reasonably physical work outdoors. Our business is to some extent weather dependent so you can be assured that you won't be working outside in rain, hail and snow. PLUS as the vast majority of our installs are outdoors you will have very limited close contact with others while working, helping you to easily adhere to the current social distancing requirements.
In addition to actually doing the lining there is the business development aspect to be taken care off. You also need to be comfortable talking to anyone from an individual householder who wants a tennis court relined through to company directors who want a quote for a staff car park to have individual bays.
Interested?
If you feel that becoming a Touchline Marking Systems franchisee is something that you would like to investigate further simply request more information today.
One click of your mouse could be life changing.