Finance Available
Tubz Brands Franchise
Vending Machine Franchise
Tubz Brands is the number one tower vending franchise in the UK, with over 300 franchisees. We are looking for new partners to help us expand across the UK, Ireland, and Europe.
Financing Assistance
Yes, through a third party.
Lifestyle
Full Time or Part Time
Available Locations
Opportunities are available worldwide
The No. 1 Vending Tower Franchise Company in the UK
Tubz Brands is the leading Vending Tower Franchise in the UK & Europe. They specialize in helping people looking to start out in business take advantage of the almost limitless market opportunities their award-winning vending franchise model has to offer!

Tubz urgently require Franchisees to help supply our vending towers with confectionary and toys to thousands of businesses throughout the UK at no cost to the site.
Thousands more businesses throughout the UK are looking for ways of generating extra revenue for NO additional cost!
Tubz Franchisees Vending Towers are the only flexible solutions for the majority of these independent businesses to help them cover additional costs they may have had to take on.
2023 is turning out to be the best year in Tubz Brands history. With stock sales through the roof, we have launched 4 x new products alone this year and introduced new vending machines along with our contactless payment systems. Now has never been a better time to invest in our franchise vending packages, so whether it is topping up your existing income or pension, whether you just want to spend 2-3 hours a week working part time or you want to make a full time career in vending, we have a tailor made package for you. We could all do with a little extra in these times, we can make it happen and we don't charge any fees or take a percentage of your profits like most franchisors. So enquire today before someone else takes your area.
There has never been a better time to invest in a Tubz vending franchise and secure the best locations in your areas before anyone else does!

Tubz proven Franchise model
Tubz franchises are some of the most versatile business models in this market sector. Benefits include being cash positive from day one and not having to chase after your customers for payment!
Your Tubz business does not require any additional staffing costs, very little storage space and has the flexibility to grow at your own pace. If one of your locations declines in popularity, you can easily move your Tower to a more profitable location. With no business rates to pay on your locations and 24/7 operating capabilities, you will continue to see returns from your investment...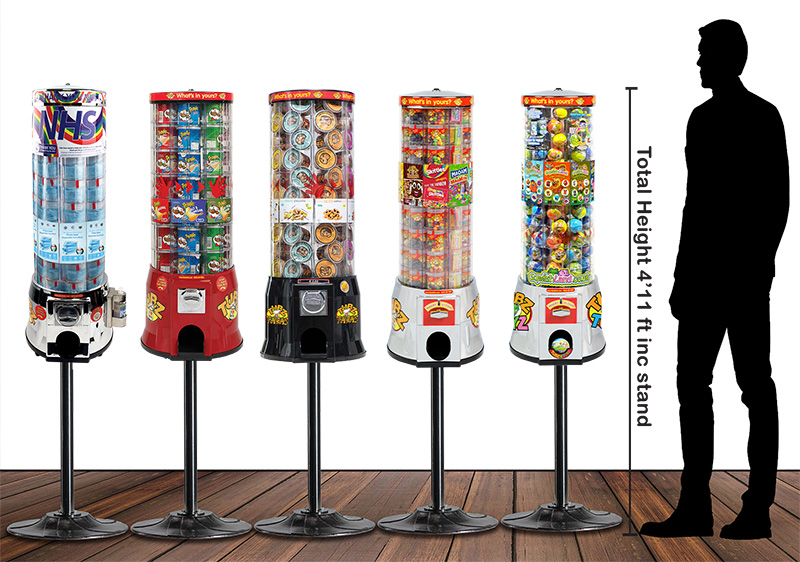 Why Tubz Franchise model is Different!
Unlike most franchise models Tubz Doesn't take a percentage of your hard-earned profits or charge you any ongoing or yearly fees! Tubz only makes a profit when the franchisees have sold their stock and come back to purchase more. This means it's in Tubz interest to make sure every one of their franchisees are as successful as possible!
With most other franchise models, you are only generating revenue when you are working! With a Tubz Franchise, your Vending Towers are like silent salesmen, working for you 24 hours a day, 7 days a week, 365 days of the year. So, whether you are on holiday or even unwell with a Tubz franchise you will continuously see a return on your investment!
Benefits of a Tubz Brands Vending Tower Franchise:
No ongoing management fees!
No other hidden charges or additional costs.
No selling experience is required & can be full time or part-time.
Full training and ongoing support are included in every package.
Low-cost start-up packages that you can grow at your own pace!
Every Franchise package includes secured locations.
Exclusive Product Ranges with global appeal!
Tubz Brands great reputation comes from our highly successful franchise operations which include Master Franchises in Australia, Canada and the United States. Tubz Franchises offer a high-quality and affordable range of products which includes Worldwide Brands such as Nestle, Haribo, Pringles together with healthy snack options and even interactive toys for children. So every Tubz franchisees market opportunities really are endless.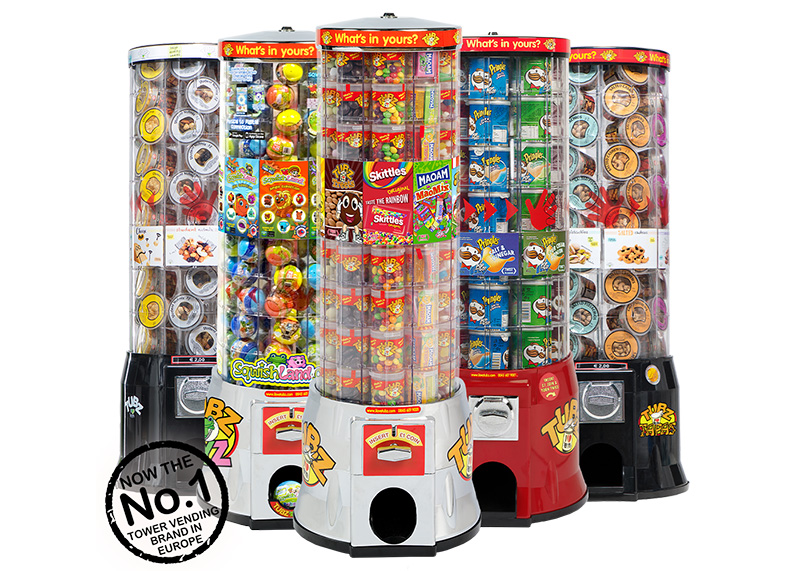 Your Tubz Franchise Package includes:
Dedicated Franchise Support Managers.
Full guarantee on your vending equipment & Free lifetime servicing.
Qualified locations for your towers are included with every Franchise package.
Full training package and ongoing support with 24/7 technical advice online.
Financials
Tubz franchise package includes everything needed to get your new business started. Each package includes your chosen number of vending towers, Qualified site locations, retail stock, Tubz branded clothing, invoice pads, brochures and professional marketing material to ensure you and your business are ready to hit the ground running from the outset!
Figure 1: Tubz Brands Gross Profit Breakdown Example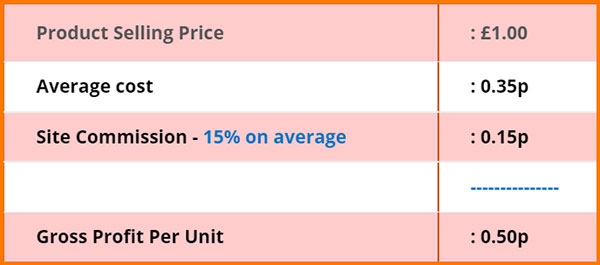 Tubz Brands Package: Turnover & Gross Profit Per Annum Example (based on Fig 1)

These figures do not guarantee each franchisee's sales or profits, as it is the effort of the operator that directly affects average sales achieved (i.e. frequency of refilling vending towers, changing product lines, correct use of marketing etc.).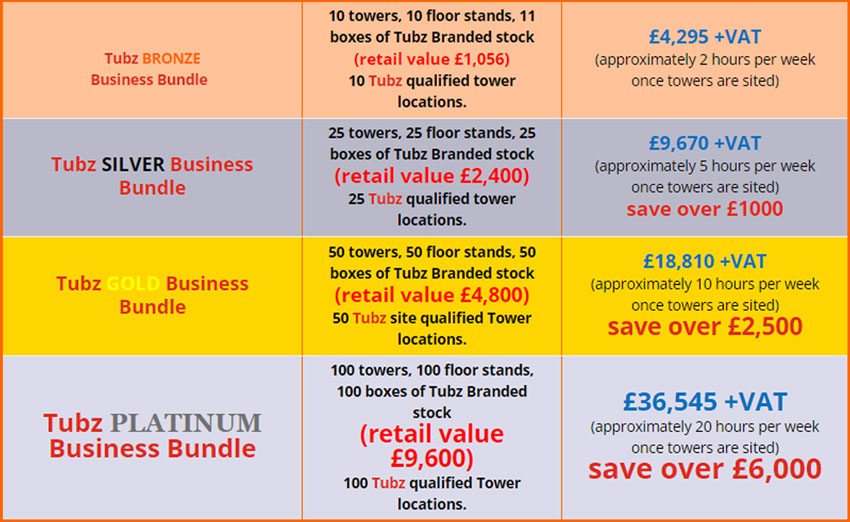 At twenty sales per unit per week (which is less than three sales per day) you would have a 100% return on your investment on any of these packages in a little over twelve months!
Join the Tubz Brands Winning Formula
Our Tubz franchise opportunity is supported by over 15 years of experience and success in the Tower vending industry. We have over three hundred franchisees and over thirty thousand venues across the UK alone currently benefitting from our proven business model.
From as little as £3,995 + vat, you can invest in our award-winning Tubz Franchise, which can be tailor-made to suit your specific goals and lifestyle whether it be in a full or part-time capacity.
Every new Tubz Franchises is assigned a dedicated customer manager ensuring you will receive support and advice as needed from the very start. Investing in a Tubz Brands franchise means that you will be going into business for yourself, but not by yourself! We will be there to help, guide and support you every step of the way...
Would you like to learn more about starting your own Tubz Brands Franchise?
To get in contact with Tubz Brands regarding their franchise opportunity, please complete the form below.
Get Your Free Information Today!
To contact Tubz Brands for more information regarding their Franchise and speak to them directly with any questions you have, please complete the form below.