Tubz Brands is the number one tower vending franchise in the UK, with over 300 franchisees. We are looking for new partners to help us expand across the UK, Ireland, and Europe.
Tubz Brands is the number one tower vending franchise in the UK, with over 300 franchisees. We are looking for new partners to help us expand across the UK, Ireland, and Europe. Read Less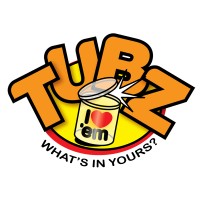 The No. 1 Vending Tower Franchise Company in the UK
Tubz Brands is the leading vending tower franchise in the UK. Because of our success and experience, we specialise in helping new businesses to start up and have put together one of the most comprehensive vending franchise and business start-up packages available.
Tubz have developed with guidance from the World Health Organisation a Safe, non-alcohol based Hand & Touchpoint Sanitising tower which dispenses Face Masks! Face Masks are now becoming mandatory in all retail businesses from the 24th of July. Tubz are looking for new franchisees to help supply these award winning towers to thousands of businesses throughout UK.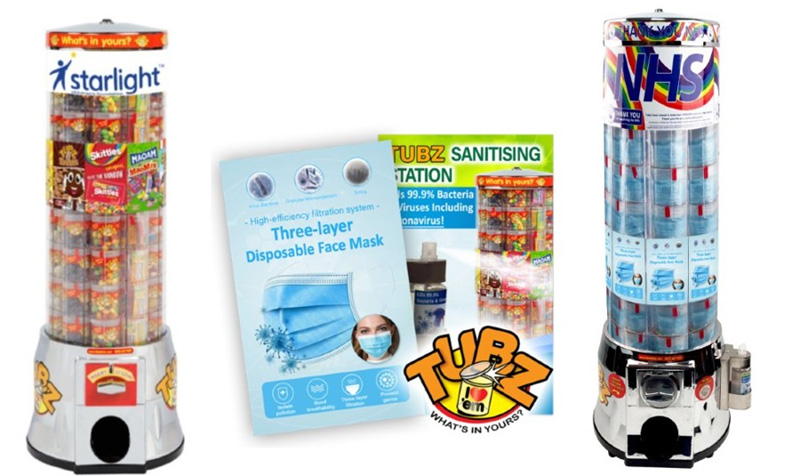 As the original snack tower vending company in the UK and Ireland, we have a wealth of knowledge to draw on when helping new franchisees to set up. Our franchise opportunities suit people from all walks of life, whether you have been made redundant, are approaching or already in retirement, or are just looking for a new business venture to bring in some extra income. Our franchise is incredibly flexible, and can be run on a full time or part time basis, and requires such little storage space that it can be run from your home.
Why Choose Tubz Brands Vending?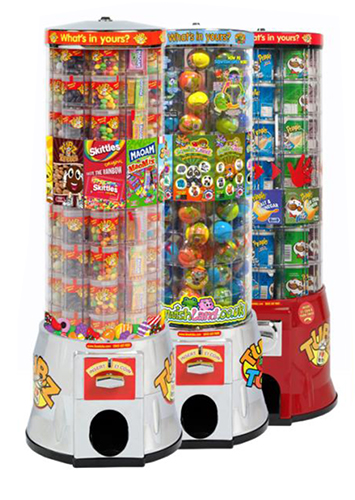 A vending franchise is a versatile business to get into as it is cash rich, involves minimal staff, and requires little storage, all depending on how large or small you decide you want your business to be.
As there are no business rates to pay on your sites, which also have 24/7 operating capabilities, you will always see profits from your investment in the Tubz Brands franchise. If the location of your vending tower declines in popularity, you can easily pick up and move it elsewhere, meaning you can always make sure your tower gets plenty of footfall.
Tubz Brands' great reputation comes from our highly successful franchise operations, which continue to ensure that we are the UK and Ireland's number 1 vending tower of choice. Ours is a business concept which has proven it works well. Our customers see that they are getting a high-quality, affordable range of products.

Testimonials
"I really enjoy lifestyle now and working alongside Tubz team. In January 2013, I invested in a further 50 units to build my business up, once again it was effortless. Everything arrived on time, the units were all sited and installed within weeks, and I knew I had made the right choice by joining the Tubz brand. My sites have become family now, with great communication between all and I have a lifestyle that suits me, working when I want." – Nigel Pearce
"I knew nothing about vending or sweets, except eating them, but the guys at Tubz patiently answered my questions. I liked it, so I bought another ten towers, then another ten and so on. I now have just about 200 vending towers. Thanks to Tubz I now have a "no hassle" business backed by a professional organisation. The support I get from Tubz is first class."– Jim from Scotland
"The product choices available continually improve, with new product lines regularly becoming available, keeping the towers up to date with trends and ahead of the competition. Overall, we are delighted with how this works for us and have been well supported by the staff and our account manager at Tubz Brands."– Chris and James Battersby
Tubz Brands Interview at the Franchise Show
The Franchise Show in London is the UK's largest free franchising event, and thanks to its incredibly low investment cost, the Tubz Brands franchise was the centre of attention.
New For 2020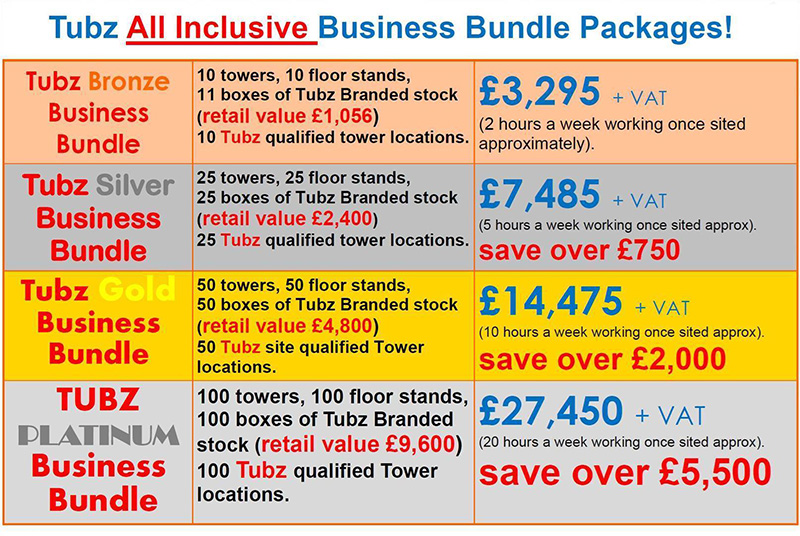 Benefits of a Tubz Brands Vending Tower Franchise
No management, monthly or annual fees (which means you can expand into another area without paying additional fees).
No selling experience required.
Full training and ongoing support included in every package.
Highly profitable with low start-up costs.
Vending machine packages include agreed sites ready for your vending towers.
No hidden charges or additional costs.
Can be full time or part time.
2 year guarantee on all new equipment.
Tubz Brands Business Bundles
We have designed our business bundles to ensure that your franchise brings in a healthy income for you from day one. Because you do not have to grapple with a complicated credit system, your business will always have a positive cash flow. Like a silent salesman, your vending towers give you access to customers twenty-four hours a day.
As each tower can hold nine different products, 81 individually vending for £1.00 each, you will have an excellent profit margin. As our business bundles ensure you own your own stock and equipment, you will have no need to waste funds on renting, and will see a visible return on your initial investment. With few expenses and overheads, and no premises or staffing costs, this franchise will prove to be a profitable endeavour from the word go.
Exclusive Product Ranges
Your franchise package will include stock from popular worldwide brands, which have instant recognition among customers and will quickly establish the high standard of the products you have on offer. We also have an exclusive Pringles dispenser and we recently launched our very own healthy snack tower. With our up-market tapas tower, we truly have...
Something for everyone and something for every venue!
With our unique licensed products from our Candy Crush 'twin Tub', with a toy and sweets, to our very own Sqwishland world of interactive toys.
Join the Tubz partnership and be one jump ahead!
Become a Member of the Tubz Partnership
Tubz Brands are committed to securing the future of our vending machine franchisees. As such, we acquire site data for high profile locations and are successful in finding hundreds of these new locations each month for our franchisees.
We also provide our franchisees with market training and all of the equipment they will need to set up and run their vending machine business. This preparation and support ensures that they see cash income on their business from day one, without having to wait months to build up a client base.
Your Vending Franchise Package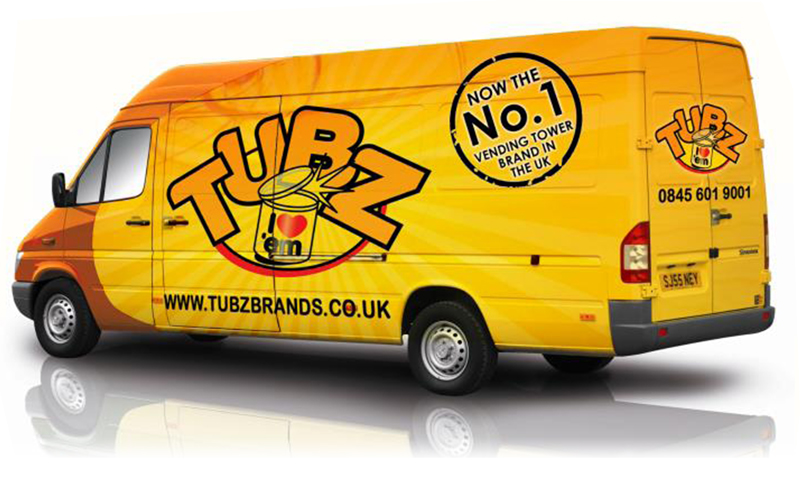 A two-year guarantee on your equipment.
Dedicated customer manager.
Vending towers and floor stands.
Stock for your vending towers.
Site locations for your towers.
Branded product stickers & marketing.
Corporate clothing for you and your employees.
Full training package.
Ongoing support and advice.
24/7 engineer support and advice online.
Free delivery.
Financials
Our vending packages include everything you need to begin your own vending business franchise. Your package comes with a set number of vending towers, sites, stands, sticker sets and boxes of stock, which retail at a corresponding value for each package. At no extra cost, you also receive t-shirts, invoice pads, brochures and sale flyers, all to ensure a professional look when meeting your customers.
Figure 1: Tubz Brands Gross Profit Breakdown Example

Tubz Brands Package: Turnover Per Annum Example (based on Fig 1)

Tubz Brands Package: Gross Profit Per Annum (based on Fig 1)

These figures do not guarantee each franchisee's sales or profits, as it is the effort of the operator that directly affects average sales achieved (ie frequency of refilling vending towers, changing product lines, correct use of marketing etc.).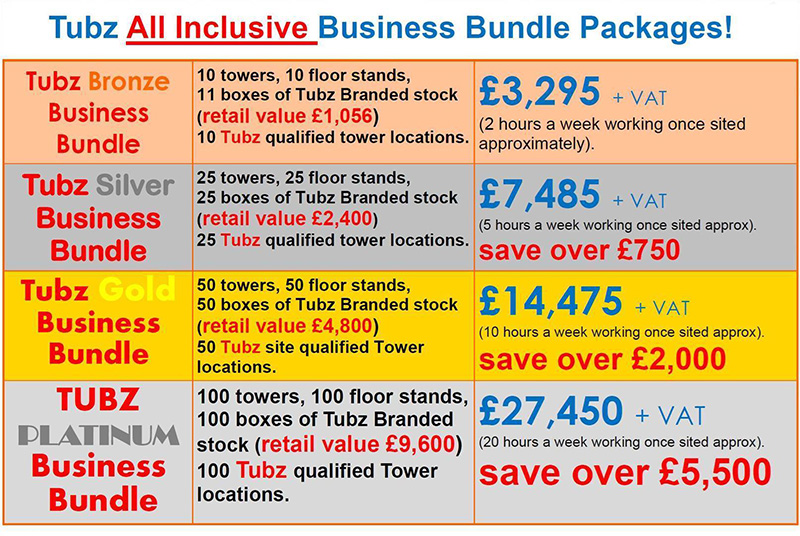 At twenty sales per unit per week (which is less than three sales per day) you would have a 100% return on your investment on any of these packages in a little over twelve months!
Join the Tubz Brands Winning Formula
Our franchise opportunity is comprehensive, well-rounded, and supported by our years of experience and success in the snack tower vending industry. We have over three hundred franchisees currently benefitting from this package and you could become one of them. We ourselves have over 2,500 of our own towers in operation at present.
From just £3,295 + VAT, you can invest in this lucrative franchise, which can be tailored to your specific needs and lifestyle, in a full time or part time capacity. Your vending towers are at work for you twenty-four hours a day, seven days a week, no matter where you are or what you are doing.
Because a dedicated customer service manager will be assigned to oversee your franchise, you will receive constant support and advice as needed from the start. Investing in a Tubz Brands franchise means that you will be joining the best vending machine opportunity on offer in the industry.