Enjoy running a business where you can generate £75,000 PA from each operating van!
A Screen Rescue franchise provides you with the opportunity to grow and develop your own multi-van repairs business, where you can achieve a turnover of £75,000 pa from each operating van.
Screen Rescue provides vital windscreen and glass repair services to a wide range of Commercial Automotive fleet clients, so why not take your share of the ever-growing commercial vehicle industry, now worth £27.5bn to the UK economy?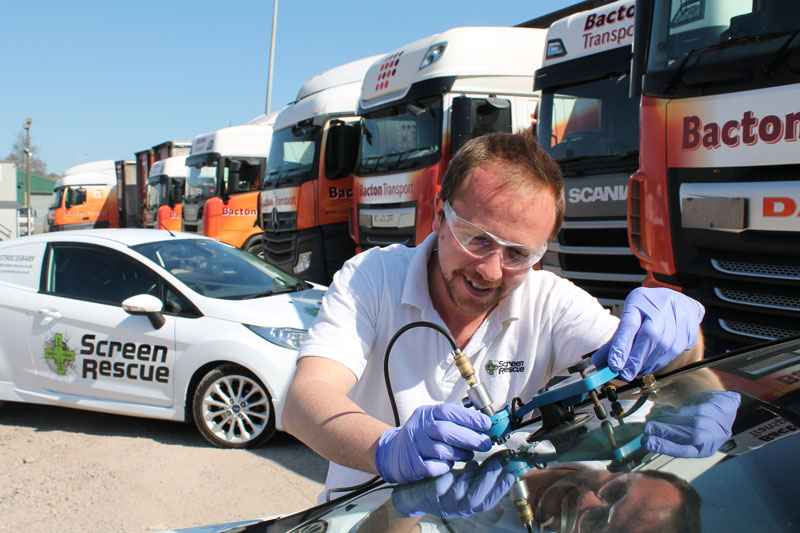 A highly profitable investment with multiple revenue streams!
All stone chip repairs
Long and short crack repairs
Glass scratch removal & polishing repairs
Headlight polish & restoration
Glass graffiti removal repairs
Why Choose Screen Rescue?
Following successful pilot schemes in Suffolk, Essex and Cambridge we are now expanding our brand across the UK by offering a nationwide network of large, exclusive protected franchise territories in prime locations.
Investing in a Screen Rescue franchise provides you with the opportunity to grow and develop your own multi-van repairs service following a proven, scalable business model that returns high profitability levels year-on-year.
As a Screen Rescue franchisee, you will be fully trained to run your business and develop new and existing fleet clients while carrying out an extensive range of advanced windscreen and glass repair services on a regular and reliable basis.
You will receive full training, coaching and ongoing support, our knowledge and expertise, advanced equipment technology, our business systems and daily head office franchise support services – everything you need for the successful set-up, launch and growth of your Screen Rescue Franchise.
This is an exciting franchise opportunity if you are looking to:
be your own boss and achieve an income in line with your ambitions
generate meaningful profits and build a sizeable asset you can later sell
work from home with a better work/life balance
employ & manage a team of technicians

Comprehensive training and ongoing support
From the start you will receive the full training and guidance necessary for your own franchise success, delivered by the franchisors themselves:
Comprehensive business and operations training
NVQ led technical repairs induction training
Assisted business launch in your territory
Ongoing training and development programmes to suit your business needs
Regular territory visits to assess and accelerate your business growth
Effective target marketing with tailored business development strategies
GQA NVQ certification in windscreen repairs with external assessment
Regional & national account sales support
But that's not all we do!
When running any full-time business, you can become overwhelmed with time-consuming matters, which can distract you from your daily goals. As part of your continued support, our head office franchise team provide an extensive range of centralised support services so that you are free to focus on your franchise.
Franchise Team Support
24/7 call centre & message service
Central accounts and credit control management
Statement and remittance management
Full administrative bureau
Regular social media target marketing
Website location page management
Credit checked real-time lead generation
Monthly management information
Regular business plan performance reviews
H&S legal compliance management

Comprehensive Franchise Package
Investing in a Screen Rescue franchise provides you with all the tools, technology and training you need to build and develop your own successful business. Our comprehensive franchise package includes:
Legally binding franchise agreement
Exclusive territory rights
Sizeable territory with a multi-van capacity
NVQ accredited repairs training programme
In-house training programmes & ongoing support
Latest, leading technical repairs & glass polishing equipment
24/7 technical support
Vehicle signage
Full start-up stock, materials and peripherals
Corporate stationery
Corporate clothing
H&S and PPE equipment
Personal business plan
Three-year financial projections
Operations manual
Local & regional account referrals
Franchise team support services
Expansion support & guidance
A low-cost, affordable investment with excellent ROI
Funding Available
The Screen Rescue franchise license fee is £19,750 + VAT.
You will need to invest £19,750 + VAT plus set-up costs and additional working capital. Our bank-approved business model awards up to 70% of the total investment. T&Cs apply.
Start your Screen Rescue journey and enquire today!
You will need to be commercially astute with strong business acumen, self-motivated and hungry to succeed with excellent communication, negotiation and collaboration skills.
If you have the desire to significantly increase your income and create a better lifestyle through your own efforts, Screen Rescue can provide you with a proven business model that when followed closely, will enable you to achieve your goals!
Next Steps
If you think you would be the perfect fit for a Screen Rescue Franchise then complete your details below and we will be in touch with more information.