Spitting Pig is the only franchise that can guarantee you £150,000 in bookings in year one with on target net profit of 30-40%.
Spitting Pig is the only franchise that can guarantee you £150,000 in bookings in year one with on target net profit of 30-40%. Read Less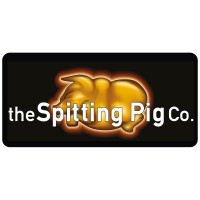 The Spitting Pig Co Franchise Testimonials
Below is a selection of testimonials from people that operate the The Spitting Pig Co Franchise or have used the The Spitting Pig Co business services in the past.
Buying into a franchise at 19 was quite daunting to us. We didn't know how the first year would go as we established a new area and got familiar with the different menus. Fortunately, Steve and the team at head office have fully supported us, we could completely trust them in accomplishing a great result in marketing, sales and even with help on the jobs.

Despite it being work and sometimes rather stressful; it is quite a sociable and enjoyable experience since you meet different kinds of people from all walks of life, even sometimes celebrities! This past summer we catered at an event where David Neilson (Roy Cropper in Coronation Street) was a guest, and the summer before we catered for an event organised by Feargal Sharkey. Additionally, we have catered at some amazing venues, even castles! It makes the experience more intriguing and fun as you never know where you will end up.

Thanks to the hard work of the entire team, both in the office and our catering teams, Beth and I have been able to achieve a successful and well established franchise area. And best thing is we get to work together.
I always wanted to run a new business within the catering industry but wasn't sure what to do. It is a big leap into the unknown as I had never ran a business for myself. The Spitting Pig Franchise model was a perfect solution to my problem even almost too good to be true as they would manage my sales and marketing and many more aspects.

Having just finished my first year they have delivered on their commitments and I have achieved a very successful and rewarding year. I have catered at Parties, Corporate Events and Weddings and met many great people along the way. The job can be stressful at times but it's definitely enjoyable and very sociable as it just doesn't feel like a job.

The support from Stephen and all the Head Office team allow you to gain the knowledge quickly and the support network of other Franchises made this experience so much easier and not daunting at all. Thanks to them I am now running my own business and loving every minute of it, thanks Spitting Pig.
I was very eager to start a new challenge and motivate myself in a new job role. After some research I decided that Spitting Pig was for me. I joined in April 2019 and my franchise area in Cheshire.

It was quite daunting to make the decision to join but I had nothing to worry about. Steve, the team at head office and other Spitting Pig Franchisees have been nothing but helpful and informative and have helped my confidence grow leaps and bounds whilst I found my feet and enabled me to accomplish great things this past year.

The experience has been hard work and challenging yet thoroughly enjoyable. I have enjoyed being my own boss and have a fantastic team around me including family. No job is the same, each customer, venue and event is different from weddings to corporate events. The job is very rewarding, I have enjoyed providing excellent standards and service and building customer relationships. I enjoy taking part in their special day and the feedback I receive makes it all the more worthwhile.

It's good to know that I have the help, advice and the support system around me at Spitting Pig.
Having been self employed my whole life, in 2019 I was looking for a complete life change and looked into franchises.

I came across the Spitting Pig franchise and am so glad I did! I got an immediate call back and all information provided and arranged to go to head office to meet the team within a week. The difference with this franchise compared to many, was you really are part of a team with Spitting Pig working with and for you to develop your business, but at the same time it's still your business to run yourself. So many franchises you pay your money then you're left in your own. Spitting Pig is very different with access at all times to head office who do an amazing job for you on marketing, sales, accounts - literally everything.

Even with the pandemic hitting us hard in 2020, the team have been right behind us in all aspects helping us out and bookings for 2021 & 2022 are phenomenal. Best decision I've made to be part of a great team of head office, fellow franchisees, it's a great fun business giving people great food at a huge variety of events and venues and nicest way to make a living - would highly recommend.