What do Inleaf do?
We have been the provider of plant decorations for companies, hotels, showrooms as well as private homes. We have an extensive array of products including atrium, reception, and general interior plants. Moreover, we have green walls, live walls and moss pictures for better room ambiance.
Living Plant Displays
Living/Green Walls
Artificial Plants
Christmas Schemes

What do you get with an Inleaf franchise?
Large Territory - A large, dedicated area to operate your business, chosen and analysed to ensure lots of opportunity for your business to grow.
Use of brand and model - License to operate under the proven Inleaf brand and business model, with our ongoing support to help you succeed.
Expert training - Comprehensive training on how to start & run your Inleaf franchise – including everything from sales & marketing to plant knowledge.
Mentoring & coaching - Learning doesn't end with your initial training, we'll be with you throughout the first six months with regular coaching and mentoring.
Inleaf System - Our unique software does everything from creating quotes and proposals, to managing client maintenance and invoicing.
Operations manual Wiki - Our comprehensive online operations manual and resource centre. Full of the latest information to help you run your Inleaf franchise.
Deposit for van lease - Contact with our suggested leasing company, and £1,000 towards your the deposit for your branded Inleaf van.
...and much more such as uniforms, help with installations, website and sales.

Investment and Expected Returns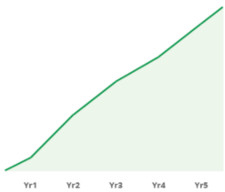 The required investment
The franchise package is £22,750+VAT (the VAT is refunded by HMRC) and you will also need to have liquid funds of £10,000 to £20,000 for working capital, depending on your circumstances.
If required, you can borrow up to £25,000 per director via a government-backed scheme.
...and target returns
The recurring nature of the service we provide, means your business is geared for year-on-year growth.
Following our proven model, and with our help and support, you'll be able to target a six-figure turnover in just a few years.
These figures are realistic based on our own experience and financial modelling, but like all businesses the result you see may be lower or higher based on your own experience, drive and commitment.