Minuteman Press is the UK's premier printing, marketing and design franchise that was established in Canada nearly 40 years ago. We offer our franchisees high demand products and services, a proven business model, and regional support offices. At Minuteman Press, We Are The Modern Printing... Read More
Minuteman Press is the UK's premier printing, marketing and design franchise that was established in Canada nearly 40 years ago. We offer our franchisees high demand products and services, a proven business model, and regional support offices. At Minuteman Press, We Are The Modern Printing Industry™ and we specialize in meeting the growing needs of today's business professionals. Read Less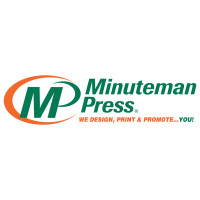 The World's Largest & #1 Rated Printing & Marketing Franchise
Established in the United Kingdom over 25 years ago, Minuteman Press is the world's largest & #1 rated printing, marketing and design franchise. With high demand products and services, a proven business model and support offices in Glasgow, Manchester & Maidenhead, you too can take advantage of this unique franchise system. Learn more today.
About Minuteman Press Franchise
How are we doing in 2021?
Our locations are open and operating through the COVID-19 pandemic. Print and communications is an essential industry and Minuteman Press franchises are supporting all local businesses and organizations.
Our full-service centres are providing social distancing signs & posters, face masks & PPE, floor & window decals promoting safety, and more. Direct mail campaigns are also crucial for clients to get the word out about their business updates such as new store hours, safe ordering, pickup & delivery options, and special offers.
Minuteman Press is a complete marketing and printing solutions provider that has helped businesses grow in the UK for over 25 years.
We've developed an exceptional business plan that provides services and products that each business needs for their operations, in addition to their marketing and advertising campaigns. Our unique franchise opportunity offers regular business hours, a wide selection of in-demand business services, proprietary business management software and outstanding continuing support. Prior experience is not necessary to operate a Minuteman Press franchise.
Every business, regardless of size or industry, is a potential customer to one of our locations.
Our locations provide anything that a business uses for their daily operations; we will also consult with our clients, assisting them in their advertising and marketing efforts. In today's world of cluttered and unproven advertising, businesses are looking for cost-effective ways to grow more than ever before. Minuteman Press centres have the programs in place to deliver results and generate repeat business from clients.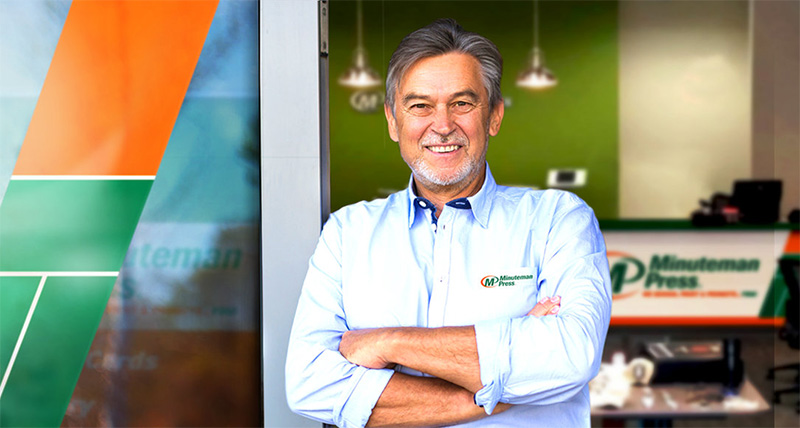 Why Research a Minuteman Press Franchise?
The World's Largest & #1 Rated Printing & Marketing Franchise: Minuteman Press International is the #1 rated print & marketing franchise by Entrepreneur Magazine (January 2021).
Local Support: Support representatives in Glasgow, Manchester & Maidenhead that provide onsite assistance from business management to marketing support.
Multi-Revenue Streams: We provide in-demand products & services that every business needs including digital printing, large format printing & signs, promotional items, apparel & mailing services.
Royalty Cap: A unique royalty incentive program that has a limited royalty structure to help maximize your income.
Proprietary Software: We reinvest into our franchise owners & have developed proprietary business management & pricing software that is unmatched in the industry.
Over 25 years of franchising in the United Kingdom & 45 years as a whole: With almost 1,000 locations worldwide, we have tremendous mass purchasing power enabling our owners to receive outstanding prices from vendors and suppliers.
Business-to-business operation: Our target customer base is businesses and organisations, making each of these businesses a potential customer. You will have the peace of mind of dealing with like-minded professionals who use the products and services you offer while having the self-satisfaction of helping them grow their businesses.
The large majority of our owners do not have previous industry experience, and many have never owned a business. We have developed a comprehensive two-week training program that covers all aspects of owning and operating a successful centre. Our system was continually refined and updated over the previous 25-plus years in the UK and over 45 years as a whole. Through the training, we'll teach you all facets of the business, from marketing and management to pricing. We have also developed proprietary business pricing and management software that is thought of as the very best in the industry. It makes operating a Minuteman Press facility easier and more efficient. The software, FLEX, enables you to track all of your marketing efforts, customer spending habits, workflow, and pricing.
Initial Setup
Once you complete training, a representative from the local office will continue your training in your centre. They'll assist in the installation of the business, including everything from guidance on staffing and starting the marketing programs.
Once renovations are completed, we will assist in the set-up of your location.
We will help install and implement the workflow systems.
We will assist you in finding both of your staff members.
Both national and local vendors will be set up for purchasing products and supplies.
We will start your marketing programs with you and show you how they work.
After the initial training and setup are complete, our local representative will continue to provide onsite support to you. Ultimately, we build real relationships with our owners, and our local support team is always available to offer advice and a helping hand. Our goal is to make you as successful as possible, as quickly as possible, and to continually work with you to grow your business.
The Ideal Minuteman Press Franchisee
Prior experience isn't required to run and operate a successful Minuteman Press franchise. Our owners are business people who are alert to the needs of the local business community and focus on developing long-term repeat business relationships with their clients by offering exceptional service.
Although our franchise owners come from various backgrounds and have distinct personality types, they also have certain similarities. They're alert to the needs of their customers; they show enthusiasm for helping other business owners grow; they provide exceptional customer service and superior work; they manage their employees well; and last but not least, they have a very strong work ethic and take pride in their business.