Mr Simms traditional sweet shops offer a unique and evocative experience that caters for sweet lovers of all ages. Traditional values, sensational service, incredible product choice and heritage-inspired interiors are just some of the elements that blend together to give our brand its distinctive... Read More
Mr Simms traditional sweet shops offer a unique and evocative experience that caters for sweet lovers of all ages. Traditional values, sensational service, incredible product choice and heritage-inspired interiors are just some of the elements that blend together to give our brand its distinctive warmth and character. Read Less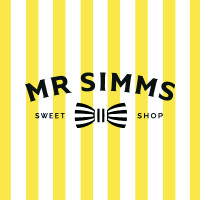 Why Mr Simms?
With over 75 stores in the UK alone, Mr Simms is already the number one retail franchise confectionery business in the UK and our success story is just beginning.
The total investment is £37,000 - £59,500 depending on the size of the shop

Our story - past, present & future
Mr Simms was founded in 2004 by our current Chairman Martin Peet. Descended from generations of confectionery shopkeepers dating back to 1891, you could say that Martin was born to sell sweets!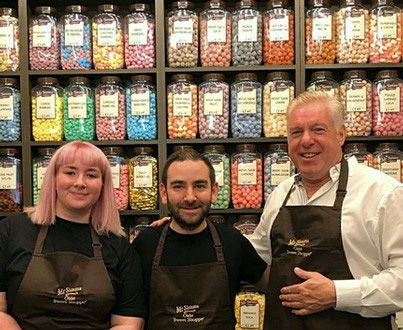 Frustrated by his perceived standardisation of the British high street and the rise of bland chain stores and predictable products, Martin saw an opportunity for a truly distinctive retail experience. Inspired by the ideas of reimagining traditional values of service, quality and care for our communities, of showcasing a mind-blowing range of products and of bringing joy to the lives of sweet lovers of all ages, the first Mr Simms store was born.
Rapid growth
Fast forward to today, and Mr Simms now has over 75 stores in the UK alone and has started to expand internationally. We're proud that Martin's original vision of sweet traditions being shared across generations still holds strong and will continue to hold strong as the business grows from strength to strength, making new memories every day.
The Power of Great Product
Mr Simms product range (and our franchisees' passion for it!) is critical to the overall experience. Alongside our exclusive range of Mr. Simms products, we also source a mind-blowing range of recommended products from across the globe.
Our manufacturing partners are selected based on:
Recognised brands that have built up a vast following
Traditional UK brands with a loyal customer base
Range and variety of products, including all time favourites and retro classics alongside contemporary entries
Quality and reliability
Best value pricing
Full compliance with all UK health, safety standards and EHO requirements.
Training & Support
Do I need experience?
You need no prior experience of the confectionery industry to become a Mr Simms franchisee because our proprietary training programme will leave you well equipped to open your own store with confidence.
Before opening their own stores, all new Mr Simms franchisees and/or managers are required to attend and pass this training course in our training centre in Stafford. Whilst every franchisee and every store is individual, the Mr Simms brand remains constant, setting standards and expectations for the customer experience that must be maintained. The course includes both classroom and in-store sessions and provides you with an overview of understanding the Mr Simms brand and market, as well as operating a Mr Simms store and running a business.
In addition to this initial training programme, Mr Simms also provides ongoing staff training as well as online training manuals.
The Ideal Mr Simms Olde Sweet Shoppe Franchisee
Is it for me?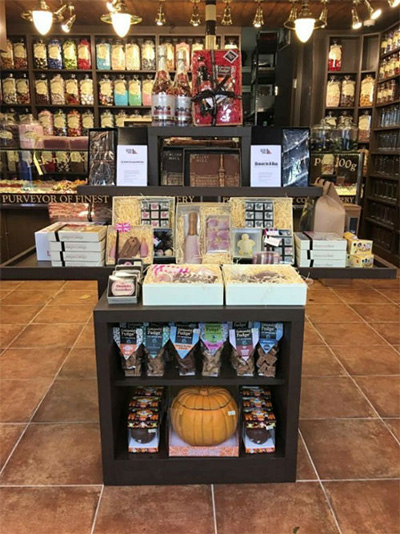 When you look at our family of franchisees, you'll immediately note how different everybody is whether that's age, circumstances, experience, store type or location. We can't provide you with a fixed demographic of what success looks like but we can tell you that Mr Simms' franchisees are:
proud experts in confectionery,
passionate about their products,
committed to their communities,
dedicated to delivering the sweetest service and inspired to delight and excite their customers every day.
Becoming a Mr Simms' franchisee offers you the best of several worlds – the opportunity to be your own boss, running your own business your own way, but with the strength of an established, successful brand to build upon and the support of a highly experienced management team to build it with. But, greater than all of this, is the opportunity to be part of something truly special because Mr Simms goes far beyond being a traditional sweet shop…. It's a celebration of the best of independent retailing and a much-loved part of people's lives. Being part of the Mr Simms family is simply the sweetest franchise experience and you can't put a price on that!
Next Steps
If you're excited by now, then we'll be excited to hear from you. Please express your interest by completing the online application form below.
There's no obligation in doing so – it simply enables our Franchise Manager to contact you and send you our disclosure document with more detailed information about the business.